---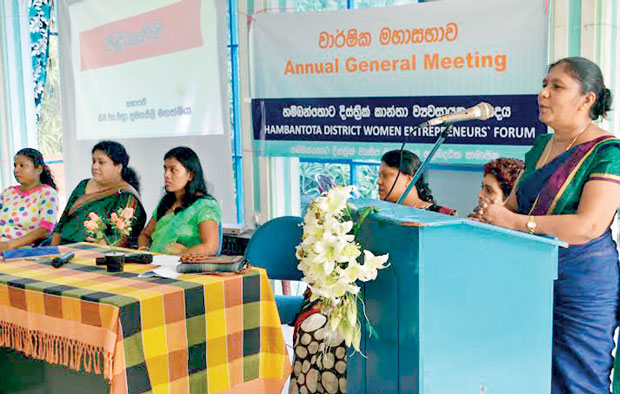 The Annual General Meeting of the Hambantota District Women Entrepreneurs' Forum (WEF) was held, recently. Chithra Sumanasilli was unanimously re-elected as the Chairperson for the year 2014/15.
The guest speakers at the function were Azmi Thassim, Past President of the Hambantota District Chamber of Commerce (HDCC) and Professor Sarath Wijesooriya, Senior Lecturer of the Department of Sinhala, University of Colombo.
Professor Wijesooriya's topic was the social responsibility of a woman as a mother and a housewife. Thassim shared his original experiences of building HDCC with a group of volunteer business people and the crucial importance of working together to build associations. He stressed the responsibilities of the executive board to continue the development of this type of association.
HDCC CEO Krishanthi Weerasinghe went on to describe the progress of the WEF during the last two years.
Sumanasili, along with the other members of the forum and with the support from HDCC, will continue to uplift and enhance the standards of women entrepreneurs and their businesses. She will focus on developing and strengthening relationships with relevant partners, donors and embassies.
During her tenure, she will extend invitations to the government, banks, national level chambers and private companies to share their knowledge and expertise with the members of WEF, with special emphasis on how business processes can be enhanced by modern technology.
The WEF is an affiliated body of HDCC, the aim of which is to be accessible to women in the Hambantota District to help them solve important issues related to business and also to network with national and international to enhance its reach.
It was established in 2012 with the support from the USAID 'Supporting Regional Governance' programme and set in motion a project to promote entrepreneurship and empowering women in the Hambantota District.
Support was also provided by the Secretary's Office of Women's Global Issues. Most of the members of WEF are engaged in small and medium-scale enterprises such as agribusiness, industry, services and trading.
WEF's executive board 2014/2015 is: W.S. Chithra Sumanaseeli, Vishaka Darshani Bandara, Malathi Priyangika, Tharanga Lakmali Ediriweera, K.G.A.C. Priyadarshani, D. Iruka Sanjeewani, I.K. Shanthi Priyadarshani, S.S.R. Mussafur, G. Melani Harim, K.A. Swarna, Disna Mangalika, Wickramage Kusum, Shermila Vidanapathirana, K.V.P. Nandani, Preethika Gunasekara.