---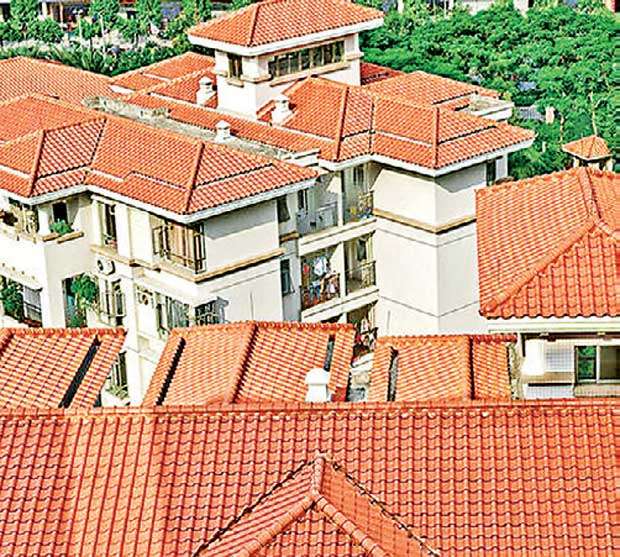 Says excessive red tape hikes production costs

Number of active clay roofing tile plants down to 200
By Nishel Fernando
Sri Lanka's red clay roofing tile industry recently urged the government to reduce excessive regulations and procedures in place with regard to sourcing their main raw material—clay— which has hiked the cost production, driving over 200 clay roofing tile plants out of business.

"The number of active clay roofing tile plants in Sri Lanka has decreased to 300 from 500 while another 100 plants are in the process of being disassembled or have temporally halted operations. Each of these plants, has a history ranging from at least 25 to 100 years," Sri Lanka Ceramics and Glass Council board member Susith Pathiraja said.

Pathiraja said that the cost of production has increased significantly mainly due to local government level barriers to obtain permits to mine clay deposits and to clear silt in tanks in order to source clay.
He noted that around 60 percent of the current clay requirement is currently sourced from tanks, as obtaining permits to mine clay deposits has become almost impossible.

Sri Lanka Ceramics and Glass Council Secretary Wipul Kularathne said that though the Central Environmental Authority and Department of Irrigation back clearing of accumulated silt in tanks to expand their capacity, it is quite difficult to obtain necessary permission from 15 State agencies for the task.

Pathiraja pointed out that clay tile manufactures would be able to bring down the cost by a solid 10-20 percent, provided a standardised permit system is in place.
He also believes that if necessary support is given to manufactures, clay roofing tiles exports also can be significantly increased.

According to him, Sri Lanka currently exports different variances of clay roofing tiles to countries such as Pakistan and the United Kingdom.

Meanwhile, Pathiraja pointed out that although the government's policy initially was to ban asbestos from Sri Lanka, asbestos is being used in almost all State-sponsored housing projects in the country.

Also, he charged that manufactures of asbestos roofing tiles give certain advantages over clay tiles, despite asbestos being labelled as carcinogenic by the World Health Organisation (WHO).

He charged that asbestos is being imported duty-free to the country to manufacture roofing tiles, and the government is encouraging more plants to be set up in Sri Lanka with tax incentives despite a ban announced earlier.

He said two asbestos roofing tile manufacturing plants in Arachchikattuwa and Mathugama are under construction as BOI projects.
He blamed politicians for promoting asbestos for their own personal gains.

"Politicians in the North don't allow asbestos roofing tiles for housing projects. They are demanding clay roofing tiles, since they know the damage that asbestos could cause to human health. However, it was not due to lack of awareness that the asbestos was encouraged for roofing tiles in rest of Sri Lanka, but for personal gains," Pathiraja said.

He also pointed out that Sri Lanka's cement import bill keeps increasing due to increased cement imports to manufacture asbestos roofing tiles, which he identified as a main contributor for rupee depreciation last year.