---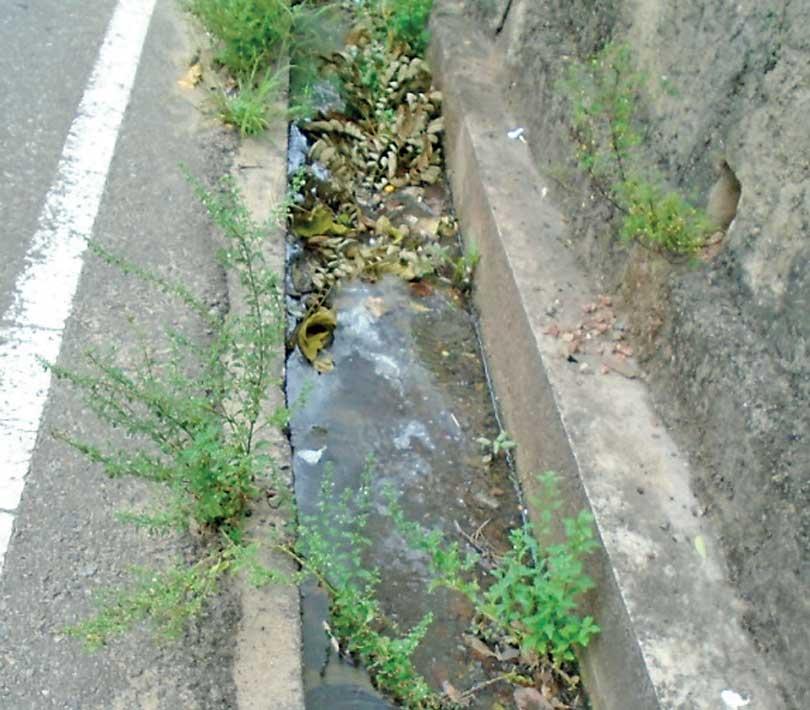 The waste water drains in Quarry Road behind the Dehiwala Zoo have been in a dilapidated condition creating an eyesore in the area
Residents repeated representations to the relevant authorities regarding the obstructed waste water drains fell on the deaf ear
The waste water dealings had now turned into a massive mosquito breeding ground that they were living in constant fear of any possible outbreak of Dengue fever
By H.M. Dharmapala
The waste water drains in Quarry Road behind the Dehiwala Zoo have been in a dilapidated condition creating an eyesore in the area and a serious health hazard much to the anxiety of the residents of the area. The public pointed out that thousands of visitors to the Dehiwala Zoo, including school children were among those exposed to the health hazard.
Residents of the area pointed out that the free flow of water in the side drains had been obstructed for more than a year for want of maintenance and that they were covered with rank vegetation. They said the waste water dealings had now turned into a massive mosquito breeding ground that they were living in constant fear of any possible outbreak of Dengue fever.
They pointed out that individuals from other areas misused the canal to dispose of garbage, obstructing the free flow of water and that it resulted in the overflow of waste water onto the road and the compound in front of the houses during heavy rain. A resident of the area S.D. Kalyananda of Galwala Road said their repeated representations to the relevant authorities regarding the obstructed waste water drains fell on the deaf ear.

" This was taken up at the Defence Committees and drew the attention of the Police Environmental Unit but to no avail. Waste water from the Dehiwala Zoo flow into the side drains in the Quarry Road. We have been compelled to breathe polluted air due to the nauseating smell from stagnant water for more than a year.

The drains were cleaned at times through Shramadana by the residents of the area when Dengue fever was spreading," he said. Residents of the area expressed concern about the broken down drainage system that created a dengue breeding ground posing a serious threat to the public health. They pointed out that the health authorities who filed action if a coconut shell with a little water was found in a home garden, had not yet focused attention on the canal filled with stagnant water creating a massive mosquito breeding ground.
They accused the Dehiwala – Mount Lavinia Municipal Council of neglecting this health hazard although they paid assessment tax on time to avoid legal action against them. They requested the Municipal Council to clean the side drains and to maintain them regularly to prevent any possible threat to public health.