---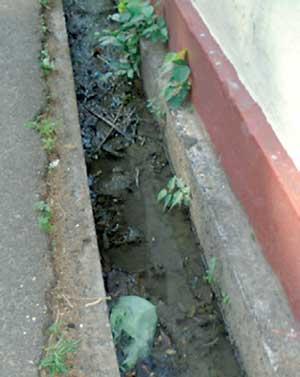 By H.M. Dharmapala and Kusal Chamath
Residents of Vihara Mawatha in Bellanwila, off Dehiwala- Maharagama Main Road expressed concern about the neglect of maintenance of sewers and the stormwater drains.

They said the side drains obstructed with garbage prevented the free flow of water creating an ideal place for mosquitoes to breed.

They said that the side drains filled with stagnant water running parallel to the garden wall of the Bellanwila Raja Maha Vihara created a health hazard affecting thousands of pilgrims, flower sellers and the people living in the surrounding area.

Besides, he said the nauseating smell from stagnant water was unbearable.

A resident of the area, Kumara Nanayakkara (45) said Vihara Mawatha linking Bellanwila, Maharagama road and by-roads to Pepeliyana and Rattanapitiya connecting 120 bus route is used by tens of thousands of people almost every day but any road development is carried out only during the Bellanwila Esala Festival.
"The side drains filled with garbage are not cleaned regularly and it prevents the free flow of sewage through the main sewers from Pepiliyana to Beallanwila lake. All wastewater and stormwater flow through the culverts in Vihara Mawatha into the wastewater canals. The culverts are obstructed with garbage and dry leaves. In response to the continual public representations, the side drains were cleaned by the Boralesgamuwa Urban Council for the Esala festival. The houses are infested with mosquitoes after dusk and we live in constant fear of any possible danger of Dengue fever.

"Children are our main concern and we do our level best to protect them from that danger. Our complaints in this regard to the UC have fallen on deaf ear. UC members representing the area come out with the lame excuse of manpower shortage and postpone it," he further said.

Residents requested the authorities to look into the inconvenience caused to tens of thousands of people and to repair and maintain the sewers and drains and the side drains in the area without threatening the public health.
They said that the side drains filled with stagnant water running parallel to the garden wall of the Bellanwila Raja Maha Vihara created a health hazard affecting thousands of pilgrims, flower sellers and the people living in the surrounding area