---
UDA hopeful of completing constructions in March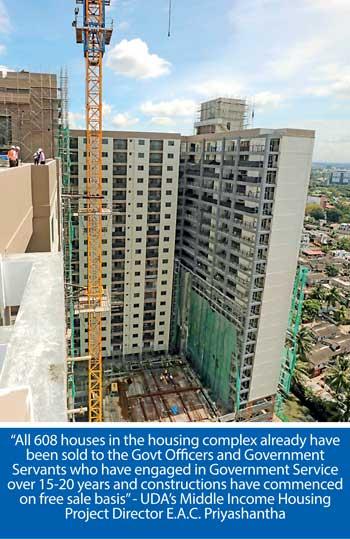 The Urban Development Authority (UDA) said it expected to complete the constructions work of the Housing Project for the Government Servants in "Oval View Residency" in Wanathamulla, Borella by March 2020.

Recently, Prime Minister Mahinda Rajapaksa who is also the Minister of Housing instructed the UDA to expedite the construction works of Housing Project.

The constructions of the housing complex consisting of 608 housing units, was delayed for one and half years during the period of last government and construction works have been expedited on the instructions of Prime Minister Rajapaksa, the ministry said.

This housing project was inaugurated in 2014 as a concept of former Defence Secretary and present President Gotabaya Rajapaksa.
Construction works of this housing project halted in the year 2015 and recommenced in 2016.

UDA's Middle Income Housing Project Director E.A.C. Priyashantha stated that all 608 houses in the housing complex already have been sold to the Government Officers and Government Servants who have engaged in Government Service over 15-20 years and constructions have commenced on free sale basis.

This housing scheme is situated near the P. Sarawanamuthtu Stadium. Rs. 6 Billion has been spent on this project. There are 304 houses with three bedrooms in this project while 304 houses with two bedrooms. There are 25 floors included in this complex and a Car Park, Children's Park, two fitness centres, a Shopping Complex and Swimming Pool including many facilities also consist of this housing project.

Construction works are being finalized on the supervision of UDA Chairman Harshan De Silva and Director General Prasad Ranaweera.