---
13 families to be evicted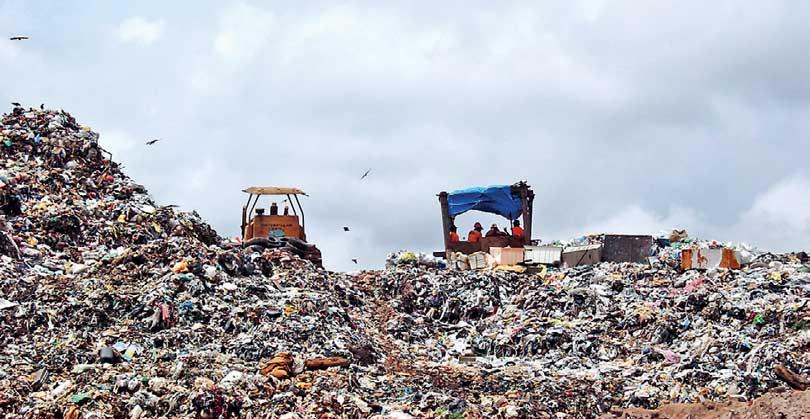 By Muditha Dayananda
A section of the Karadiyana garbage dump has been identified as a danger zone and preparations have been made to evict 13 families living close to this section, the Western Provincial Waste Management Authority said.

This step has been taken after an examination conducted by the National Building Research Organization (NBRO) in the area recently.

A discussion has also been held with the participation of the Chairmen of the Urban Councils of Kesbewa and Boralesgamuwa, the responsible state officials, people's representatives, the Chief Secretary of the Western Provincial Council and the Waste Management Authority in this regard.

The investigations conducted by the NBRO found that a crack exists on a garbage dump which is about 25 feet in height and that an alleged cancerous gas emits from the crack. Therefore, the NBRO has recommended to immediately remove 13 families living near it.

Speaking on this issue, the former JVP member of the Western Provincial Council Lakshman Nipunaarachchi said that they had warned about this type of dangers as far back as 1997, when this dump was established.

"We pointed out that establishing this dump in close proximity to the Bolgoda Lake could badly affect the water but no one took us seriously. Finally when they started to dump garbage brought from Colombo here, we launched a protest and were successful in halting the move. Due to this agitation we were able to stop the dangerous consequences at least to some extent," he said.

The power generation project which was initiated had also been stopped and only 50 tons of garbage is accepted for the compost conversion. Daily, at least 500 tons of garbage are being dumped here but only 50 of them are being used to create compost. Therefore, 450 tons of garbage is left utilized, daily.

When this matter was taken up with the Western Provincial Waste Management Authority, its Director Nalin Manapperuma said the proposed power generation project was halted over an issue with the purchasing of electricity.

"This has resulted in dumping of garbage becoming an issue. An investigation conducted by the National Building Research Organization revealed the danger, and a discussion was held subsequently, and a decision was taken to remove 13 families who were residing close to the dump. Each family is to be paid Rs.25,000 to assist them to obtain a house on rent temporarily and in addition another Rs.5,000 to move household goods. Families that have been evicted are to be provided with houses within six months or compensation, depending on the value of their properties. Meanwhile attempts will also be made to commence the power generation project that has been stalled. With the view of reducing the quantity of garbage that is being dumped, new projects had been introduced," Mr. Manapperuma said.