---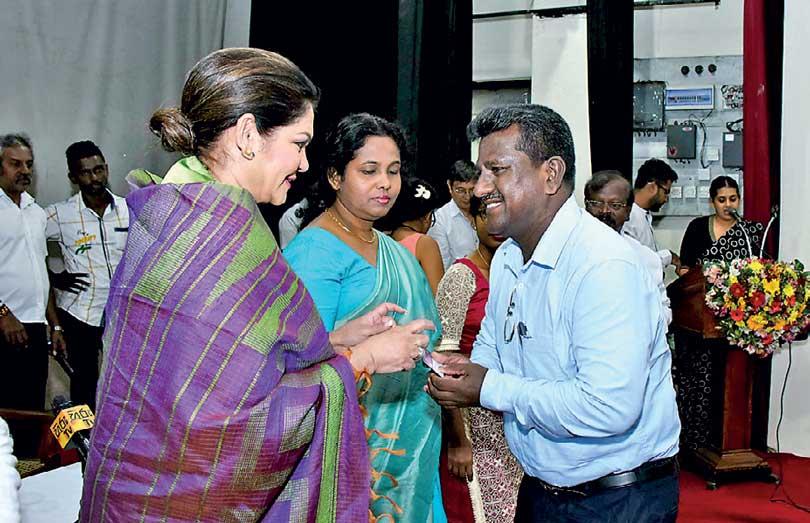 By Thisari Andria Walawege
More than 60 percent of Colombo's population are from low-income families, Colombo Mayor Rosy Senanayake said.

"The Colombo Municipal Council (CMC) has an immense responsibility to look after them, especially the women and children," she said.
The Mayor said this at a programme organised by the CMC and the Search For Common Ground (SFCG) Corporation to provide Community Leader Identity Cards to Community leaders.

She said these underprivileged people were facing many difficulties with fewer facilities including accommodation and therefore the CMC as a Municipal Council had a duty towards women and children.

To direct the Colombo city towards a path of development, the CMC together with the SFCG corporation implemented the project 'We Build Colombo Together (WBCT)' focusing on the main aim of entering a development pathway where the government sector, private sector and the community stood on common ground.
As a giant step towards fulfilling this aim, they organised a programme of providing Community Leader Identity cards to Community leaders last Thursday under the patronage of Mayor Rosy Senanayake at the New Town Hall premises.

"We live in the 21st century where we can perform global transactions by merely pressing a button. However, while the world is converting their knowledge to the economy, we Sri Lankans are sending innocent women to Middle East countries to earn a dollar. This is very unfortunate," she said.
Addressing the gathering, the Mayor said that Community Development Societies which had been established since before 1980 have been slowly deteriorating due to lack of systematic and methodical workings in the societies.

"The CMC together with SFCG corporation was attempting to re-strengthen these Community Development Societies by issuing these identity cards to address this issue. These societies, as voluntary organisations, would work towards making Colombo city a green city," she said.
According to her, by 2023 about 89, 000 job opportunities would be generated through the Colombo Port City project and these societies would assist in creating an environment where all people may live with equal facilities in the face of such a glorious future.

Moreover, she said that she felt grateful towards the President for his valiant effort towards strengthening the country's economy by investing in technical knowledge and education sectors in accordance with his vision towards a better country.

Deputy Mayor M. T. M. Iqbal, Municipal Commissioner Roshini Dissanayake, Colombo Divisional Secretary Kanchana Gunaratne, Project Manager at SFCG corporation Nirmani Liyanage and other officers of the municipal council also attended this programme.
We live in the 21st century where we can perform global transactions by merely pressing a button. However, while the world is converting their knowledge to the economy, we Sri Lankans are sending innocent women to Middle East countries to earn a dollar. This is very unfortunate