---

As a country with a high level of humidity and dusty environment, the Sri Lankan population is exposed to the high risk of contracting fungal skin infections. These can negatively affect personality and self-esteem and may lead to many physical, psychosocial and occupational problems by changing the quality of life of the affected person.

Tinea versicolor (pityriasis versicolor) commonly known as 'aluham' in Sinhala is a fungal skin infection that causes patches of the skin to change colour. These might be lighter, darker or both light and dark patches.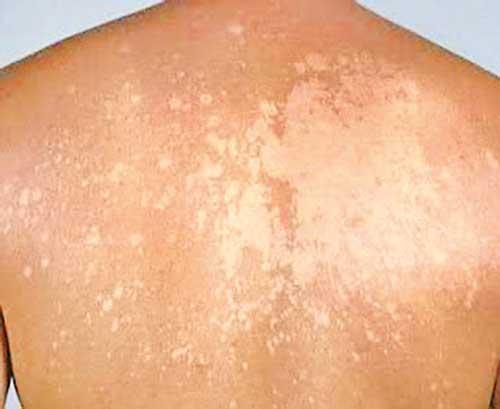 The fungus causing the disease is called Malassezia furfur. It is a commensal, which means it lives on people's skin and normally does not cause problems. But in some people the fungus can cause tinea versicolor. Transformation of Malassezia from normal skin flora to a disease-causing form is associated with several factors.

Causes of tinea versicolor
Exposure to hot and humid weather
Increased sweating
Hormonal changes in puberty
Weakened immune system
Use of topical skin oils.

Tinea versicolor is not related to poor hygiene.

An important point to know is since tinea versicolor is caused by a fungus which normally lives on our skin, unlike most other fungal infections, it is not "contagious" which means, it does not spread from person to person.

Symptoms
Tinea versicolor often appears in the form of many small coloured spots that might combine to form larger patches. The colours can vary from lighter shades to darker shades or a even pinkish red. There can also be a mix of colours. A fine scale is often present on affected skin, which appears powdery when scraped.

Malassezia is a lipid-dependent fungus which means it feeds on your skin oils. Therefore, it is seen more in areas where oily sweat is produced; like the sebaceous glands in the skin.
Tinea versicolor usually surfaces on the back, chest, or upper arms where oily sweating is at the highest. It can also happen on the face or in places where the skin rubs together, such as the armpit.

Diagnosis and treatment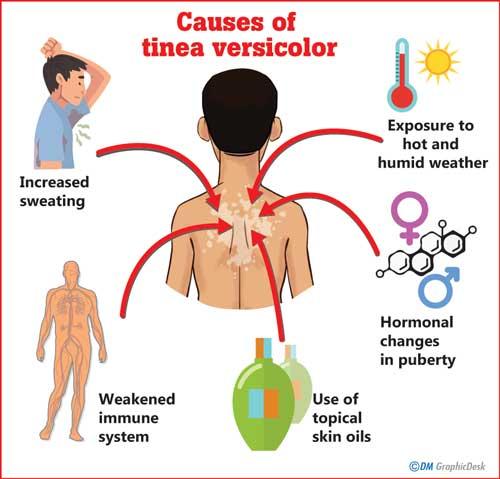 Usually, tinea versicolor can be diagnosed by clinical examination from just observing the affected skin. At other times, skin scrapings might be observed under a microscope to identify the fungus. This procedure is usually not painful.

Most mild cases of tinea versicolor only need a special antifungal "shampoo" or cream. The shampoo is used like a soap on the affected skin.Topical therapy with creams such as antifungals, selenium sulfide, and zinc pyrithione is a safe and effective treatment for most patients with tinea versicolor.If your tinea versicolor covers a large part of your body, or if it does not get better with the shampoo or cream, you might need oral antifungals too.

Even after you get treated, it is very important to know that the colour change in your skin might not return to its normal colour for several months. This does not mean the treatment did not work. It just takes time for the skin to heal.

Can tinea versicolor be prevented?
If the tinea versicolor keeps returning there are shampoos or medicines that can help prevent it
Recurrence of the disease is common. Typically the application of selenium sulfide or ketoconazole shampoo once a month is recommended as prevention in those prone to recurrences.
If this regimen is not effective, you might be prescribed to oral antifungals once a month for adults based on professional medical recommendations.