---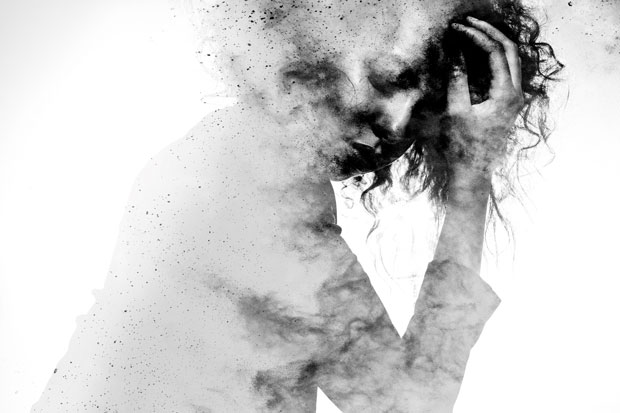 A smile, a kind word or gesture costs nothing and doesn't take time. But it would mean the world to a person who is contemplating between giving a final statement to life and giving life another chance. We do come across people who say that they have given up on life and in most instances they become the laughing stock. Unfortunately, that could be a warning sign too.
Suicide isn't the wish to die, but a final desperate attempt to draw the attention of those around him or her. It doesn't respect class, creed, ethnicity or religion, but would strike anywhere, where the pain of mind exceeds the individual's ability to cope with it. As such, preventing people from making this attempt should be everyone's responsibility.

'Take a Minute, Change a Life' - the theme for World Suicide Day which falls Sunday (September 10), reflects on the fact that connections are important at several levels if we are to combat suicide.
'Good relationships among people will reduce chances of depression' -Dr.Ramani Ratnaweera
Speaking to The Daily Mirror, Dr.Ramani Ratnaweera, Consultant Psychiatrist at Karapitiya Teaching Hospital said that children between 15-29 are most vulnerable to suicide. "This is because they are involved in a competitive education system. Parents are comparing their children with others.
Therefore instead of teaching them to achieve something in life they are being asked to overcome their peers in the classroom. As a result parents continue finding their weaknesses and ridiculing them which will eventually keep their esteem low. Instead of fulfilling their wishes through the child, I believe that parents should guide them through their lives, but this isn't happening.

"Another problem is that the family unit isn't so closely knit anymore. So parents don't have time for their children and others are always on their mobile devices. Because of this reason, those children who are experiencing hormonal changes in life will be attracted by the opposite sex. Once they are isolated at home they will seek the attention of someone else. Once that relationship breaks in most instances there have been attempts at suicide. Apart from that, bullying in schools is a major issue. This is because personalities of children vary and every child has a pre-morbid personality," she explained.

When asked about the stigma associated with it, Dr. Ratnaweera further said that people don't know that depression is curable. "Because of that, the chances of seeking professional help are less than 50%. Some people try to battle it on their own. When the levels of Serotonin and Noradrenaline drop, the patient will have many negative thoughts.
People above 70 years of age have a vulnerability to commit suicide. This is because old age is a phase in life where you have more losses than gains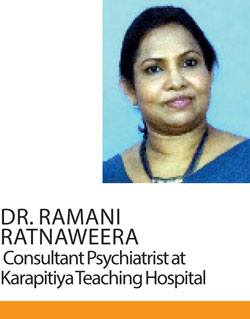 Hence they will lose their appetite, keep thinking about their problems, move away from people and would want to be in isolation. When these feelings become intense, it will end up in suicide. But if there are healthy relationships among people, suicide rates will drop. Chemical imbalance could be cured by medication and therapy. In addition they will have to go for Cognitive Behavioural Therapy (CBT) and counselling sessions," added Dr. Ratnaweera.

In a recent finding by Sri Lanka Sumithrayo, it has been identified that people above 70 years of age have a vulnerability to commit suicide. This is because old age is a phase in life where you have more losses than gains. Old people are either alone in their houses or have someone else to look after them, but not their children. This is why they should get involved in active ageing programmes.
Through them they will have friends in those groups and won't feel isolated. Once they have been released of their responsibilities they will feel useless. So they could play a musical instrument, stitch or do other work to keep themselves occupied during the day,"she said.

Concluding the interview, Dr.Ratnaweera pointed out that these individuals need someone to talk to. "Even if they don't reveal, people close to them have to identify any changes and help them come out of their loneliness. It doesn't have to be a counsellor or professional. If someone is having a problem, call and find out. Take them out for a coffee and give them enough time to talk, cry and let out their negativity," she said.
Psychological Autopsy

Autopsy of a Suicidal Mind (Psychological Autopsy) is a uniquely intensive psychological analysis of a suicidal mind. Interviewing the immediate relatives and friends and analysing these interviews and suicidal notes will give us the opportunity to gain some understanding of the person's intense psychological pain and to examine what may have been done to save the person's tortured life. But the most important aspect is the prevention of suicide.

Suicide is the result of complex interactions between a range of factors including historical, psychological, cultural, biological and social. Any approach taken to treat the problem of suicide must include considering all these factors. Postmortems of individuals, who died following suicide, reveal that there are chemical changes in the brain mainly in the Serotonergic system in different regions of the grey matter within.

A befriending service for everyone
Recent findings by Sri Lanka Sumithrayo have revealed that parents have a bigger role to play in the case of teen suicides. A few other important findings are as follows :
Colombo is the easiest place to stay in Sri Lanka with its advancements in technology and modern communication. But despite this communication people have been isolated. There's hardly anybody without a smartphone and people are dealing with a communicable device rather than with people. Even if a family goes out for dinner we see that all members of the family are glued to their devices, including the parents. Isolation is becoming quite rampant and therefore it is easy to be depressed.
If someone has irregular sleeping patterns for about two weeks or more then there's a chance that you may be having depression. Sexual patterns too are an indicator of this condition. Also a person undergoing depression will show an inclination to stay away from people and will lack interest in doing daily activities. There will also be a change in appearance as well and this is quite evident in the stance taken by people. If any of these changes are identified, it is advisable to communicate with this individual and be by their side. With the social stigma revolving around depression and other psychological-related conditions, people wouldn't want to speak about it and that is the danger at hand. But there's absolutely no harm in talking about your worries to another person rather than thinking of giving up on life.

It is absolutely alright to talk about negative things in life. Depression is a treatable condition if intervened. But if it accumulates, one day that person would end his or her life. Once identified, they can seek professional help, get treatment and go for counselling and therapy. Once the course concludes they can once again function as normal people. It is nothing to be ashamed of. Maybe this also has to do with cultural boundaries and therefore we try to keep our problems to ourselves.

Parents always have to listen to their children. Treat your children as responsible individuals. Whenever they want to tell you something, please listen. Don't ever ridicule them or neglect their request. If they want to talk to you it's a big plus point and encourage them to talk with you more often. This way you would be able to detect any change in their lifestyle at an early stage. Also don't burden them with too much academic work.