---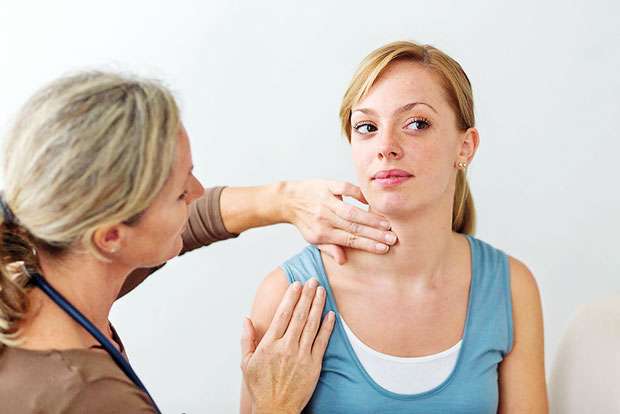 Thyroid gland is a butterfly shaped gland situated in front of a human's neck. This is an endocrine gland, which directly supplies its hormones to the blood. The thyroid gland produces a hormone named "Thyroxin". This particular hormone "Thyroxine" regulates human metabolism; a chemical process which occurs to boost energy in the human body. This way, hormones control the calorie burning process and the heart rate and in an indirect way help body growth. Thyroid glands in humans play a major role to keep human beings energetic. Therefore, this week's Health Capsule contacted Dr. Yapa Udaya Kumara, Consultant Physician of District General Hospital, Monaragala to enlighten readers more on the subject.

Varied types of thyroid
According to Dr.Yapa, thyroid disease is common among females. There are five varied thyroid diseases and each disease has their own unique symptoms, causes and medications. They can be identified thus...

Underactive thyroid gland or Hypothyroidism– "This is a hormone deficiency in the human body, where the body does not produce sufficient thyroxine hormone" Dr.Yapa stated.

Overactive thyroid disease or Hyperthyroidism– This is a condition where excessive amounts of hormone is produced in the body.
Goiter–Goiter is the enlargement of the thyroid gland. With this condition, the patient might be diagnosed with hypothyroidism, hyperthyroidism or a normal thyroid state.

Thyroid nodules–Lumps or abnormal masses within the thyroid gland can be identified as thyroid nodules. This is a condition that occurs when part of the gland is enlarged.

Thyroid cancer–Thyroid cancer may be present as thyroid nodules or goiter. There are abnormally multiplying cells within the gland.

What causes thyroid?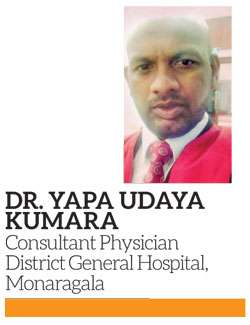 "As mentioned above, these thyroid variations have their unique and identifiable risk factors", Dr. Yapa told to the Health Capsule.

Hypothyroidism–Causes for hypothyroidism can be identified as, autoimmune disorders, thyroid surgery and radio iodine treatment.
Autoimmune disorder is when the human body produces an antibiotic that attacks its own human cells which involves the thyroid gland too. This disease is also known as 'Hashimoto's thyroiditis'.

Thyroid surgery–Removing the thyroid gland causes the human body to produce the thyroxine hormone. When there are insufficient hormones produced, it is known as hypothyroidism. This shows that thyroid surgery directly causes Hypothyroidism.

Radio iodine treatment–Being exposed to radio iodine treatments may also affect the thyroid glands and lead to Hypothyroidism. The affected thyroid glands will cause inefficiency in its production of thyroxine hormones.

Hyperthyroidism–Graves' disease is the prominent cause for Hyperthyroidism. It is the condition when the human body produces antibodies which produce excessive thyroxine hormone.

Goiter–The prominenet cause for goiter is the iodine defficeny in the diet.'Hashimoto's thyroiditis' and Graves' disease are also risk factors diagnosed with goiter. And at the same time due to the physiological demand in a teenage body, thyroid gland can be marginally enlarged.

Thyroid nodules–Overgrowth of normal thyroid tissues, fluid-filled cavities in the thyroid glands are the most common causes for thyroid nodules. Sometimes thyroid cancers are present as thyroid nodules.

Thyroid cancer–Exposure to radiation is the recognized risk factor in thyroid cancer.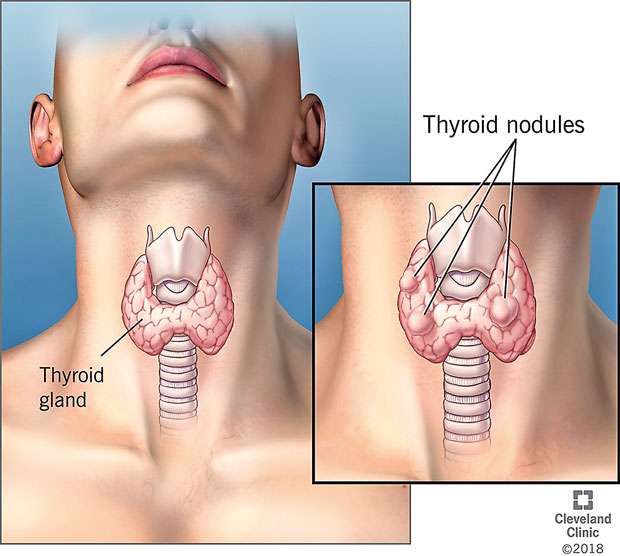 Symptoms and diagnosis
"Symptoms of Hypothyroidism presents itself with lethargy, fatigue, weight gain, puffy face, hoarse voice, irregular menstrual periods, slowed heart rate, constipation and cold intolerance. These are prominent symptoms of hypothyroidism" Dr. Kumara added. On the other hand, symptoms of Hyperthyroidism can be identified as weight loss, heat intolerance and irregular menstrual periods,sweating, irritability and palpitation. As for Goiter, lump in the neck is the common symptom of the disease. Patients with Goiter might or might not have hypothyroidism or hyperthyroidism.
Moreover, lumps (small) in the thyroid gland is the best indication or symptom of Thyroid nodules. "If you have symptoms of overactive and underactive thyroids, it is a warning sign to consult your doctor. A doctor will prescribe a simple blood test, known as the "Thyroid Profile" Patients should do not be afraid of this simple test. When it comes to the condition of goiter, doctors instruct patients to do an ultra sound scan of the neck. Through this ultra sound scan doctors can come to a conclusion whether it is a small lump or a suspicious gland, which may lead to cancer. This ultra sound scan is a very important scan to diagnose thyroid diseases. According to the situation, tissue samples are taken from patients by putting a needle to aspirate a sample of neck tissues, to verify whether there are abnormal growths of cancer" Dr.Kumara stated.

Medications
Hypothyroidism–As this is a situation where less production of thyroxine hormone is takes place in the body, doctors prescribe oral medication in order to replace the production of thyroxine in human body. It is a life-long medication. According to the doctor's instructions, patients should take their medications punctually.

Hyperthyroidism–There are several medications for this condition including oral medications and radio iodine therapy. Doctors first instruct oral medications. After oral medications, changes are observed. Once the conrolled symptoms are achieved for a long term managment either thyroid gland is removed surgically or radio iodine is given to distruct the thyroid gland. When the thyroid gland is removed from the human body, there will be a thyroxin deficiency. To address this, patients have to take a supplement of thyroxin.

Goiter–Treatment of goiter is dependent upon the underlying condition. If the goiter is large or cosmetically unacceptable it can be removed surgically.

4.Thyroid nodules–Simple thyroid nodules do not need any treatment, but if there is a suspicion of cancer it must be removed.

5.Thyroid cancer– Most of the cancers need surgical removal, but some patients might need radio iodine treatment as well.