---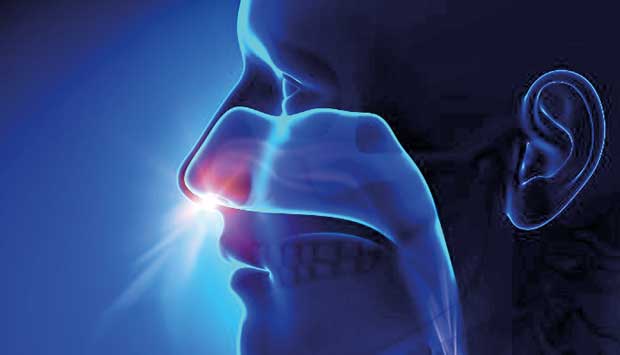 The term 'Allergic rhinitis', may not sound familiar to some of our readers. But if you think in the more familiar term of 'Hay fever', it's very likely that visuals of an annoying array of symptoms including incessant sneezing, runny nose and itchy eyes will surface in your minds. Like Asthma, Allergic rhinitis is believed to be one of the diseases which are becoming increasingly common in the society due to urbanization and industrialization. Furthermore, even though not usually serious, it can cause extreme discomfort to the sufferer. This is why we decided to consult Dr. Bodhika Samarasekera, Consultant Respiratory Physician, District General Hospital, Hambantota and the Joint Secretary of the Sri Lanka College of Pulmonologists, to obtain more information on allergic rhinitis.

Getting to know hay fever
Allergic rhinitis, commonly known as hay fever, is a common chronic respiratory condition marked by a group of symptoms affecting mainly the nose, explained Dr. Samarasekera.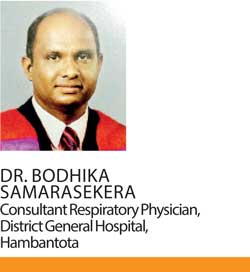 These symptoms usually occur as a result of inhaling something that the person is allergic to. The common allergens that cause these symptoms are dust, animal dander and pollen. However symptoms can also occur when you eat foods that you are allergic to.

Even though allergic rhinitis itself is not life threatening, morbidity from the condition can be significant. This condition can coexist with other disorders such as asthma and may be associated with asthma exacerbation, explained the doctor.

Allergic rhinitis may keep children away from school and make adults absent at work. Hence, in addition to the physical effects on the individual, it causes an economical burden on the society overall. According to Dr. Samarasekera, the prevalence of the allergic rhinitis is increasing throughout the world and may be associated with upward trend of outdoor and indoor pollution. Currently, approximately 10% to 30% of the adult population of the world and 40% of children are affected by this respiratory condition.

Presentation
A runny nose (frequently watering nose) is the commonest symptom of allergic rhinitis. Along with this they can get itching of the nose and itching and watering eyes as well. However these symptoms can be minimal and can disappear quickly once allergen is no longer present, explained the doctor.

Sneezing is the other common symptom that these individuals are frequently complaining of and the swelling of the nasal tissues may lead to impaired smell and the taste.

Allergic rhinitis may also cause itching in mouth, throat and skin. In addition, you may develop nasal congestion, sore throat, headache and coughing. Furthermore some patients may complain of a plugged in feeling in the ears and under eye puffiness, he continued.

Even though symptoms of allergic rhinitis could occur at any stage of life, most of these individuals develop this condition during childhood. It is also important to remember that intensity, frequency and duration of the symptoms may vary according to the individual.

Causes
Allergens, together with the response of our immune system to those allergens cause the symptoms of allergic rhinitis. Indoor or outdoor dust, pollen, pet dander, grasses and moulds are just a few examples of common irritants. A person can be exposed to these irritant in outdoors or indoors.

When an allergen hits your system, your body will try to fight it off with a chemical substance called histamine. It is histamine that causes your body to produce mucus and tears to fight with the allergen and this process leads to the group of symptoms of allergic rhinitis.

In addition to those common allergens, there are several other allergens that can cause allergic rhinitis. Cockroach excrement, tobacco, latex and chemicals are a few examples, according to Dr. Samarasekera. Furthermore, certain food allergies such as nuts, eggs, milk and wheat can also cause allergic rhinitis. However it is also important to remember that the response to these allergens may vary according to individuals, stresses the doctor.

Genetic and Allergic rhinitis
The tendency to develop allergic reaction to extrinsic allergens has a genetic component, explained Dr. Samarasekera. In susceptible individuals, exposure to certain foreign proteins leads to allergic sensitization. Hence allergic rhinitis is also associated with a group of other conditions such as asthma, eczema, sinusitis, and nasal polyps.

Treatment
Allergic rhinitis is not a curable disease, proclaimed the doctor, at the same time, assuring that with a well integrated, medically monitored plan of care, a person can have a normal active life.

The best treatment plan differs from individual to individual. It depends on several factors including a person's severity of symptoms, specific allergen type etc. The most important part of the management is to prevent from the exposure of specific allergens that cause symptoms such as dust, animal dander, cockroaches, pollen and moulds, according to Dr. Samarasekera. Hence environmental control measures to prevent outdoor pollution and indoor pollution play a crucial role in preventing episodes of allergic rhinitis exacerbations. Bed linen should be clean and free from dust and all carpets should be vacuumed frequently. Not keeping pets such as cats is also an important part of care plan, especially because animal dander is well known to precipitate symptoms of allergic rhinitis.
He explains that in our country the smoke from firewood, mosquito coils and joss sticks (Handun Kooru) may also precipitate symptoms.

He stresses the importance of seeking a doctor's advice with regard to patients who are suffering from symptoms of allergic rhinitis. The doctors will then asses you to start a management plan, which may require you to undergo a few blood tests and skin tests for specific allergens.

Medications are also needed for the effective control of symptoms and your doctor may prescribe oral antihistamine and corticosteroid nasal spray in your treatment plan. It is very important to remember that these medications should be taken for longer duration in order to effectively control of the condition. By following the correct treatment plan and by adjusting life accordingly, a person suffering from allergic rhinitis can lead a normal and a productive life, concluded the doctor.