---
By Thusitha Malalasekara
Hair has long been an important aspect of beauty. Traditionally, women have paid great attention to the growth of hair, it's strength, volume and shine. Strong and beautiful hair is a woman's crowning glory and great pains are taken to ensure its health, be it the effort or the money spent. Caring for your hair is important. This article attempts to deliver some tips as to how you can care for your hair with a nutritious diet.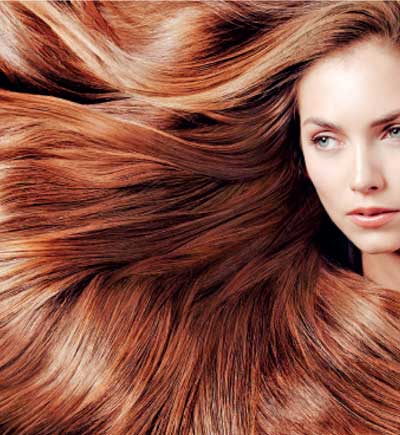 Just like any other organ, hair too is dependent on the food we consume. Your diet must consist of nutrients that will ensure the health and strong growth of hair. Hair is made of a tough protein called keratin. A hair follicle anchors each hair to the skin. The hair bulb forms the base of the hair follicle. Blood vessels nourish the cells in the hair bulb. Ensuring you have enough protein in your diet is crucial for making hair strong and healthy. If you are not consuming enough protein in your diet, your hair is likely to become dry, brittle and weak. Extremely low protein diets may result in hair loss. It is true that meats, fish, milk, egg and soy foods are rich in proteins. Consuming the required amount of these foods within the course of a week however might be problematic. Therefore foods like green gram, beans, legumes and lentils can fulfill the protein deficiency in your diet. In order to make sure that the amino acids in protein are absorbed into your body, choose rice or bread to compliment your vegetable proteins.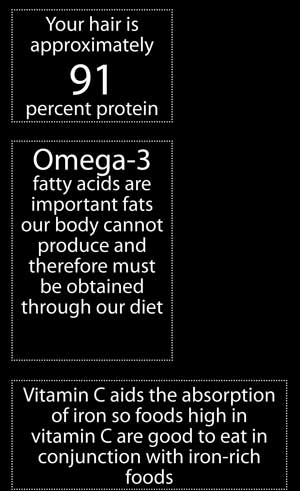 Your hair is approximately 91 percent protein. Therefore to strengthen the protein in your hair, a portion of red rice or brown bread and short eats made out of rice flour or whole grain flour can be consumed. Foods made out of grains such as kurakkan, oats and corns are also essential to your diet.

Iron is an especially important mineral for hair and too little iron (anaemia) is a major cause of hair loss. The hair follicle and root are fed by a nutrient-rich blood supply.

When iron levels fall below a certain point, you may experience anaemia. This disrupts the nutrient supply to the follicle, affecting the hair growth cycle and may result in shedding. Animal products such as red meat, chicken, eggs and fish rich in oils provide iron with a high bioavailability, meaning the iron is readily available to the body. Vegetarians can raise their iron stores by including lentils, leafy green vegetables and leaves such as Gotukola, Mukunuwenna, Murunga (Drumstick tree leaves), Kathurumurunga (Agati leaves) and thampala.

Vitamin C aids the absorption of iron so foods high in vitamin C are good to eat in conjunction with iron-rich foods. Vitamin C is also an antioxidant so is used readily by the body.

The best sources are lime, tamarind or biling juice which can be added to salads and curries. Consumption of fruits rich in Vitamin C such as oranges, papaya, guava, plantains and pineapple helps in the production of collagen that strengthens the capillaries that supply the hair shafts.

Omega-3 fatty acids are important fats our body cannot produce and therefore must be obtained through our diet. Omega-3s are found in the cells that line the scalp and provide the oils that keep your scalp and hair hydrated. Look out for oily fish and plant sources including avocado and pumpkin seed.

Vitamin A is needed by the body to make sebum. Sebum is an oily substance created by our hair's sebaceous glands.A lack of sebum results in an itchy scalp and dry hair. Include animal products and orange/yellow coloured vegetables which are high in beta-carotene (which makes vitamin A) such as carrots, pumpkins and sweet potatoes. Regular consumption of these foods will act as a natural conditioner to your hair.

Biotin is a water-soluble B vitamin. Too little biotin can cause brittle hair and may lead to hair loss.
Include biotin rich foods such as wholegrains, liver, egg yolk, salmon fish, corn, avocado, soy flour and low fat cheese in your meals for a balanced supply of B vitamins. Scalp protection involves other important minerals, notably zinc and selenium. A lack of zinc can lead to hair loss and a dry, flaky scalp.

Fortified cereals and wholegrain are a good source of zinc along with peanuts, eggs and yoghurt.
An overall balanced diet is necessary for a healthy scalp and healthy hair. To maintain the beauty and vigour of your hair, the regular intake of these foods with a balanced diet will make you the envy of those wishing for lustrous locks.