---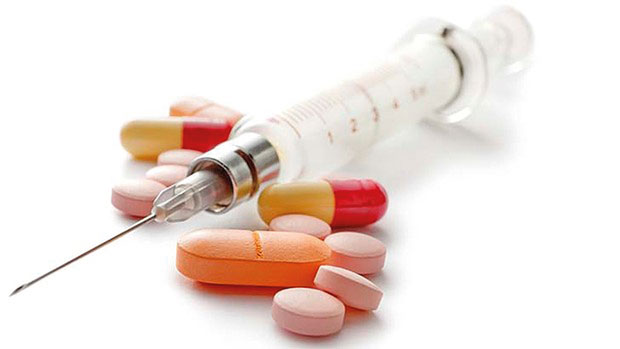 Drugs are used to alleviate pain and suffering and to save lives of millions of people. But this is possible if drugs are used in the proper way. From a simple drug as Paracetamol to anti cancer medication, the function of these drugs is immeasurable. But there is a darker, more obscure side to these lifesavers.

It's estimated that around 200,000 people worldwide die annually due to overdose of drugs. Most of those who died were comprehensive drug users. Addiction can be to 'Legal' drugs like morphine, or 'illicit drugs' like heroine or cannabis. But this menace doesn't only affect those addicted, but to the society as a whole. When a person is addicted to a drug, his whole focus in life is on the drug and how he can obtain it. This will explain the numerous accounts that we hear daily on petty crimes like pickpocketting to bank robberies. motivated by drugs, which is an expensive addiction. There is also a higher incidence of certain mental illnesses like schizophrenia among people who abuse drugs. With International Overdose Awareness Day falling on August 31, Health Capsule decided to explore more on the darker side of drugs, specifically on addiction and overdose, on behalf of readers.
On addiction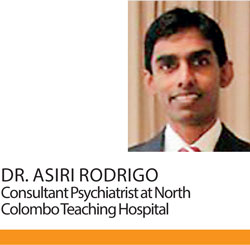 Dr. Asiri Rodrigo, Consultant Psychiatrist at North Colombo Teaching Hospital, explained that addiction happens when someone feels a strong urge to use a substance even with the knowledge that it's harmful. "They know that something isn't right in their lives when they take such substances, but they continue with them. They start thinking that they will limit their use, but they can't stop their use altogether. When they don't use it they get withdrawal symptoms. With time, the dosage of the drug has to be increased in order to get the same effect," he elaborated.

"Drug addiction can have long term effects on the central nervous system. Nevertheless, with continuous treatment-both pharmacological and non-pharmacological- cure is possible", said Dr. Rodrigo.

Those at risk
"Many individuals take drugs because they are already having social or psychological problems. These people find solace in their drugs to compensate for the vacuum in their lives. But instead, the substance adds a much worse problem to their pile of problems," Dr, Rodrigo opined.

Adolescent age, male sex and poverty are some of the risk factors. And even though figures aren't high, there is a tendency for drug addiction to increase in schools. This can happen more in poverty stricken areas, where teachers and the parents neglect children, said Pradeep Koholanegedera, Assistant Director, Preventive Education and Training, National Dangerous Drug Control Unit (NDDCU).

The experiment trap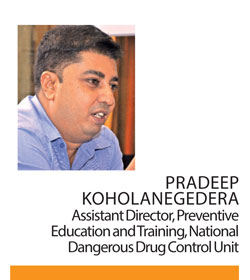 According to Koholanegedera, there is a sequence called the progressions of addiction. The first group includes experimental or recreational users who use drugs very rarely or for the first time. Then some of them progress into the occasional or circumstantial using stage. These people find 'excuses' to use substance eg: A party, breakup etc. Then some of them progress into becoming regular and intensified users. By this time they are in hot water. These people don't usually need others to use the substance and prefers to take it alone. The initial dose can't satisfy them anymore, so they periodically increase their dosage. They may move from one substance into a 'harder' substance. Finally comes the addictive or the compulsive user. The main feature associated with this user is the need to start the day with the substance because they can't function without the drug.

"The occasional users are the highest threat to the society, may it be drugs or alcohol. This is because they use the substance, regardless of whose presence they are in. They give the impression that it's very classy, fun and a sociable thing to do. Children naturally take in the foot steps of such adults," he said.

Treatment
Dr Rodrigo assured us that there are very effective treatments available. Any government hospital will provide these people with detoxifications. Many users fear receiving treatment due to withdrawal symptoms. But he said that the hospitals will freely provide users with medication to minimize these complications and to reduce their cravings for the drugs. The mental illnesses as a result of the continuous use of drugs will also be treated. The hospitals will also provide the family with counseling on how best to deal with the person concerned.

The doctor stressed on the need for directing individuals who have substance misuse problems to seek medical care."In cases where the patient is indecisive, we strengthen their resolve using various techniques. We can change their thinking pattern which caused them to become addicted in the first place. Drugs have become an integral part of their lives that when the drug is withdrawn, they are left with a large gap in their lives. They have no idea of how to fill that gap," is how Dr. Rodrigo explained the process of counseling. With these cases the counselors lead them on to the right direction by reintroducing the things that the addiction took back from them, like family, friends and leisure activities, to fill that vacuum.

Prevention before care
Identifying and taking measures to prevent addiction in initial stages will have a long term positive impact on users. Family and friends who are closest to a vulnerable individual are the best possible candidates for the task.

Especially in the case of adolescents and teenagers, if they are distracted from school work, are having bad company and suffering from loss of focus, these should be addressed immediately. This should be done even when they aren't using drugs, explained Dr. Rodrigo. The misconceptions that they have about the benefits of drugs should be cleared. Even though providing explicit information on drugs aren't recommended, the dark side of drugs and how they can ruin lives should be incorporated in to the school curriculum. Teaching them life skills like saying no and being assertive should be integrated into them since peer pressure is one of the commonest initiating factors for addiction. Self-respect and self-worth are also vital to one's personality because sometimes individuals try to reaffirm their worthiness by using drugs.

"Just because they used drugs, the family should not alienate them. Find out the cause and take remedial measures. Make sure that they understand that you are in this struggle with them. Letting them know that you trust them to win the battle against drugs, so that they are reluctant to break the trust placed in them. These methods go a long way in helping them," was his advice to the family.

About Overdose
Overdose is taking dangerous or possibly lethal amounts of drugs. The amount that is lethal depends on various factors like the type of drug, health and age of the person and weight of the person.
Drug overdose isn't a problem limited to 'addiction'. Therefore precautions need to be taken when purchasing drugs over the counter or using a prescription.

The following precautions can be taken-
Store the medication in sealed, named containers, away from children's reach.

Read the instructions well before use.

Discontinue the use of drugs if they are discolored or the blister packs are broken.

When your doctor prescribes you with drugs, mention any other drugs that you are currently on, so there are no interactions among medication.

Adult and children doses of medication differ, so take extra care to give the prescribed dose when giving medicine to children.

When on long-term medications, especially with the elderly, regularly review the drugs and the doses. This should be done because the doses needed may change with time.