---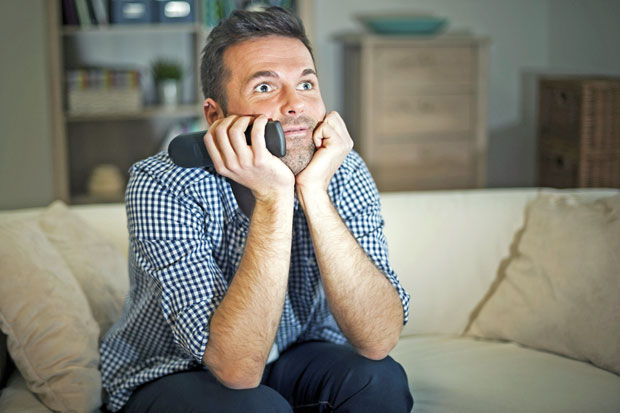 In the modern world the Television (TV) has become part and parcel of the lives of people. The TV not only conveys information, but serves as a mode of entertainment. Stress has its effects on both mind and body. The World Health Organization has identified stress as a health epidemic in the 21st century. It can initiate the "Fight or flight response" which is a complex reaction of neurological and endocrine systems. As a result the sympathetic system is activated and stress hormone levels rise due to the activation of the HPA (Hypothalamo-Pitiutary-Adrenal) axis leading to adverse outcomes regarding health.

Numerous studies have demonstrated that the media have a positive impact on the Psychological well-being in people. They help people to psychologically detach from stress and relax. However, recent studies have highlighted that there is a negative relationship between media and psychological well-being.

The stress response isn't induced only when one directly encounters a crisis, but also when a person experiences the distress of another. This is known as "Empathetic stress". It has been shown that Empathetic stress, which is modulated by emotional closeness and observational modality, causes HPA axis activation. This leads to a surge of cortisol in our body (Engert et al 2014).


On the contrary some studies propose that the impact of media exposure on psychological well-being depends on how the viewers appraise their own use of media (Reinecke 2014). Reinecke and his fellow researchers demonstrated that ego-depleted individuals found that media entertainment is a form of procrastination and this is followed by immense guilt and a feeling of failure after watching TV. Therefore, ego-depleted individuals have a negative impact on the so called stress-relieving effect of media.

The hours spent in front of the television
Factors such as the hours spent on watching TV and the type of programme can also have an influence on viewers. It has been proven that there is a correlation between the hours spent on watching TV with the stress level. Anderson et al (1996) found that for women stress is positively related to television addiction and in men, there is a positive correlation of stress with the amount of watching TV. Also another study by them revealed that stressed women watch more game and variety programming as well as more overall TV while the stressed out men watch more action and violent programming.

There are TV programmes that create positive emotions as well as negative emotions. The aim of this study is to find whether the type of programme and the emotions it evokes in the viewer have an impact on stress levels. Though viewing TV programmes is one of the main modes of entertainment in Sri Lanka, yet studies regarding this context is barely touched upon .Therefore, this study gives a scope as to how this phenomena implies in the Sri Lankan context.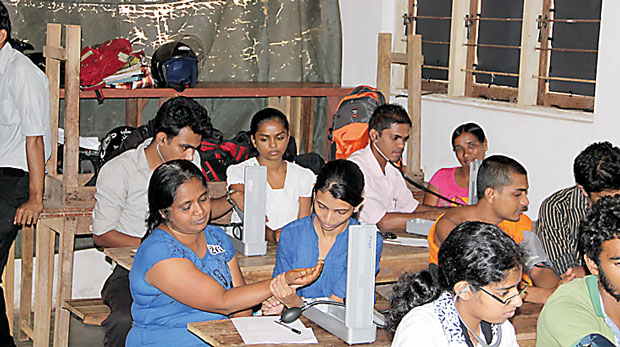 Methodolgy
A study was conducted in a randomly selected village within 1 km radius of the University of Peradeniya. The chief monk of the village temple was approached to obtain his support to convince people to participate as subjects for the proposed study. The villagers were made aware of the study when they came to the temple for "Bodhi Pooja" (a religious event).

During the health camp, an evaluation on health was conducted by volunteers who were third year medical students and pre-intern doctors. Medical and drug history, Body Mass Index (BMI), Blood Pressure (BP) and the pulse rate were checked. Those who required medical attention were referred by pre-intern doctors for further care.

During the above process, total of 30 subjects were selected. Males and females were subject to a certain selection criteria such as being between age 20 years to 60 years and normotensive ().
The selected subjects were divided into 2 groups of 15 and both groups were shown a 20 minute comedy. The first measurements of blood pressure (mm Hg) and pulse rate (bpm) were taken immediately before the clip was shown. The second set of measurements were taken immediately after showing the clip. Both before and after measurements of a subject was taken by the same volunteer using same equipment. The subjects were given refreshments and allowed to rest for about 30 minutes. After the interval, a horror clip running up to 20 minutes was shown to both groups. As in the previous case, blood pressure and pulse rate were taken.

Measurements were taken by the volunteers who were unaware of the research objectives. To find out whether TV programmes have a significant impact on heart rate and blood pressure, the Paired T-test statistical technique was applied for the collected data. The parameters analyzed include pulse rate, diastolic blood pressure, and systolic blood pressure and mean arterial blood pressure before and after viewing the comedy and horror clips. The outcome of this study demonstrated that TV programmes which create positive emotions such as comedies don't have an impact on heart rate and blood pressure. TV programmes which create negative emotions such as horror programmes increase heart rate, diastolic and mean arterial blood pressure which depicts high stress levels.
These parameters were taken as markers/ indicators to identify the Flight or Fight response which is initiated following the stress response.

Negative emotions such as anger, hatred, jealousy, enmity, frustration, annoyance, loneliness, fear, anxiety, depression, worry and guilt are projected through various means through the television. Experiencing these emotions directly as well as indirectly by observing others undergo distress can evoke the stress response. The latter phenomenon is known as Empathetic stress.

Therefore, binge-watching Television is a better approach than gluing to the habit of watching programmes that evoke negative emotions on a daily basis. In contrast positive emotions not only have the entire opposite effect that was explained above. These types of programmes also release endorphins which guarantees tranquilization and relaxation.

Telecasting companies can be requested to limit the broadcasting of negative-emotional TV programmes and if they really need to show them after peak hours of the day.

Conclusion
Therefore, measures should be implemented to make the society aware of this concept and to minimize the exposure of media users to such stress-inducing programmes. Finally, this study is a paradigm to conduct further research on the impact of media on psychological well-being.

(The research paper was conducted by the university of peradeniya and the group of researchers included NA Fonseka, S.Garusinghe, GMDR Gaspe, M Gukes, HMMM Gunarathne, AMCM Gunathilake, MWI Gunasinghe, WWAR Gunawardena, PASR Gunawardena, IKPS Gunawardena)