---
All you need to know about Polycystic Ovarian Syndrome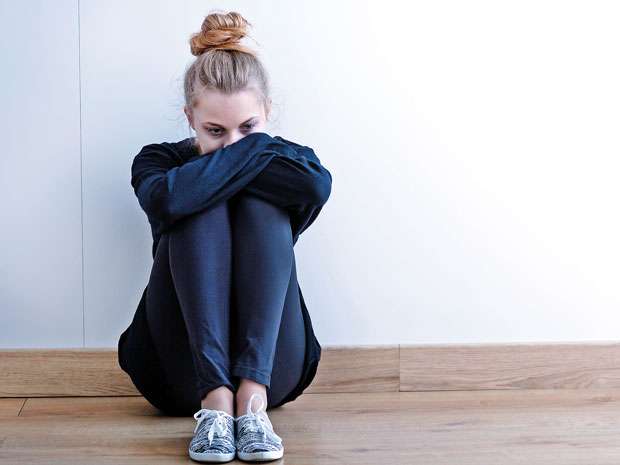 Polycystic ovarian syndrome, commonly known as PCOS, is a term that is becoming increasingly common when it comes to women's health. If you are suffering from features like irregular menstrual periods, acne and difficulty in losing weight, there is a chance that you are suffering from PCOS as well. Health Capsule consulted Dr. U.D.P Ratnasiri, Consultant Obstrecian and Gynaecologist who serves the Castle Street Hospital for Women, to get more information on the topic on behalf of our readers. Below are excerpts of the interviews done with Dr. Ratnasiri.

Q What should our readers know about PCOS?
Polycystic ovarian syndrome is a disease condition affecting women in the reproductive age group due to endocrine hormonal imbalance. In PCOS, the normal female hormonal pattern is altered and more male hormones are found in the body. This will cause masculine changes and menstrual irregularities in the body of a young woman.

These hormonal changes will further result in eggs not being released in a regular monthly cycle, which in turn lead to irregular menstruation and infertility among married women.

There is a wide variation in the incidence of PCOS, ranging from 2 to 26 per 100 females in the reproductive health age.

Q What are the features of PCOS?
There are two types of PCOS. The majority of the patients are obese or overweight and a minority are found to be thin built.

In patients having the obese variety of PCOS, there is truncal obesity and they tend to have more male features like acne, male hair distribution. Darkening of the back of the neck, oily skin bolding and change of female voice are also common features.
While dietary advises need to be individualised for each women, increased fruit and vegetable intake and reducing the carbohydrate and fat in the diet is essential
Q What are the causes?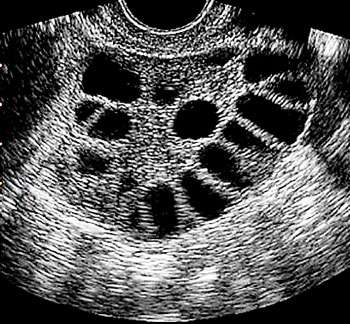 The cause of PCOS is yet unknown, but it is hereditary. But, if any of your relatives (mother, aunts, and sisters) are affected with PCOS, your risk of developing PCOS may be increased.

Q What can you tell about diagnosis?
Diagnosis is mainly with the clinical features such a s truncal obesity male hair pattern, acne, oily skin, dark discoloration in the back of the neck, irregular menstrual periods. Features of polycystic ovaries found in an ultrasound scan will also help in diagnosing the condition. In suspected cases hormonal assessment is required to confirm the diagnosis.

Some of these women go undetected in younger age and are first diagnosed when they are investigated for infertility after marriage.

Q Can you talk about complications?
Long delayed menstrual bleeding could lead to thickening of the endometrium, the inner wall of the womb. There is a remote chance of this thickening leading to endometrial cancer.

Infertility is a common problem among women with PCOS which also can lead to psychological problems like depression.

There are other associated problems with obese polycystic patients like diabetes, hypertension, hypercholesterolemia and sleep apnea, which is difficulty breathing in sleep, states Dr. Ratnasiri.
There is no cure for PCOS. Medical treatments aim to manage and reduce the symptoms or consequences of having PCOS
Q Can you describe the treatment process?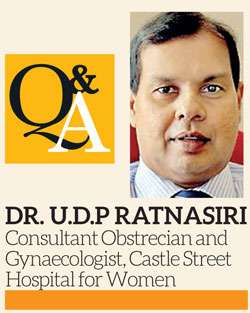 Treatment depends on the specific problems faced by the individual. Therefore, the treatment is tailormade to suit the requirements of the woman.
Lifestyle modifications are advised in all patients suffering from PCOS. Some women may need pharmacological treatment to regularize menstruation. Women who are suffering from sub-fertility may need drugs to increase the chances of producing eggs (ovulation induction). Some may even need advanced fertility treatment if they are not producing eggs with first line treatment.

While dietary advises need to be individualised for each women, increased fruit and vegetable intake and reducing the carbohydrate and fat in the diet is essential in all. A balanced diet with all ingredients in required proportion to the body will also help. Regular exercise, at least 30 minutes a day for at least five days of the week will help in losing weight as well as to improve the muscle strength.

Reduction of weight according to the height with calculation of Body Mass index brings most of the hormonal imbalance to normal levels and menstrual and fertility problems return back to normal. Some very bad obese women may need drugs or surgical procedures to remove additional fat and surgery to prevent absorption of food from stomach they are called bariatric surgery.

Male features like abnormal hair growth need treatment with medication, counteracting male hormones. They may also need cosmetic therapy in removing excessive hair and laser treatment to the skin.

If the patients are presenting with other metabolic disorders; diabetes, for an example, those conditions need to be corrected with life style modifications and medications if needed. Some women may need psychological help when they are down with depression.

Q What can you say about prevention?
There is no cure for PCOS. Medical treatments aim to manage and reduce the symptoms or consequences of having PCOS. Medication alone has not been shown to be any better than healthy lifestyle changes. (weight loss and exercise).

Keeping a healthy life style with a balanced diet and regular exercises from childhood and maintaining the body mass index within the normal range prevent many getting in to this disease condition. Health education of school children about their dietary patterns and promoting them to perform regular aerobic exercises will have more beneficial effects than waiting until adulthood and getting treatment. Avoidance of fast foods and minimizing the sugar and fat intake will also help to maintain a normal range BMI, which is important in preventing this disorder and its complications.

Regular health checkups in obese and overweight women will also help to identify the altered hormonal levels. Recognizing those who are at risk in early stages and correction with simple measures will help in preventing this disorder.