---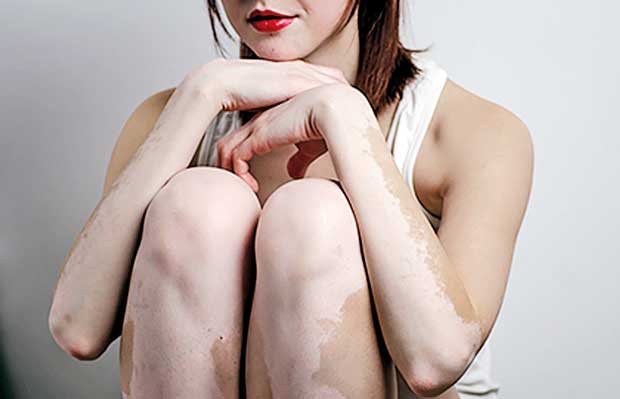 Ever seen individuals with white and pale patchy areas on the skin? Ever wondered why these people have a skin different to yours?
Today's article is on Vitiligo which is a long-term skin condition which is characterized by pale, white patches, developing on the skin due to the lack of this skin pigmentation known as Melanin. Vitiligo can affect any part of our skin, but commonly involves the area which is vastly exposed to the sun including face, neck and hands.

Causes
Even though the exact etiology for this condition is not known clearly, certain autoimmune conditions and underlying health problems related to nerve endings, sudden emotional trauma and stress are thought to be increasing the risk. Other causes can be regular consumption of vegetables and fruits treated with insecticide/pesticide, recurrent episodes of Jaundice or Typhoid fever, heavy Antibiotic treatment, corticosteroid treatment and poor personal hygiene.

In 50% of affected individuals, the initial skin changes would appear before the age of 20, but not as a rule. Both men and women are equally affected and there is no known predominance in any ethnicity.

This condition can usually be diagnosed accurately by analyzing a complete history from the patient and with a thorough physical examination of the affected skin areas. This is mostly done by using an ultraviolet lamp, shone on the skin in order to gain a better visualization in more detail and also to rule out other skin conditions.

Other blood tests to exclude autoimmune conditions like Diabetes and Thyroid profile to exclude Hyperthyroidism will also be carried out in suspected individuals.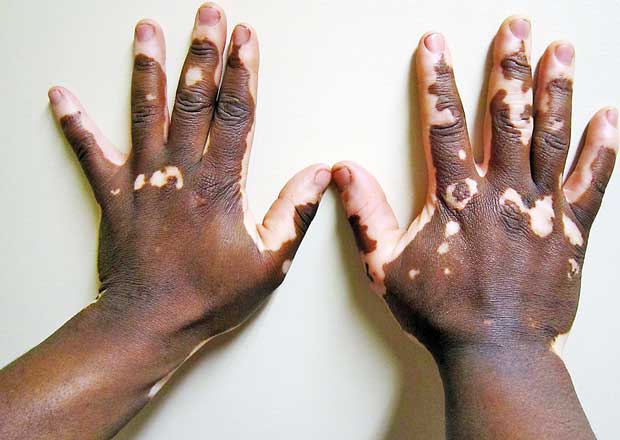 Treatment
White patches on skin caused by Vitiligo have no permanent cure. Yet the appearance could be improved with certain medications. In fact, relatively small patches can be concealed with skin camouflage creams or cosmetic concealers.

Furthermore, severe and extensive patches could be treated with a combination of treatments including photo-therapy and medication.

However, since the spreading of the disease can't be halted completely, it is important to advice the affected individuals to minimize the exposure of their skin to sun light, to prevent negative out comes.

Complications
As far as the complications of Vitiligo are concerned, the lack of Melanin can result in sun burns and increase the risk of skin carcinoma caused by chronic exposure to Ultra violet rays from the sun. Also, some individuals may get affected due to the lack of pigmentation in eyes and suffer partial loss of hearing which is known as Hypoacusis.

Additionally, this can also result in problems related to confidence and self-esteem, so it is highly important to get social support from charity and social services in order to change the negative attitudes of the community towards Vitiligo.
---
Your Queries
Q I'm suffering from neck and shoulder pain since last July. Where could I get prolotherapy treatment in Sri Lanka ?
Dear reader, first of all, to simply explain what Prolotherapy is, it is a procedure where certain sugar solutions like dextrose are injected on multiple instances to the muscles/ joints etc. Prolotherapy is not practiced in western medicine: it falls outside the scope of proven remedies in rheumatology. There are no clinical studies to prove this works regarding pain. One needs multiple prolotherapy injections according to literature on alternative therapy to obtain some benefit. And as practicing rheumatologists we think that the sugar injections are just producing a "Placebo" effect. That is they are temporarily reducing the pain because of a psychological benefit. Unfortunately rheumatologists do not practice prolotherapy in Sri Lanka and I do not know of reputed hospitals where this treatment is provided.
Dr Himantha Atukorale -MBBS(Colombo) MD - Consultant in Joint Disease and Rehabilitation
Clarification
With reference to our article headlined 'A Medical guide to control diabetes' in the Health Capsule dated January 5, we have inadvertently stated that it was written based on a lecture delivered by Consultant Physician Dr. M. Sarath Gamini de Silva at a seminar organised by the Health Education Bureau.

What we published was a translation of a Sinhala article written by Dr. M. Sarath Gamini de Silva in a booklet provided to us by the Drug Committee of Sri Lanka Medical Association 2016 for reproduction in the newspaper.

However Dr. de Silva said he did not deliver the lecture and has no connection with the article. We express our regret to Dr. de Silva.