---
your wellbeing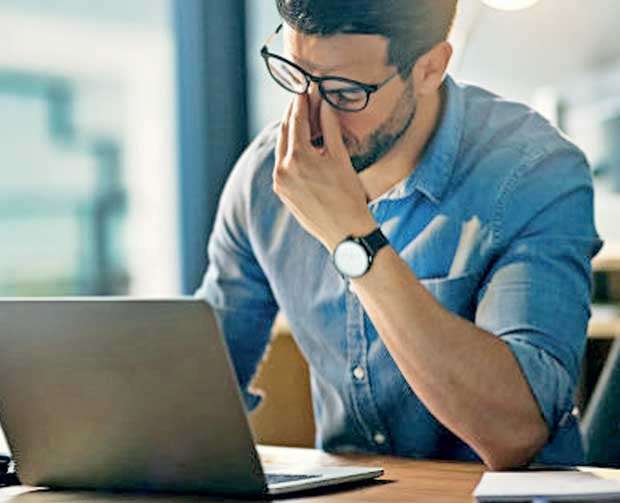 Do not stare at digital devices in total darkness
Computer vision syndrome affects 75% of people who work on computers

Computer eye strain has become a major job-related complain. The problems range from physical fatigue, decreased productivity and more work errors. University of Iowa Health Care says computer vision syndrome affects 75% of people who work on computers.

"From dry eyes, redness, eye fatigue to headaches there's a catch – all terms for any screen induced- discomfort: 'Computer Vision Syndrome' (CVS) says Dr. M. Wijayatunga, a retired Consultant Eye Surgeon who was attached to the Ragama Teaching Hospital.

Dr. Wijayatunga says that despite the causes for CVS being many, the most prominent symptoms are dryness and fatigue in the eye. It is also referred to as Digital Eye Strain.

"The longer someone stares at digital screens, the chances are high to develop CVS. And those who are already having dry eyes for other reasons, might find it really difficult to stare at the digital devices for long," adds Dr. Wijayatunga.

"The wetness of eyes depends on the tears. Blinking brings a thin layer of tears, which are produced by the lacrimal glands situated above each eyeball. The glands are secreting a small amount of tears. A film of tear fluid is spread across the eye surface by the eyelids. This thin film of tears include three layers - oil, water and mucus. Oil layer stops evaporation of water layer by covering it. Tears prevent dryness by coating in the eye as well as saving it from outside irritants. The sole oxygen and nutrients provider lubricates the eyes smoothing the surface of our eyes, so that light is refracted correctly enabling us to see clearly." explains Dr. Wijayatunga.

The science of blinking

"We forget to blink while staring at a digital screen (mobile phones, laptop, or the monitor) and continue looking, which causes dry eyes in return. The average person blinks some 15 - 20 times per minute and while staring at a digital screen they don't blink once per minute. As a result, the eye becomes dry, causing grittiness and irritation." Dr. Wijayatunga says.

The official scientific journal of the National Academy of Sciences in United States, "Proceedings of the National Academy of Science" published the results of a scientific research of 'blinking', conducted by a group of Japanese scientists. They guessed the blink might be a subconscious activity, a mental resting point, to briefly shut off visual stimuli and allow us to focus our attention better.

Symptoms of CVS

The WebMed says; research reveals that between 50% -90% of people who work at a computer screen have at least some of the following symptoms.
Dryness
Irritation
Red eye
Headaches
Blurred vision
Tearing
Eye strain and pain
Neck and shoulder pain
Discomfort in the eye

Causes for CVS
Poor lighting
Glare on the digital screen
Air Condition machines – The humidity in our country is high compared with cold countries and therefore we don't have the dry eye syndrome. But the dryness is high within an Air Conditioned room and the protective layer of tears evaporate swiftly causing threats to eye health.
Staring at electronic screens for a long period of time.
Rule of 20

Every 20 minutes, look away from digital screens at something 20 feet away for 20 seconds. This gives your eye muscles a rest and helps ward off fatigue and strain.
Follow these tips for relief
Focus half a minute at a distant object, at least for a few seconds.
Try to blink as much as possible to keep your eyes moist.
Keep a water basin if you are in an A/C room, somewhere closer to you so that the humidity will protect your eyes from drying up.
Use digital devices consciously.
Have a routine comprehensive eye exam.
Wash or wipe your face with water to avoid dryness and irritation.
If you have any refractive problems in the eyes, meet your doctor and wear glasses.
If you are using an old style monitor (CRT), go for a LCD monitor.
Adjust the brightness and contrast of the monitor, screen to a comfortable level. This level depends on the lighting of surrounding area. Try to keep a good harmony between the lights in surrounding area and lighting in the monitor.
Don't wear reading glasses for computer. Use proper eye wear while using computers especially if you are older than 40. If you are staring at the computer for more than 5- 6 hours, use glasses which prevents dryness and protect eyes from radiation of digital screens.
Enlarge the font or page size so that you can read without straining eyes.
Close blinds which are disturbing to the eyes.
Do not stare at digital devices in total darkness.
Maintain good posture and do not sit too close to the computer. It should always be at an arm's length.
Do not hold your mobile phone so near to your face; closer the object it is harder for the eyes to focus on.
Restrict the amount of time you are spending in front of electronic screens.
"Children who play with mobile phones and computers for longer hours might develop eye fatigue, which is common with adults too. This is critical for the eyes of children because their eyes are growing," Dr. Wijayatunga said.