---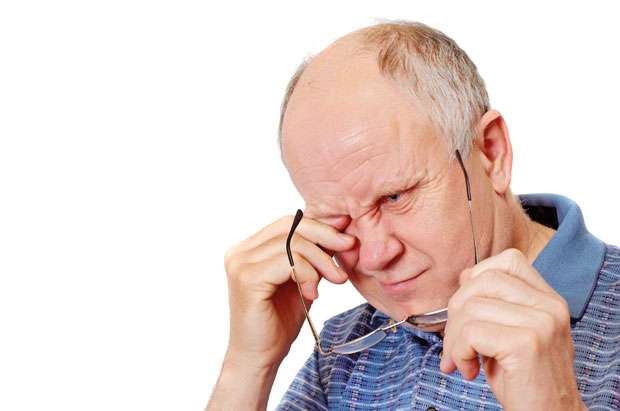 We all are blessed with two eyes. Until we find a blind person or a person who lacks normal vision, we will not understand the importance of healthy eyes. Vision is the most important part in healthy lives. Currently in Sri Lanka, there are many eye-related problems. Eventually these problems contribute to loss of vision and blindness. Among eye-related diseases, cataracts play a major role.

This week Health Capsule contacted Dr. I.L.Mohomad Rifaz, Eye Surgeon and Director of the Colombo Eye Hospital to discuss more about this disease. "Before we come to cataract, first we should understand the structure of the eye. The eyeball is divided into two parts namely the front eye and the back of the eye. These two parts are divided by a lens. This lens is transparent and is encapsulated in a form of gel; through this lens light passes in and out. The length of the lens can be adjusted by the scenery tissues of the eye. Normally to be able to see something, light has to pass through the lens to the retina. The retina is a layer in the eyeball which contains cells that are sensitive to light. This lens has the capability to accommodate light according to the distance of the image. The lens is an organ which adjusts its size and capacity to focus on the light. When this transparency of the lens gets affected due to various risk factors, cataract occurs. Thereafter light radiation that passes through the lens decreases. Cataract is calculated according to the capability of the lens which passes the light in and out. As an example, if a doctor diagnoses a patient with a 40% developed cataract, it means the capacity of light passing through the lens is only 40%. A cataract in one eye does not affect the other eye." stressed Dr.Rifaz stressed.

SYMPTOMS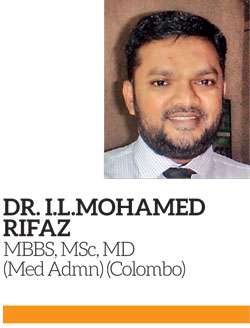 "The most common symptom among patients is poor vision. This can be interpreted in many ways; such as increasing vision difficulty to seeing light, blurred vision or multiple vision. These symptoms are in relation to your vision. So young adults in the age group of 40 must be alerted about these symptoms. Therefore if you have difficulty in your vision, you should consult a doctor as soon as possible" Dr. Rifaz stated.

CAUSES
According to the doctor causes for cataracts can be varied thus:-

Age:- Age can be a prominent factor in causing cataracts. Persons 40 years and older must be aware of their vision. There is a great possibility of being diagnosed with cataracts.

Diseases :- The most important factor leading to cataracts is diabetes. When a person is suffering from diabetes, there is a likely risk, to be diagnosed with cataract. Due to diabetes, lenses in the eyes absorb the increased glucose level in the blood, this affects the transparency in the eyes. This explains how diabetes leads to the onset of cataracts to a great extent. Excessive use of alcohol:- Excessive consumption of alcohol is a risk factor for eye cataracts. Alcohol raises the level of sugar in the blood and it eventually affects the system and causes eye problems such as cataracts.

Dryness of the eyes is caused due to excessive exposure to light . This condition may also affect the eyes and lead to cataracts.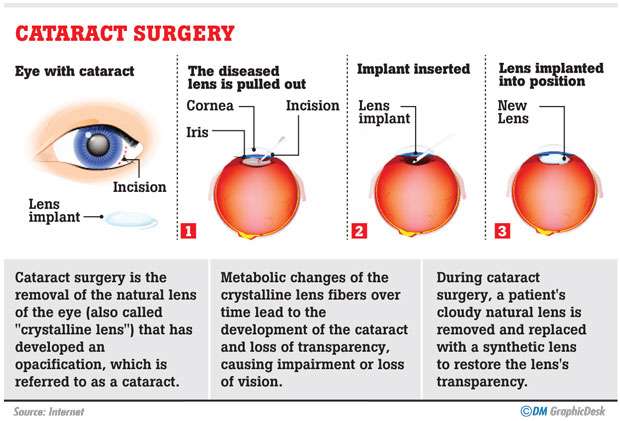 SURGERY
When a patient is in the most affected stage of cataract, doctors advise surgery. "This is a simple one day surgery and patients must not fear this process. Normally surgery lasts for 10-15 minutes. Cataract surgery is a replacement of the natural lens by an artificial lens. Due to the development of technology, modern day cataract surgeries are much easier than before. At present doctors use 'Intraocular' lenses which are foldable. These lenses are loaded into a syringe and injected into the patient's eye. It is lodged in o the space and it unfolds by itself. Through machines doctors check whether it is placed in the right place. This is cataract surgery," exaplained Dr. Rifaz.

Further the doctor said that these artificial lenses have as many as 50 varieties. Lenses are available according to shape, material, sizes and so on. First the doctors check the patients' health too see whether they suffer from other diseases. Doctor's check for glaucoma or eye pressure, diabetes, heart-attacks and so on. Therefore all medications which were given to these patients are stopped and priority is given to the cataract surgery. In rare cases, some people suffer from recurring cataract disease after replacement of an artificial lens. In such cases doctors repeat cataract surgery.This happens very rarely.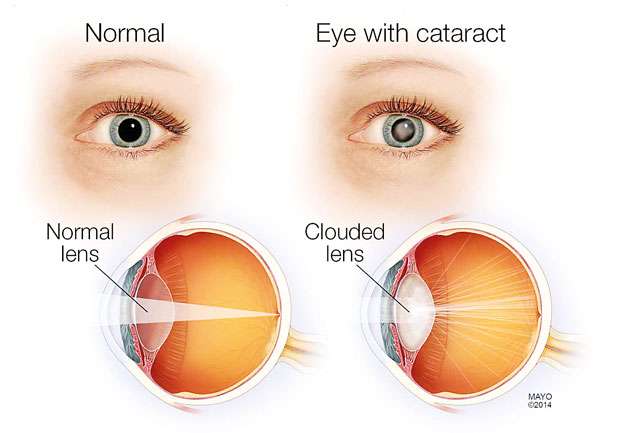 PREVENTIVE
A person who is diagnosed with a cataract problem, must give attention to the risk factors mentioned above. Quitting the consuming alcohol is the foremost factors in controlling diabetes. No matter what your age is, if you experience poor eye sight or the lack of normal vision, you should consult a doctor immediately. Use proper sunglasses to prevent sun radiation which is another prominent factor. Sun radiation can also effect the eyes and lead to cataract. Persons who want to lead healthy lives and have a healthy vision should protect the eyes by adhering to preventive methods.