---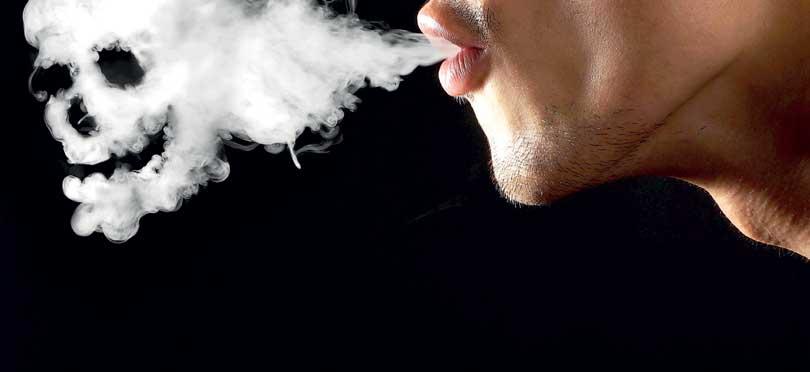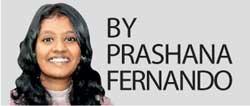 Tobacco is the name of a killer targeting not only adults, but even maturing children. Be it through peer pressure, curiosity or bad example, once addiction hits, it is not only yourself under fatal threat, but also those around you.

Dr. Mahesh Rajasuriya, Consultant Psychiatrist and Director of the Centre for Combating Tobacco (CCT) discussed with the Health Capsule the roots, the realities and the recovery from this issue.

According to the WHO, four million people die yearly from tobacco-related diseases, one death every eight seconds. If current trends continue, it is estimated that the toll will rise to ten million by 2030, one death every three seconds. Tobacco is fast becoming a greater cause of death and disability than any single disease.

Within Sri Lanka alone, over 12,000 lives are taken each year by this cancer-causer named 'tobacco.'

How do tobacco and nicotine harm us?

"Tobacco is a plant (botanical name Nicotiana) originally found in the American continent, later popularised by the Europeans for commercial interests. By curing and processing the tobacco leaf, various products are made ranging from tobacco leaves ready to be chewed with or without betel, tobacco powder to be inhaled through cigarettes, beedi and cigars, which need to be lighted to use," Dr. Rajasuriya explained how this plant-based killer came to be.

"Tobacco contains hundreds of chemicals, and Nicotine stands out as it has some effect on the brain, hence is known as a 'psychoactive substance', although we would later find that this is a misnomer," he continued.

He also described how, "Nicotine has a mild stimulant effect on brain and also mimicks the parasympathetic function of the autonomic system. However, the practical side of this story is that Nicotine does not produce significant clinical effects, or effects that can be readily clinically ascertained, unlike for an example alcohol (which depresses the central nervous system, inducing sleep) So, practically Nicotine is not a real psychoactive drug."

There are numerous portals, through which this deadly substance may enter our bodies; both smoking and non-smoking ones.

However despite the emergence of newer and supposedly 'healthier' forms of smoking, "With each passing year, cigarette smoking is falling in Sri Lanka, as in all the developed countries. However, in other developing countries, it is rising. This is because the tobacco industry is moving from developed countries to developing countries looking for new markets," Dr. Rajasuriya expressed.

Putting to rest certain myths and misconceptions he stressed that, "All forms of smoking devices tend to be harmful to health."

How does one fall into the abyss of addiction?

Significant smokers were usually subjects of the vice as teenagers. During this vulnerable period, smoking is claimed to be an 'escape', a coping mechanism and/or a stress reliever.
However Dr. Rajasuriya presented a different outlook. "Why do mostly boys smoke? If it is due to stress do girls not have stress? The main reason is intrinsic and extrinsic pressure to smoke and to continue smoking."

Intrinsic pressure

From childhood various inputs feed our brain ideas like 'smoking is cool', 'real men smoke real hard', 'smoking indicates adulthood', 'smoking means you are not afraid of anything or anyone including death' so on and so forth.

Extrinsic pressure

Making cigarettes highly available and affordable, peers with intrinsic pressure putting their intrinsic pressure on others are some of the ways one is coerced to smoke cigarettes.
Furthermore, the media; by way of misleading advertisements, movies, tele-dramas etc are responsible for a great deal of this external pressure forced upon the youth.

What you risk by succumbing to this addiction

According to Dr. Rajasuriya, the long term effects of this killer-practice are two-fold; the harm from the chemicals within the Tobacco leaf and the harm from the chemicals produced when smoking. Almost all serious health effects are caused by chemicals other than Nicotine; chemicals like Cyanide, Lead, Arsenic, Radioactive elements, such as Uranium, Carbon monoxide etc."Tobacco smoking may increase almost all types of cancer, but may especially lead to lung cancer. It also causes chronic bronchitis, and Emphysema - that is chronic lung failure, heart and blood vessel disease leading to stroke or heart attack."

According to the American Cancer Society:

50% of all Americans who keep smoking will die because of the habit. Each year over 480,000 people in the United States die from illnesses related to tobacco use. This means each year smoking causes about 1 out of 5 deaths in the US. Smoking cigarettes kills more Americans than alcohol, car accidents, HIV, guns, and illegal drugs combined. Cigarette smokers die younger than non-smokers and smoking shortens male smokers' lives by about 12 years and female smokers' lives by about 11 years. In addition to causing cancer, smoking can also damage nearly every organ in the body, including the lungs, heart, blood vessels, reproductive organs, mouth, skin, eyes, and bones.

With reference to these statistics, Dr. Rajasuriya stated that "there is mounting evidence that cigarettes smoking may increase risk of developing schizophrenia. All these risks apply to use of any smoked product, including hookah tobacco. Smokeless tobacco increases the risk of cancer, especially mouth cancers."

Breaking habits

As opposed to certain beliefs, quitting smoking has more to do with willpower than with medical treatment. "We need to change the way we look at tobacco smoking. It is mostly a habit, not a real psychiatric disease! The pharmaceutical industry wants to portray a picture of a long term almost incurable disease, so their products are used again and again forever. The tobacco industry furthers this by painting an illusion of popularity, toughness and sophistication through nicotine and smoking," Dr. Rajasuriya shared."It is hilarious as well as sad and frightening, that these industries have succeeded to convince psychiatrists, people and even the WHO, that the very harmful addictive chemical in tobacco smoke, nicotine is actually a medication to treat people for tobacco smoking in the form of nicotine replacement therapy!" Dr. Rajasuriya expressed his view- smoking is a habit one can shake off through self-control, self-motivation and perseverance.

"Yes, tobacco smoking may be recognised as a psychiatric disorder, technically speaking. However, I would encourage everybody to look at is as a habit, a habit badly needing discontinuation," he urged.

"You don't seek medical treatments to shake off a habit, do you? Do you know that the majority (40 - 80%) of people who have successfully eliminated the habit have done so without even seeing a doctor or therapist?" he continued to establish the simplicity of the solution.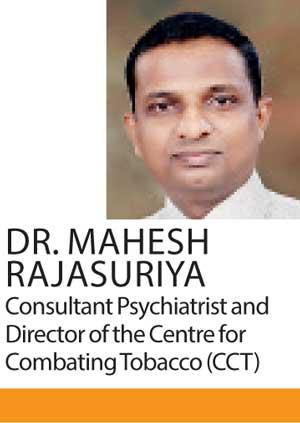 Nevertheless, he added that medication and psychological techniques have aided those who have sought professional help. "If you think you do need help, you may see a consultant psychiatrist or a professional psychotherapist. In Colombo, you can come to our clinic dedicated to substance use issues, at National Hospital at Room No. 36 of the OPD on Thursdays at 1:00 pm."

Dr. Rajasuriya offered some pointers to help shake off the habit:

"Wait till you are really convinced that you should stop smoking. Sometimes it takes a serious complication or a death of a loved one due to a smoking-induced disease for you to develop feelings strong enough to discontinue. Shock, together with fear and the disgust of realization; of being a pawn of the tobacco industry compels your decision.

Tell yourself and your loved ones that you decided to stop smoking. If that is difficult, try to reduce smoking and announce it. Stop buying cigarettes and throw away all cigarettes and lighters permanently. Do not just hide them. Expect and be ready to tolerate a some discomfort for a couple of days. If you really believe it is going to be serious, meet a doctor and ask for some mild anti-anxiety medication. Still, try it once and see. If the first step is genuinely taken, you may find this not too difficult. If you are not convinced enough that you need to stop smoking, then every little thing is a challenge and a barrier to you.

It's alright if you fail a few times, continue to abstain from smoking. If in certain situations you are under unavoidable social pressure to smoke, just take a puff and don't smoke thereafter. It is definitely better to smoke less than smoke more, but it is best not to smoke at all than to smoke even one cigarette."