---
Says he was not informed about any pending attack
Claims tourists are returning to the country
Says none of the parties have named their candidates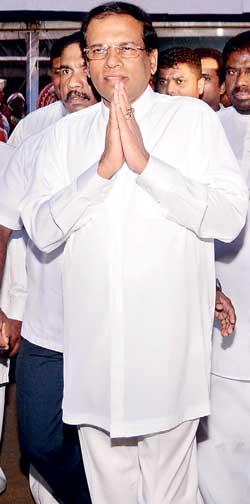 Sri Lankan President Maithripala Sirisena said on Friday that the presidential election is scheduled for December 7, 2019 but had not made up his mind about contesting the polls, The Hindu reported yesterday.
I am not in a hurry to decide whether to stand
"None of the political parties have selected their candidates. I am not in a hurry to make up my mind," he told the media on the sidelines of a meeting of BIMSTEC nations at Hyderabad House.

About the Easter Sunday attacks by radical Islamic suicide bombers which led to the death of more than 250 people, the President said Sri Lanka had not received any reports of the attackers visiting India.

Continuing about the terrorist attack, he said: "It seems that an international outfit supported the attackers and their accomplices. They travelled to countries abroad. Most of the people in the group, including the suicide bombers, were wealthy people…. they are young men and professionals. A few had doctorates. It is possible that they collected money for the activities from within the country."

The President reiterated that he was kept in the dark about intelligence reports on an impending attack. India had warned Sri Lanka about the attacks three times.

"I was in Singapore at the time of the attacks. A clear report had been sent by Indian intelligence agencies on April 4 to Sri Lanka. Correspondence had taken place between defence chiefs. However, from April 4 to 16, the day I left to Singapore, none of the chiefs informed me about this. I would have not left the country had I known about it. I removed the defence secretary and police chief because of this grave shortcoming," the President said.

On the ongoing investigations,he said: "We have received the support of intelligence organizations of friendly countries such as India, US and Britain who came to help us. Foreign policy of Sri Lanka relies on neutrality and we prefer mediation in resolving differences."

On the attacks on Muslims following the blasts, the President said: "We assure security for all groups in Sri Lanka. We are a vibrant democracy like India. Security and safety of all citizens will be ensured by my government, and no community will be targeted."

"Terrorism takes many forms. In some countries there are domestic terrorists. For 30 years Sri Lanka suffered from terrorism. We had peace for 10 years. The attacks on Sri Lanka were carried out by an Islamist group, he said. "All democratic countries should join hands as terrorism hurts all countries. The objective of terrorism is to break bonds. However, in Sri Lanka the situation is under control. We have stability and peace in the country."

The President claimed that tourists had started returning to the country.

The Sri Lankan President said people all over the world were congratulating Prime Minister Modi for rising to safeguard Indian democracy. Sri Lanka is looking forward to his visit on June 9.
The attacks on Sri Lanka were carried out by an Islamist group