---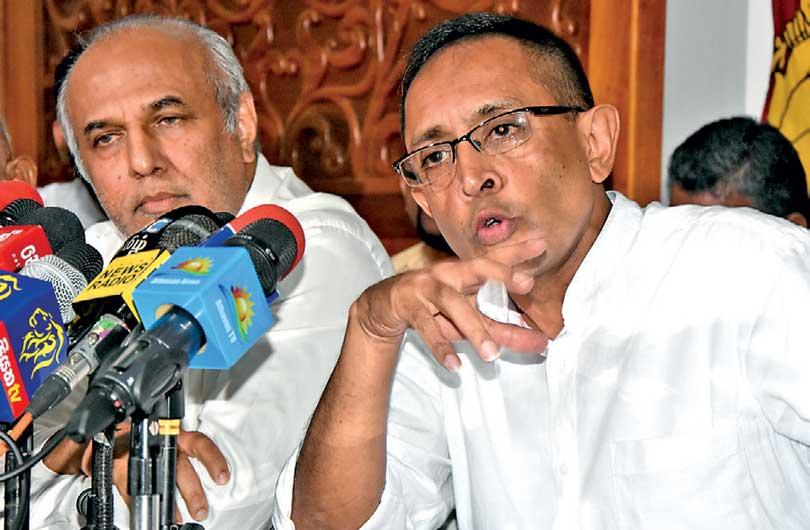 Pledge to remain backbenchers and support government
Urge CID to probe allegations levelled against Muslim politicos
By Ajith Siriwardana
All Muslim ministers including Cabinet, State and Deputy Ministers have decided to resign from their portfolios, Minister Rauff Hakeem said yesterday.
Addressing a news briefing held at Temple Trees, he said they would support the government while remaining backbenchers to ensure the government's survival.
"We will assist the government to survive but its survival hinges on meting out justice through impartial investigations," he said.

Accordingly, Cabinet Ministers Kabir Hashim, Rauff Hakeem, M.H.A. Haleem and Rishad Bathiudeen, State Ministers Mohamed Cassim Mohamed Faizal, Habeeb Mohamed, Mohamed Harees, Ameer Ali Seyed Mohammad Sihabdeen and Ali Zahir Moulana Seyed and Deputy Minister Abdullah Mahroof have decided to step down.

"We resorted to this move in a bid to allow investigations to be conducted justly. Investigations should be expedited and completed within one month, so that we can be vindicated from all allegations. We are prepared to face any punishment if found guilty. Investigations into the allegations levelled against Muslim politicians should be conducted by the CID. We do not believe we could expect a reasonable solution to this issue from the Parliamentary Select Committee appointed in this regard. Only the CID can do that," Minister Hakeem said.