---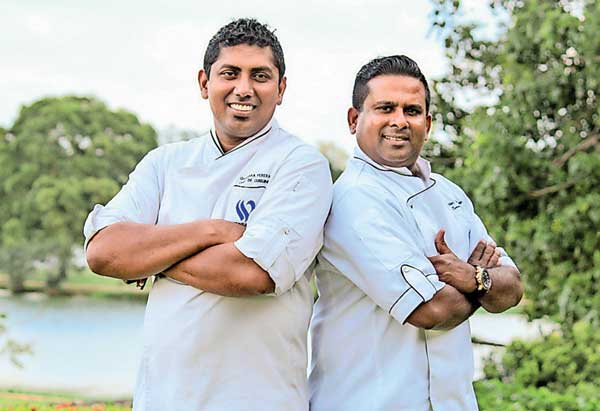 Chef Buddhika Samarasekera (right) and Chef Chamaka Perera
Two Masterchefs from Waters Edge, the favourite suburban hotel on the outskirts of Colombo and a renowned hub for all things gastronomical, will represent Sri Lanka as part of the six-member contingent to Culinary Olympics 2016 to be held in Germany later this month.

Award-winning Executive Chef Buddhika Samarasekera and Chef de Cuisine Chamaka Perera will represent the first-ever national team put together by the Chef's Guild of Sri Lanka.
The International Exhibition of Culinary Art termed the Culinary Olympics is a quadrennial chef competition and the biggest culinary exhibition in the world. Globally referred to as the toughest live cooking competition, this year it will feature national teams and individual participants from around the world. All teams will be required to prepare and cook a series of dishes for six straight hours with a three-course meal to feed 110 people.
The competition includes a buffet platter, three appetizers, a three-course vegetarian meal, tapas, four dessert variations and an artistic showpiece. Teams will also have to source their own ingredients prior to the event and divide chores in order to meet the tight deadlines. All teams will be judged on presentation, taste, cleanliness, technique and level of service. In keeping with true Olympic style, winning teams will receive gold, silver and bronze medals while merit awards are also up for grabs.

Speaking on the selection of two renowned chefs from Waters Edge, General Manager Rohan Fernandopulle noted, "It is indeed a proud moment for both Waters Edge and myself personally to see Buddhika and Chamaka who were my apprentices being selected for this prestigious event. They are both immensely talented and have won many accolades for Sri Lanka individually and as part of national teams.
This representation at the Culinary Olympics will only serve to elevate the nation's culinary standards to the next level and place our nation on the world culinary map. Together with the Megapolis and Western Development Minister Patali Champika Ranawaka and Waters Edge Chairman Chamath de Silva, we would like to extend our heartfelt wishes to the entire team and urge them to do Sri Lanka proud."

Chef Buddhika is the first and only South East Asian candidate to represent the Bocuse d'Or World Final in Lyon where he was the second runner-up. In 2016, he also headed a team for Food Asia which won two gold, two silver and two bronze medals. His many accolades include being a silver medallist at the Dilmah High Tea Global Final and the winner of the Dilmah High Tea Competition Sri Lankan edition. Having apprenticed and worked in leading hotels both locally and internationally, Chef Buddhika counts for more than a decade of experience where he has rubbed shoulders with the likes of Chef Stephan Gabrieau, Micheline star Chef at Meolleur Ouvrier De France and top ranked Australian Chef Cheong Liew.

Meanwhile, Chef Chamaka is also an outstanding champion with accolades such as the gold medal at Food Asia Singapore 2016, gold medal from the Chef's Guild in 2015, 'Best Chef of the Year' on two occasions at Saloon Culinary, silver medal at Bocused 'Or Sri Lanka in 2015, silver medal at Food Olympics 2012 in Germany, bronze medal at the 4th Global Grand Final – MLA Blackbox Culinary Challenge May 2008 and winner of the Sri Lanka Tourism Development Authority Sri Lankan Crab Dish competition at the 5th World Spice Food Festival in Colombo in 2010.

Commenting on his previous experience at international cooking competitions and the upcoming Culinary Olympics Chef Buddhika noted, "Culinary Olympics is such a challenging experience as it is one of the largest live cooking competitions in the world. It is a whole different ball game to cooking within one's own comfort zone. The Sri Lankan team has been putting all our collective knowledge and expertise together to prepare an inter-continental menu with a slightly local flare to it and we are excited to present it to the world. We would like to take this opportunity to specifically thank the management at Waters Edge for giving us the support and freedom to engage in such activities that will no doubt bring recognition to the hotel and our nation."