---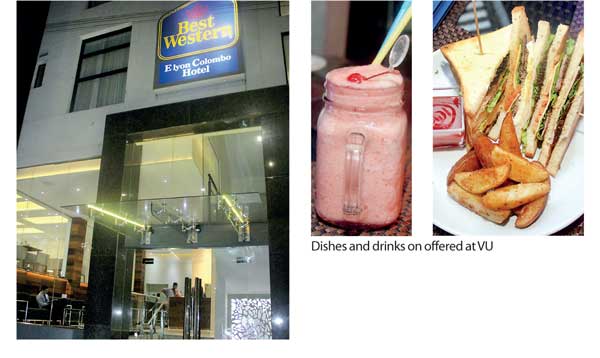 By Supun Dias
'VU' is the newest addition to Best Western Elyon down Baseline Road, which brings Sri Lanka's first resto-bar themed rooftop lounge to Colombo, where its rooftop offers a spectacular view of the city.
Best Western Elyon Colombo is part of Best Western Hotels & Resorts, one of the world's largest hospitality chains with over 4100 hotels in 100 countries. Located on Baseline Road in Kirulapone, Elyon is open from 3:00 p.m. till midnight.

At the bar, the drinks menu features 16 varieties of arrack-based cocktails, a select wine list, special blends, beer cocktails as well as grogs and punches plus power juices and all natural non-alcoholic boosters.
Beside the beverages, a show kitchen will create dishes to order off the eclectic menu. The menu includes everything from starters - to start with, Caesar Salad with Chicken or with Tofu, Tuna Pasta Salad or be it Arabic Fattoush. Then to warm up, there is a wide range of dishes from Fish Fingers, Big Western Club Sandwich to Asian Fish & Pineapple Kebab.

VU also offers another range of dishes to hang on from the likes of Jumbo Prawns, BBQ Chicken to Vegetable Ravioli plus for the desserts VU offers Mixed Berry Apple Pie, VU Velvet and Smoky Sizzling Brownie.

True to its resto-bar heritage, VU offers a pairing of each food item with a suggested wine or cocktail to complete the dining experience. For entertainment, VU offers one of the best playlists in town and live music four nights a week.

Best Western Elyon Colombo General Manager Roshan Adhihetty said that VU is the perfect meeting spot for those who don't want to wander too far from the city and those who don't want to get too close, especially on a busy weekday.
"We have created the perfect set up with soulful music, delectable food and an expansive menu of beverages to help our guests wind down after a busy day, just the perfect for the kind of ambience to watch the world around," he added.