---
Barista's Thuwan Surajdeen and Café Mocha by Barista's very own Sudarshana Rajapakse did Barista proud at the recently concluded National Barista Championship (NBC) 2017.
NBC 2017 was held as a side-event to the Colombo Hotel Show, which was held at the BMICH. The awards ceremony took place at Waters Edge recently.

Thuwan, who is a highly-skilled Barista, has been with the café chain for more than five years and used his cumulative skills and expertise to brew his way to supremacy. Sudarshana, who is also a two-year expert brew master, came in third place. Prior to the finals an expert panel of judges and coffee enthusiasts from around the world selected the six best brew-masters for the grand finale.
Speaking on this significant achievement an ecstatic Thuwan said, "I am very excited and happy that I won this championship. This is like a dream come true in my five-year career as a Barista."
At the competition Thuwan concocted a coffee-based drink 'Crispy Espresso'. This innovative creation took a traditional espresso and added a tangy and fruity note to it with the use of passion fruit. He amazed the audience with his skills and technique by pouring out his signature drink through a whipping gun. As the National Barista Champion, Thuwan will now have the opportunity to take part in the Asian Barista Championship, which takes place in Singapore.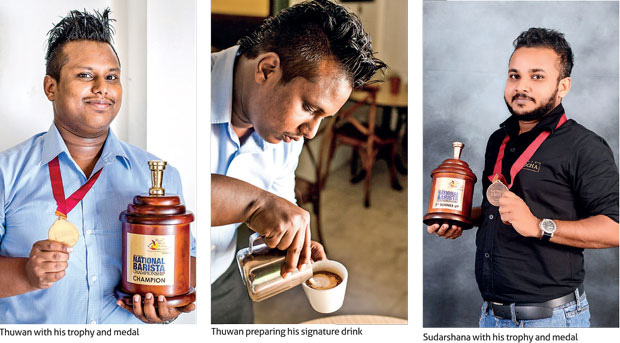 Over the last few years Barista has gone through a major transformation in terms of its culture, giving its people the highest priority. Believing in the mantra that happy employees beget happy customers, the chain has invested heavily in training and development.

"Our employees are our most important brand ambassadors. They are the face of the brand. This is why as an organisation Barista places so much importance on keeping our staff happy. Training and development is so important for us and seeing Thuwan and Sudarshana come this far is such an honour for me. Our training programmes are geared to identify hidden potential and bring out the best in each person," said Barista's Training and Development Manager Damith Dalawella.

Also commenting on Barista's triumph, Head of Operations Tharanga Perera noted, "We created a learning culture where much attention is given to developing people, a task not easy considering the geographic spread of our chain. I am proud not only of Thuwan's success but also of Damith's development as a skilful trainer that contributed to this win. I am also pleased that Sudarshana is among the top three even though this was his first time at a competition of this nature. I am truly proud of our team and hats off to those who made it possible."