---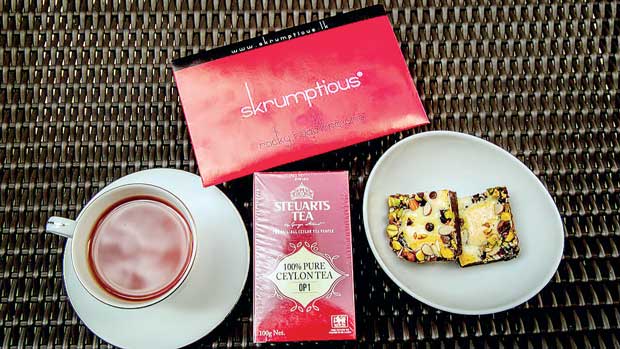 Steuarts Town House Tea Lounge recently tied up with Skrumptious to offer a range of brownies to further enhance and tantalize your taste buds.
Over the past two years, Town House Tea Lounge offered a range of the finest Ceylon Teas to its patrons. The range included a variety of fruity teas, herbal teas, green teas and black teas. Some of the popular ones in the menu included Royal Delight, Sweet Berry, Jasmin Green Tea, Herbal Camomile and a range of ice teas.
Skrumptious, founded in 2011, offers over 10 different flavours of brownies, which vary from one another along with its main signature product, the double chocolate brownie "a must try" for every brownie lover.
George Steuarts & Co Chief Executive Officer Consumer Paddy Weerasekera said, "We are delighted that we found a perfect partner to complement our offering of tea. The range of products offered by Skumptious will no doubt further increase the experience of enjoying the perfect cuppa." At Town House, customers are not only able to taste a wide selection of teas but could also purchase them. The range includes their export products, premium tea collection and an exclusive gift collection range where some of them are not available at regular outlets. Customers can physically examine the many varieties of tea for its textures, aromas and even taste a sample of the tea they are interested in.
Skrumptious is the only brownie company in Sri Lanka, which provides an exclusive dine in experience along with take away and delivery service. The product can be distributed as a gift for both personal and cooperate purposes, in addition to this, the brownies can be customized to suit the requirements of the customer.
Skrumptious (Pvt.) Ltd Managing Director Nilusha De Silva said, "We are extremely happy to partner with a reputed and well-established organisation. The tea and brownie combination is a unique concept which I am sure will be a great success. We are looking forward to a longstanding partnership that would add value to both brands and our loyal customers."
"There is also a tea tasting experience where interested customers and especially tourists can come and experience the artistry of tea. The 20-minute session will include the history, understanding of the regions, grading, brewing a perfect cup of tea and actually tasting different grades and types of tea.
It will be delivered by our well-experienced tea sommeliers and can be booked prior. These sessions at the moment are offered free for groups and have to be booked prior. Anyone who partakes in this experience is guaranteed to be tantalized," Weerasekera added.
You could visit the Town House Tea Lounge at Liberty Arcade (Ground Floor), No: 282, R.A. De Mel Mawatha, Colombo 3.