---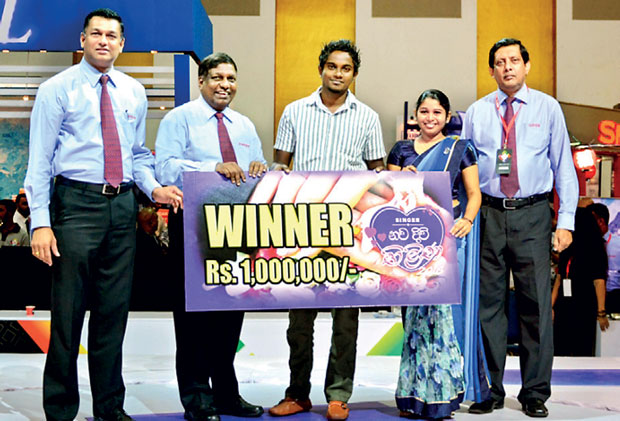 Grand prize winners Sanuja and Desha Kumarasinghe receive the prize of Rs.1 million plus the return trip to Singapore from Singer Sri Lanka PLC Group CEO Asoka Pieris, Director Marketing Kumar Samarasinghe and Director Sales and Commercial Mahesh Wijewardene
Singer, the country's leading brand in consumer durables, held its promotional raffle draw and prize giving of Singer Nawa Divi Thilina 2016.
Singer Nawa Divi Thilina offered 10 lucky couples with a three-day, all-inclusive return tour to Singapore and a grand price worth of Rs.1 million for the winner.
The promotion invited married couples who had tied the knot between the periods of May and July 2016 to take part in. In time for the raffle draw, Singer had received an astounding amount of wedding cards from around the country.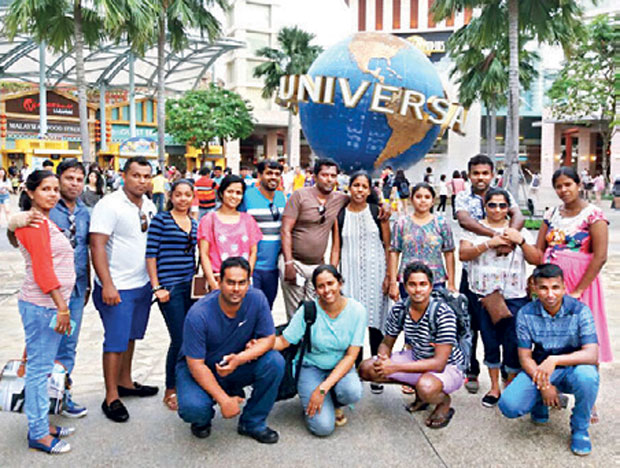 Newly married couples were requested to drop by any Singer Plus showroom around the country and present their wedding invitations by or before the end of July 31, 2016 in order to be eligible to enter the grand raffle draw.
In addition to this promotion, new couples who had also purchased Singer products worth Rs.3000 and over, beginning from May 1 were encouraged to clip in the receipt as proof of purchase and attach it to their wedding invitation. This was then to be presented to the Singer outlet in order to be eligible to enter and win a grand prize of Rs.1 million.
Singer also offered a range of promotions aimed for couples who were preparing for their big day with the inclusion of discounts, interest-free hire purchase schemes, bundle offers and credit card offers.
The lucky couple who landed the grand prize of Rs.1 million plus the return trip to Singapore was Sanuja and Desha Kumarasinghe. Commenting on the victory, the winning couple stated that they enjoyed the trip to Singapore with the other winners and it was a first-ever enjoyable experience for most
of them.
They also appreciated the support and guidance extended by the Singer team from beginning till the end of the tour fulfilling required services including accommodation, meals and safety ensuring a very pleasant journey."