---
ReeBonn Cosmetics (Pvt.) Ltd, one of the foremost herbal cosmetic companies operating in Sri Lanka, has introduced an assortment of brand-new face wash products with enhanced quality. All these products come in user-friendly containers.

Green Apple face wash with natural green apple essence, Aloe Vera face wash with Komarika essence, Papaya face wash with papaya essence, Carrot face wash with carrot essence are in the portfolio.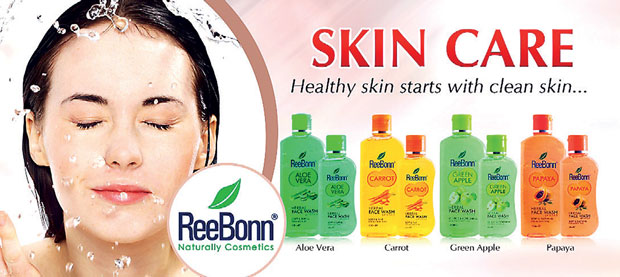 ReeBonn Cosmetics also used age-old recommended natural herbs as other ingredients to formulate all these products.

The Green Apple face wash, enriched with natural green apple essence and Vitamin E, has the capacity to rid a person's face of dirt, makeup and provide his/her skin with natural nourishment and wetness.

Aloe Vera Face Wash with Komarika essence is best suited to purify the skin and provide it with wetness.

The Carrot face wash, with carrot essence and Vitamin A that carrot naturally has, safeguards the skin by premature curling and maintains its oily nature and wetness.

Using the Papaya face wash that contains papaya essence will help to get rid of dark patches and safeguard it from getting darkened.

ReeBonn Cosmetics Managing Director S. Sivarajah speaking at the inauguration of the face wash promotion said all ReeBonn cosmetic products are unique as they are made with natural herbals.
"ReeBonn products have many herbal ingredients. Our research and development (R&D) wing makes special emphasis on developing and sustaining the standards and qualitative nature of all these products. The enhanced face wash products launched are a result of hard work and commitment by our R&D wing. Even the shape of the container of these face wash products is changed this time around to provide our consumer with a more user-friendly container. Now they can use the ReeBonn face wash of their choice to the last drop," he said.

Commissioned in 2005, ReeBonn Cosmetics (Pvt.) Ltd manufactures a wide range of herbal cosmetics, which are in heavy demand locally and internationally. Among its herbal products are shampoo, silicon conditioner, rinsing conditioner, black henna, face wash, fairness cream, body soap and hand wash liquids. ReeBonn cosmetics are exported to Japan, India, the Middle East and Maldives.