---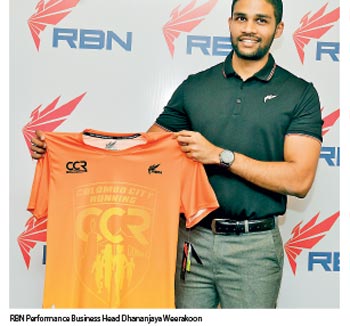 RBN Performance garments, is Sri Lanka's first performance wear brand for men and women built with the Sri Lankan athlete in mind.

"The ongoing fitness revolution in Sri Lanka forms an ideal backdrop for RBN to purpose design and engineer a range of performance garments that suit the local climate and user conditions, effectively combining fashion and performance whether it be for a professional athlete or beginner," said Business Head, RBN Performance, Dhananjaya Weerakoon.

RBN who recently rekindled its partnership with Sri Lanka's elite running community, Colombo City Running (CCR), have a business ethos of promoting fitness and healthy living, both of which are synonymous with the values of RBN Performance.

RBN is Sri Lanka's first performance wear brand for men and women, built with the Sri Lankan athlete in mind. Sri Lanka is currently undergoing a fitness revolution, and RBN has been at the forefront in purpose designing and engineering a range of performance garments that suit local climate and user conditions, combining both style and performance for athletes at all levels; from beginners to professionals. "The brand's core competency is its strength from design, material engineering and technical capabilities, and we specialize as a product development hub for manufacturing technical garments," said Weerakoon. RBN's merchandise is designed, developed, and manufactured in house in its state of the art factory.

RBN Performance is the outcome of continuous research and development on local conditions, on local athletes' insights, and into the multitude of sporting activities that has seen a surge in Sri Lanka in recent years. In order to deliver the optimal fit for Sri Lankans, RBN Performance took the critical step to conduct 'sizing' research that analyzed different body types among Sri Lankans and how performance apparel can offer style and performance that is more relevant to local consumers.

The material composition of RBN Performance apparel is carefully engineered to offer comfort and breathability with specific relevance to local climatic conditions. RBN's product assortment is powered by its platform 'Sportech', the brand's own moisture management and anti-bacterial platform. RBN has further provided specific performance factors, such as compression for athletes with demanding performance needs. RBN's products are specifically engineered for Sri Lanka and Sri Lankans, while maintaining world class product development and manufacturing standards.

"RBN has rightly positioned itself to be a part of the global story of integrating fashion and performance. The proliferation of athleisure for everyday use has allowed consumers to experience the comfort of wearing sportswear with elements of fashion as they increasingly adopt healthier lifestyle patterns," said Weerakoon.

RBN's portfolio is available in the following categories for men and women, namely RBN Core a power compression base layer garment range for semi-professionals as well as professionals in sport, while RBN Sportech comprises a range of performance wear for gym, running, biking and training Weerakoon stressed the fact that RBN is engineered by a team of highly capable product specialists who specialize in fit and construction, as well as material and performance management, whose background in apparel product development with exposure to internationally recognized brands has led to an ideal combination of local expertise driving a world class product.

RBN clothing is exclusively available at its flagship store located at the Sri Lanka Tennis Association (SLTA), with online purchasing due to be enabled soon.