---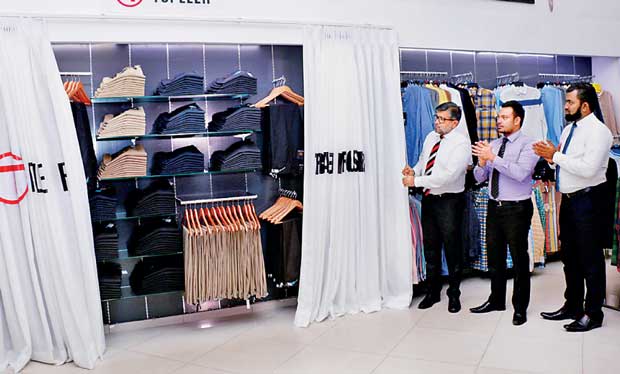 Nolimit General Manager Amjad Hassan unveils Topller trousers in the presence of Nolimit Manager Marketing Raneez Sheriff and Nolimit Area Manager Imran NIzam
Travelling just got a lot more stylish and hassle-free with Nolimit's one of a kind Topller travel trousers, especially designed for the frequent traveller with keen sartorial sense.
The Topller travel trousers combine style and unique clothing technology and have been designed for ease of travel – the trousers can be worn day after day without ironing and also retain their shape and stay fresh after use.
Made with superior quality fabric, Topller travel trousers are the quality choice for men. The trousers offer unparalleled ease of wear, durability and style – it can be hung overnight after wear and worn the next day without the clothing appearing crumpled or wrinkled. Eliminating the need for constant ironing because of its innovative design technology, Topller travel trousers are the preferred choice for the stylish, travelling man constantly on the move.
Ideal for both day wear and night wear, the Topller travel trousers are very durable and make packing a lot easier and remove the need for bundling large quantities of clothing and lugging bulky luggage when you travel.
"As a pioneer in the industry, Nolimit believes in being in pace with global trends to bring forward fashion to the customer. We do this by producing innovative brands and products tailor-made for our customer's needs. The Topller travel trousers were launched seeing the need for such a garment in the market.
Their ease of use, durability and innovation make them the perfect clothing choice for every traveller on the move, who enjoys travelling but doesn't want to compromise on style and comfort," said Nolimit Marketing Manager Raneez Sheriff.
'Travel Lite, Travel Right' Topller travel trousers can be purchased at all Nolimit and Glitz outlets islandwide.