---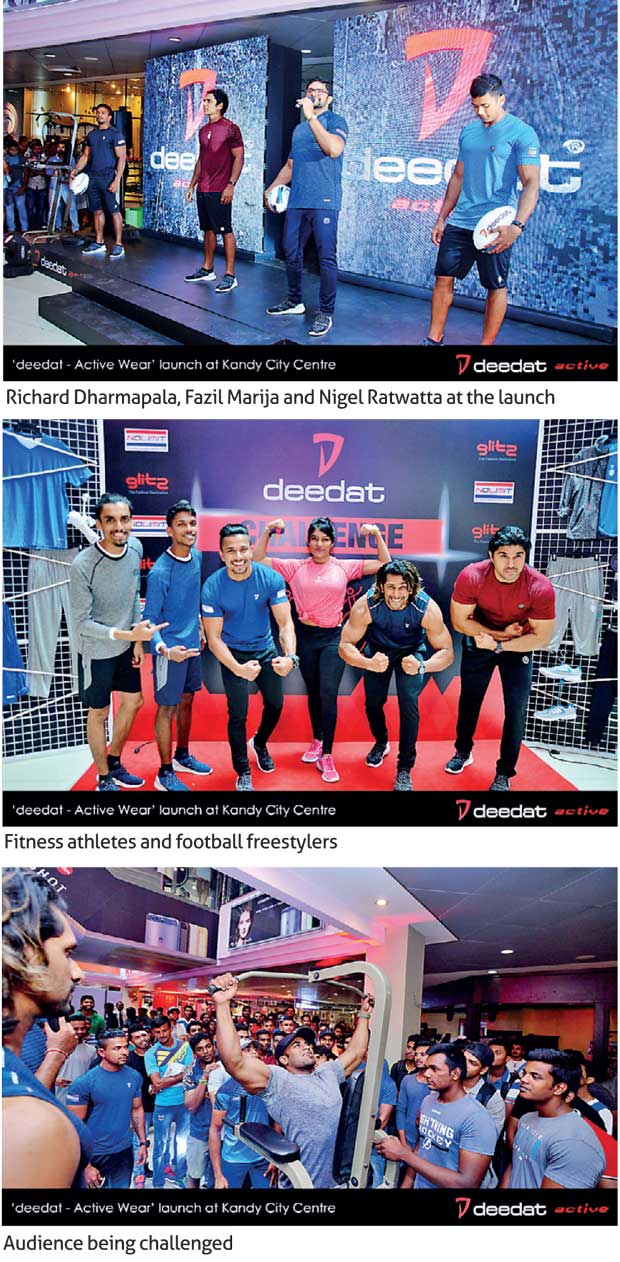 The leading youth brand 'deedat' ended the year with a unique and exciting launch of the brand's latest Active wear collection at the Kandy City Centre on December30th2017.

It was an energising challenge for eager customers to the venue and an exhilarating shopping experience combining fashion and fitness.The brand invited sporty customers to work out from 10:45a.m. to 1:30p.m. and win in the 'deedat Challenges' with a chance to clinch exciting gifts.

This 'out-of-the-ordinary customer engagement' activation challenged customers to perform prize-winning push-ups, pull-ups, squats. Other deedat challenges included gifts for excelling in dead lifts, jumping jacks and planks, for fitness enthusiasts who wished to sculpt their bodies and win at the same time.

The morning at the Kandy City Centre main lobby was enriched with the presence of renowned Rugby players, Former Sri Lanka Rugby CaptainFazil Marija, Sri Lanka Rugby PlayerRichard Dharmapala and Sri Lanka Rugby PlayerNigel Ratwattawho joined in the deedat launch and encouraged the participants vying for prizes.
Five fitness models with perfectly molded torsos demonstrated strenuous challenges followed by rugby movements, heart-stopping freestyle fighting to toe-tapping beats by Dinada.The challenging morning ended with a chance to fit on the latest, most fashionable 'deedat Active Wear Collection'.

Nolimit Marketing Manager Raneez Sheriff said: "Our new deedat designer Active Wear range is exclusively available at Nolimit and Glitz renowned for international styles that are affordable for our youth. We demonstrate our appreciation by rewarding our enthusiastic and loyal customers by launching mega promotions like the deedat Challenge to engage the customers."

Deedat Active Wear collection uses sweat repellent technology that rapidly absorbs sweat, keeping the skin fresh and cool. The brand has patented sweat proof underarm barriers and the material is designed to pull moisture away from the skin. The shorts especially enable the wearer to stay comfortable from warm up to cool down because of the sweat wicking fabric that's a lightweight and breathable mesh helping the person to stay dry and comfortable.

Today's sporty youth favour unique styles and trendy, fashionable designs that are the hallmark of clothes for young people at Nolimit and Glitz, Sri Lanka's biggest fashion retail chain with 21 showrooms across the country.Nolimit has won many local and international awards since it started its journey in 1992. A wide range of exclusive deedat collection are available at Nolimit and Glitz stores islandwide.