---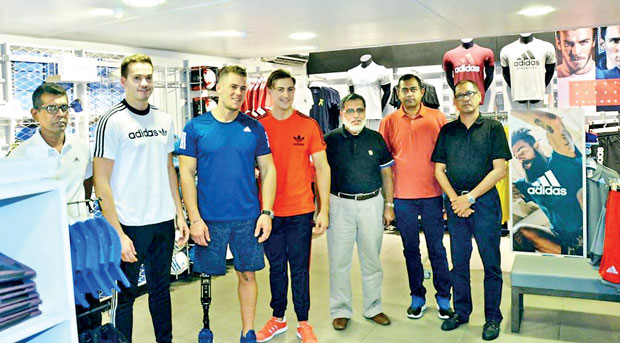 Adidas Territory Manager Bilal Fuard, first runner-up Jack Heslewood, second runner-up Zachary Oldershaw, Mr. England title winner Jack Eyers, Hameedia Group Head of Business Development and HR Ameer Hamza, Hameedia Group General Manager Chinthaka Wanigasekara and Head of Retail Jamshid Sourjah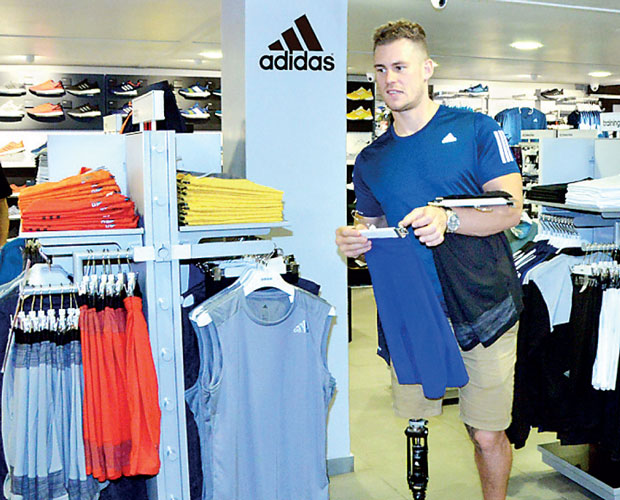 Jack Eyers, holder of the 2017/2018 Mr. England title, recently visited the Adidas flagship store at the Racecourse Shopping Complex in Colombo.

He was accompanied by Jack Heslewood and Zachary Oldershaw, first and second runners-up of the Mr. England competition.

Eyers became the first amputee to win the prestigious Mr. England title and has become an international icon for his support of disability rights and showcasing positive living in the face of adversity.

A sought-after international male model, Eyers made history in 2015 when he became the first disabled male model to take the catwalk at New York Fashion Week, and more recently at the 2017 London Fashion Week.

"The Adidas brand is all about pushing the boundaries and not being constrained by perceptions and believing that sports – and any passion – can change your life," said Fouzul Hameed, Managing Director of Hameedia, holder for franchise in Sri Lanka.

"Jack Eyers, both as a leading international male model and as Mr. England, has pushed the boundaries of what people with disabilities can do. He has made the world see that you don't have to limit yourself because of disabilities and that there are no boundaries to what can be achieved if you have the passion and the drive. That passion complements the Adidas philosophy very well."
Eyers, Heslewood and Oldershaw spent time at the Adidas store, browsing the latest collection of Adidas shoes, apparels and accessories that are trending around the world. They also enjoyed meeting with some of the customers who were around shopping to join the special visit of Mr. England trio.

The Adidas flagship store at Racecourse as well as the exclusive Adidas stores at Crescat, Rajagiriya, Pelawatte and Kandy brings the very latest in sportswear created by the world-renowned Adidas brand to Sri Lankan customers.

The Adidas range of shoes, clothes and accessories are available for men, women, kids as well as serious sports athletes who want to up their game. As a company known for its innovation and commitment to perfection, the Adidas brand ensures every product lives up to their promise to change lives through sport.

Adidas has been in Sri Lanka for the last 17 years and locally represented by the Hameedia group.
The undisputed leader in men's fashion clothing and also renowned for high-quality MTM, Bespoke tailoring besides a quality range of ready-to-wear fashion clothing inclusion of several in-house local brands: Le Bond, Envoy, Signature and FH.