---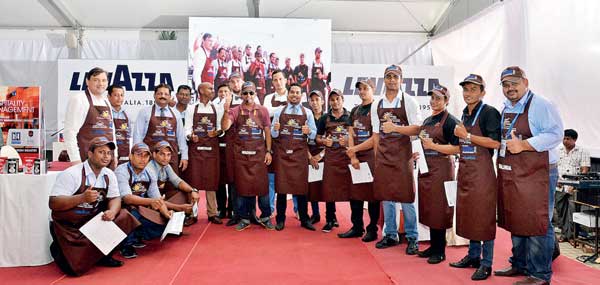 The winners with the judges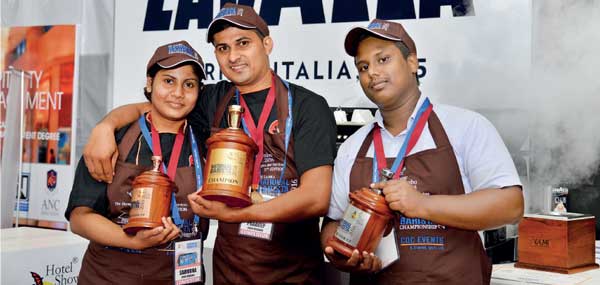 The top three
Sri Lanka's premier total coffee solution provider Jewelex Trading (Pvt.) Ltd, which holds the franchise for Italy's favourite Lavazza Coffee, once again partnered with the organisers of Hotel Show Colombo 2016 and National Barista Championship 2016, to enhance the standards of the coffee trade in the island and support those actively engaged in it.

The National Barista Championship, which was held recently, saw the participation of nine world-class Baristas representing various hotels and coffee house chains spread far and wide.

This year Lavazza Coffee was the official 'Coffee Solutions Provider' for Hotel Show Colombo 2016 and the Main sponsor for National Barista Championship 2016. Not only did the company provided its signature coffee machines and coffee beans for the contestants but also flew in an expert panel of judges who are maestros of their trade to judge the competition.

Lavazza Coffee being a premier global coffee brand also brought in the expertise on how to conduct a competition in lines with the World Barista Championship Standards. The judge panel was headed by Vikram Khurana, CEO at Kappi Machines (Pvt.) Ltd. Vikram is a world-renowned Barista himself and has represented India several times at the World Barista Championship. He was supported in the judging panel by sensory judges Pietro Seccareccia, Export Area Manger (Middle East & SAARC) La Cimbali SPA, Italy, Mohamed Lamzahra, Chief Technical Expert (Middle East & SAARC) La Cimbali SPA, Italy and Sandeep Shirke, Sales Manager, F&H Lavazza India. Nimeshan Namasivayama qualified "Q Grader" or coffee taster from Australia completed the panel. The Technical aspect of the competition was judged by Jerome Romesh, and Tuan Boran, from last year's judging panel.
The National Barista Championship is the coffeemakers' equivalent of a world cup. Sri Lanka's version of it was a demanding and well contested event. Participants were tested on how good their coffee is and how fast they make it.

This year the Sri Lankan National Barista Championship got a new facelift with a fresh logo with an international appeal which was designed by Lien Keerthisinghe, Marketing Manager at Lavazza Coffee which contributed to uplifting the overall image and the positioning of the event.

Jewelex (Lavazza Sri Lanka) as Sri Lanka's premier total coffee solutions provider has many plans in the pipeline to support and take the local coffee industry to greater heights and make Sri Lanka globally known for its coffee.