---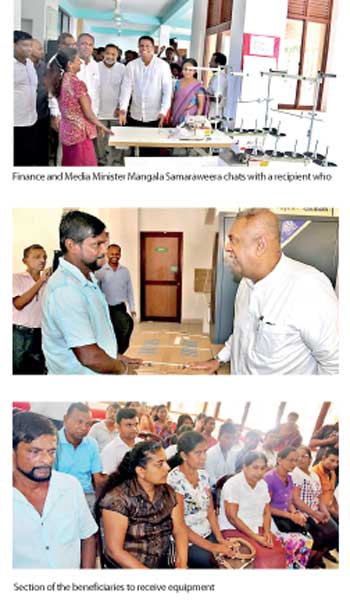 By P.D. De Silva
It is this government's vision to rebuild international trade, which is known to have flourished in this country during the Anuradhapura and Polonnaruwa eras, said Finance and Media Minister Mangala Samaraweera at a ceremony held in Matara to hand over equipment to Samurdhi beneficiaries, who had benefited from the scheme and reached financial stability.

Roman, Chinese and Persian coins, which have surfaced at archaeological excavations in Anuradhapura and Polonnaruwa, are proof that international trade flourished in this country even at that time.

"It is our vision to assist thousands of small-scale entrepreneurs through our next budget proposal, which would help us reach our goals," he said. The government elected to office on August 16, 1994 introduced the 'Samurdhi' scheme to improve and take forward the 'Gam Udawa' and 'Janasaviya' poverty alleviation schemes.

"It is my opinion that most 'Samurdhi' recipients should reach financial stability within two or three years but I have doubts if even the basic principles of the 'Samurdhi' scheme are being achieved at present.

I congratulate you for reaching financial stability with the assistance you were provided through the 'Samurdhi' scheme and hope your enterprises will flourish further with the equipment presented to you today."

The recipients were presented with various types of equipment including deepfreezes, industrial sewing machines, air condition units and salon equipment to improve their enterprises and reach financial stability.

Provincial Education Minister Chandima Rasaputhra, Matara Divisional Secretary Pradeep Rathnayaka, Treasury Secretary Dr. R.H.S. Samarathunga, Matara Divisional Secretary Darshana Wickremarachchi and other government officials were present.