---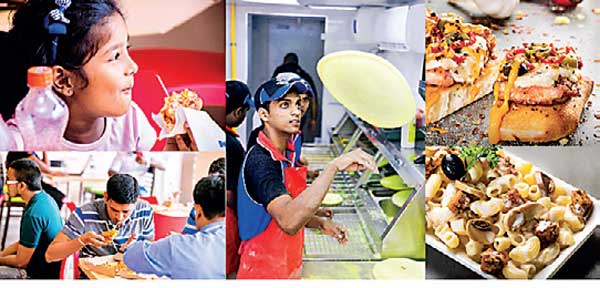 Domino's Pizza takes pride in its introduction of the amazing range of Chicken Fillers to the local market. Three juicy pieces of chicken gratin doused with Mozzarella cheese, topped with jalapenos, paprika, crispy bell pepper and hot mayo on seasoned crispy flat bread is offered in three choices - Mexicana Chicken, Teriyaki Chicken and Middle Eastern Chicken. It is a piece of delightful bite that is crafted with a cocktail of spices, exotic herbs and dipping sauces that bring out the most elaborate taste-bud tingling flavours of food cultures right to your table. Apart from the chicken fillers Dominos has introduced breaded chicken fillers strips which are three tender pieces of chicken oven baked with a BBQ dip, which will no doubt be a kids' favourite.
The amazing Dominos signature Buffalo wings also has been introduced in three new varieties of BBQ, Chili Garlic and Hot Chili. Speaking on the new introduction, Country Head Suresh Tissaratchy said, "We have brought in a number of new chicken products into our portfolio looking at our local consumer preferences and Dominos global signature products. We believe this would give an even greater choice to our discerning consumers." Dominos follows stringent global standards in the preparation of its products and ensures the highest quality standards at all times.
The new products start from an amazing price point of Rs.410 with many more offers and combos. For more information log on to its website, call or visit its restaurants and avail yourself of the brand-new menu. Founded in 1960, Domino's is the recognized world leader in pizza delivery operating a network of company-owned and franchise-owned stores in the United States and international markets. Domino's is a company of exceptional people on a mission to be the best pizza delivery company in the world.