---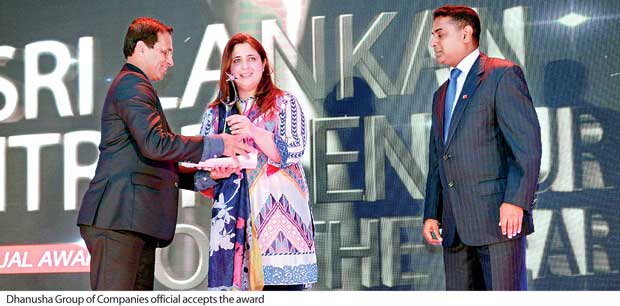 Dhanusha Group of Companies was rewarded two awards, as the Western Province Medium-Scale Silver and National Level Bronze winner, at the recently concluded annual awards ceremony organised by the Federation Chamber of Commerce and Industry of Sri Lanka (FCCISL), held at the BMICH.

Over the past 30 years, Dhanusha Marine Lanka achieved over hundreds of awards for its innovative products and at present the Dhanusha group has five subsidiary companies under its roof. They strive to have over 100 dedicated employees.

Dhanusha Group Chairman Sumithrapala Fernando initiated his business with Rs.5,000 and a plank hut, which was based on a 10-perch of marshy land facing the Bolgoda lake. His journey was not easy, where he had to travel by foot in early stages. The initial products included picture frames and bathroom mirrors. With the determination, dedication and discipline, he managed to develop his business. They have obtained many distributorships in Sri Lanka for many products. The Dhanusha group has earned its name in the local as well as international market for its quality and innovative products. The export operations began in year 2008 and the manufactured fiberglass boats and other allied products have been sent to Scandinavian, Asian, African and Middle Eastern countries since then.

The Dhanusha group presently has three well-equipped production factories, which cater to local and international market requirements related to fibreglass products. Under Fernando's leadership, the company is currently working on a project with an investment estimated at Rs.500 million for manufacturing multiday boats over 55 feet.