---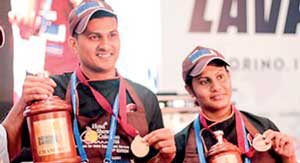 The third Barista Championship of Sri Lanka held recently at the Bandaranaike Memorial International Conference Hall (BMICH), organised by the Graduates Association of the premier hospitality school in the country, Ceylon Hotel School, saw outstanding coffee making talent showcased and excellence awarded. With participants from establishments from several cities including Colombo, Negombo and Bentota, each contestant was expected to serve four sensory judges with an espresso, a cappuccino and a signature drink, tallying to a total of 12 beverages served in the 15 minutes allocated to them. They were judged based on technique, taste, presentation and creativity with emphasis on art, taste, foam and froth of milk.

Coco Veranda's history at the Barista Championship of Sri Lanka is an acclaimed one, where Isuru Dilisa and Arafath Mackeen won the 2014 and 2015 championship titles, respectively. Retaining its dynasty, Coco Veranda was recognized once more in the third consecutive annual event, with its own Pradeep Suranga becoming the National Barista Champion for 2016. Meanwhile, Thuwan Suraj from Barista Lavazza was placed the first runner-up, whilst Samudra Nilanjani, the second female to be rewarded on this platform since its inception, was selected as the second runner-up, bringing home yet another award to Coco Veranda on the same day. Samudra proves to be an absolute testament to the talent and capabilities of female baristas in Sri Lanka.

Arafath Mackeen, Acting Operations Manager - Coco Veranda, and the winner of the 2015 championship said, "We are extremely pleased to have been acknowledged for the talent and flair of our amazing team members. We are very proud of Pradeep and Samudra, who performed with much grace and skill. Sri Lanka has come far in the café scene in a very short time where Coco Veranda takes pride in having been a pioneer in the industry."

Baristas at Coco Veranda renowned for their innovative brewing and creative presentation talents, represent the competence Sri Lanka has on offer. A passionate venture of the late Sarath Chandra, the cozy café famed for its signature drinks and superior coffees (Filicori Zecchini from Bologna Italy), and set in Colombo 7 in an exclusive yet central and easily accessible locality, had its roots in the premise of serving quality coffee, with an exceptionally amiable customer service experience.

Coco Veranda's Training and Development Manager, Isuru Dilisa, in speaking of the country's barista skills said, "The National Barista Championship is seeing an increasing number of participants, and the standards and skills of the participants growing remarkably. With these advancements, it is envisaged that the NBC standards would become more aligned with the World Barista Championship standards and that we would soon be able to see a National Winner at the International forum."

Speaking on the competition, Trevine Gomez, President, Ceylon Hotel School Graduates Association (CHSGA) said, "In organising this national level competition for the third time, we improved it further by holding a preliminary level. And as the CHSGA considers training, incorporating new trends, and international exposure to be important; we brought down globally recognised trainers, prior to the competition. This time the training panel for the finals included Gihan Weerasingha, a Sri Lankan from Costa Coffee in Dubai, who had won the Global Costa Coffee competition." Gomez further added, "We saw a very high standard amongst the baristas, and therefore judging was tough. The judging panel was composed of those who judge international level barista competitions, ensuring that our competition in Sri Lanka is on par with barista competitions in the region".

He went on to say, "The future of the competition will see regional participants from around Sri Lanka, where the semi finals shall be held at the Ceylon Hotel School and final challenge, at the grand show." Finally, in conveying his best wishes to Coco Veranda, Gomez said, "The commitment of the entire Coco Veranda team, including that of both operational and management members, is unbelievable. I find their passion to be quite incredible."