---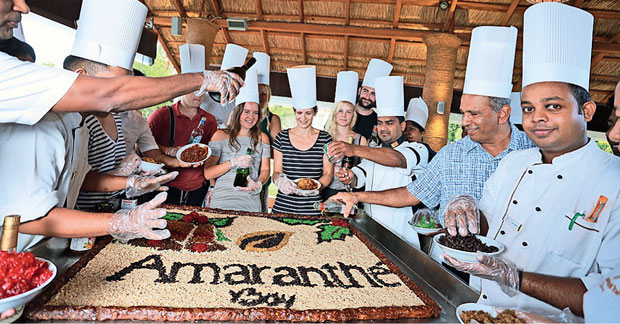 "Wish upon a Christmas cake," wrote American author Darcie Boleyn.
The chefs at the chalet-style luxury resort, Amaranthé Bay, in Uppuveli, just north of Trincomalee, recently seized upon this aura of fantasy that surrounds the traditional Christmas cake and gave it a memorable creative twist.
They staged an elaborate Christmas cake mixing ceremony, and invited hotel guests to join in the fun. The guests, with chef hats and hands enclosed in food gloves, added bowls of chopped dried fruit and bottles of brandy and honey to the beautifully presented cake batter, decorated with chopped nuts, raisins and cherries.
Then it was all hands on the table, breaking up the beautiful presentation and forming an aromatic dark cake mixture. As the guests said afterwards, they had never experienced so intimately, the intricacies of creating the traditional Christmas cake.
"Wish I could taste it," commented one guest, wistfully. But the batter has to stand for some days so the flavours blend and enhance. By then she would no longer be there. Yet, the colourful ceremony and the exquisite aroma created lifetime memories.
This magical start to the festive season promises more joy and fun for Amaranthé guests. Christmas Eve dinner will include a mouth-watering menu, equalled by a sumptuous lunch on Christmas Day. All through the season, afternoon tea and coffee with delectable finger foods will be complementary for houseguests, with 'Happy Hour' every evening, scintillating with cocktail promotions and a special selection of affordable quality wines.
Special offers include discounted spa facilities, free canoe, kayak and bicycle rides for the guests to explore the mysteries of the surrounding mangroves. The vibrant sounds of live music after dark at the night club 'Wild Bar' will add the aura of seasonal joy and merriment, while a DJ will provide entertainment on Christmas Eve and on New Year's Eve.
In fact, there are many, who decide to spend the festive season in Trincomalee. The wish upon the Christmas cake is about to come true for the guests of Amaranthé Bay.