---

Colombo's culinary hub Waters Edge is where every food lover needs to be this year. Kick-Starting January the internationally acclaimed culinary and F&B teams at the hotel is putting together an array of food promotions dedicated to some of the culinary favourites from around the world and closer to home.

A pizza double deal

The food adventure will begin with a dive into hand-tossed, wood fire oven roasted pizzas at Pranzo. The authentic Italian restaurant will be serving up delicious, mouth-watering Margherita, BBQ Chicken, Spicy Veg and Hawaiian Sausage Pizzas throughout the month of January. Any two of the selections will be available for take-away and dine-in at just Rs.1,900 nett while those who wish to take a break from a hard day at work or try something different can order in and pair up your favourite pizza with two selected beverages for just Rs.2,990 nett. The promo will be on from 3:00 p.m. to 6:00 p.m. daily.

Lunch like the Japanese

If Sushi, Sashimi and Nigiri are on your list of 'Favourite things', then the exclusive first-of-its-kind Japanese lunch at Waters Edge is surely for you. The extravagant lunch buffet will be spread out on Sunday the 21st from 12 noon – 3:00 p.m. and will feature some of the most unique dishes from the Land of the Rising Sun.

High tea in the garden

From 3:00 p.m. – 6:00 p.m. on January 21 Waters Edge will also have a typical garden tea party as they move their popular Sunday High Tea out on to the Pranzo Lawn. This will indeed be a grand affair with a high tea spread that is unparalleled with its savouries and sweets from around the world.

Kottu Nights at the Night Kade

For the night owls of the city, Waters Edge's own 'Night Kade' is offering a special seafood kottu promotion on the weekend of January 19-21. Our favourite street food will be made to order while you wait with a hefty portion of fish, prawn, cuttlefish or succulent crab combined in with all those accompaniments and sauces just the way you like it. The promo will be on from 12 midnight to 5:00 a.m.

Strudels and tea

The Tea Lounge at the Edge will also on January 21 curate an exclusive 'Strudel and Tea Pairing' where piping hot Earl's Grey or refreshingly cold French Vanilla tea will be paired with brocolli and feta, chicken and mushroom or peach and butterscotch with salted caramel ice cream and apple strudel with vanilla ice cream straight out of the oven.

If you prefer to take the strudels home and enjoy it with the family, Colombo's only drive-through bakery will also have portions available for takeaway.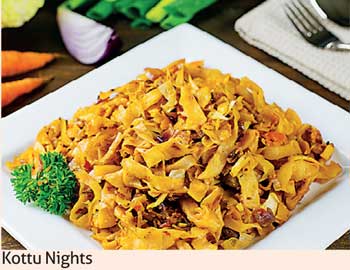 Crabs and crabs

Perhaps the highlight of the food extravaganza will be the crab promotion at Thuna Paha, Waters Edge's dedicated Sri Lankan restaurant. Not only will the restaurant emanate the mouth-watering aromas of traditional Sri Lankan crab curry, devilled crab, Jaffna Kool and black pepper crab, but will also have a fresh display of the day's catch and live cooking demonstration of the crustaceans being prepared to your liking. The crab promotion will take place from January 26 to 28.

Bavarian Night and Knuckles

Simultaneously, the Bavarian Garden will promote a Bavarian Night on January 25th while the restaurant will also feature one of their hot favourites the 'Bavarian Crispy Pork Knuckle' on promotion throughout the month of January.

The hotel will also continue its Sunday Brunch and High Tea which have become crowd pleasers over the years for the extensive array of food and beverages on offer to suit every taste bud.