---
Ananda
Samarakoon
musician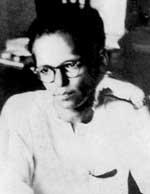 The 59th death anniversary of Ananda Samarakoon who composed our national anthem, falls today, April 5.
Ananda Samarkoon who is considered the father of artistic Sinhala music, and founder of the modern Sinhala music culture was born in Padukka on January 13, 1911.
He had his primary and secondary education at Christian College, Kotte, presently known as Sri Jayawardenapura M.V.Kotte. His Sinhala Guru was Pandit D.C.P. Gamalathge. Later he served his Alma mater as a teacher of Music and Art. He left for Santiniketan in India to study art and music.
Samarakoon set out to create a form of a music that could be classified as Sri Lanka's own and came out with the song Ennada Menike (1940) that paved the foundation for the artistic Sinhala music.
His composition, Namo Namo Matha (composed in 1940 and recorded in 1946) was nominated as the national anthem and was officially adopted by the State as the Sri Lankan national anthem in 1952. Ten years later his life came to a tragic end on April 5.
Rathnavali Kekunawela
actress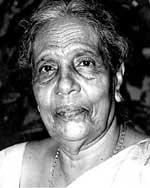 The third death anniversary of veteran film, stage, tele drama and radio artiste Rathnavali Kekunawela who became a household name following her hit character as 'Menike' in the Muwan Pelessa radio play, falls on April 7.
Having entered the radio scene in the early fifties inspired by her elder brother Victor Miguel, Rathnavali first acted in the film Sath Samudura in 1967 and followed it up with several movies like Mee Messo, Ada Mehemai, Diyamanthi, Nilla Soya, Maruwa Samaga Wase, Asha Desin, Muwan Pelessa, Wasanthe Dawasak, Uthumaneni, Parithyaga, Karumakkarayo, Aradhana, Batti, Kawuluwa, Boradiya Pokuna, Julietge Bumikawa, Nilambare, Paya Enna Hiruse, Dadayama and others.
But her characters in radio plays like Maha Re Hamuwu Sthriya, Kurulu Bedda and Muwan Pelessa amplified her popularity. She was Muwan Pelessa's Menike for several decades, and even today she is known by that character.
The award-winning actress also acted in stage plays and popular tele dramas too.
M.S. Fernando
singer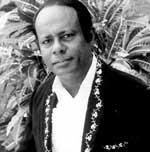 The 27th death anniversary of yester year baila king M. S. Fernando falls on April 9.
He was heralded as a major player in the development of baila music and was widely popular among Sri Lankan audiences.
Fernando received many accolades in his long career including the Golden Lotus Award presented by Sri Lankan President William Gopallawa in 1973 and almost 160 silver trophies in various Baila contests he took part. He was able to sing in five languages and incorporated dancing into his act. MS mesmerized the audiences at several overseas musical shows too.
He attended St. Anthony's College, Mt. Lavinia and Christ Church, Dehiwela. MS studied under veteran musician J. A. Sathiadasan and debuted as a singer with the duet, "Malak Kada Konde Gasala," with Pushparani Ariyaratne. It was written by Karunaratne Abeysekera.
The song became popular and allowed M. S. Fernando to become a playback singer. His first film song "Sili Siliye Nava Suvandak," was also a success and eventually he lent his voice to about 150 films. He also acted in more than 25 films and several tele dramas.
He passed away on April 9, 1994.