---

The hot topic for the past two weeks has been all about the vaccination. At first people were sceptical about getting the jab. All sorts of stories were circulating that there may be some issues after getting jabbed. The younger folks were advised not to take it as they may become infertile and will not be able to produce any children. Trixie thought that maybe it was a magnificent idea given the misery in this world and looking at the miserable and obnoxious people around us in Colombo.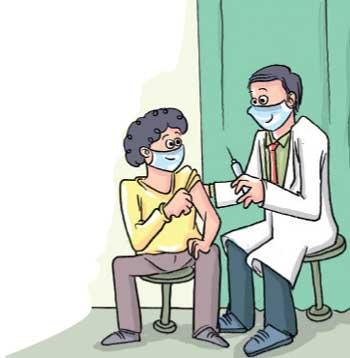 Getting back to the vaccine. We from our household and a couple of friends trudged over to the Wellawatte market, climbed a whole lot of steps and got to the top floor where they were giving the jab. It was crowded. But I must say that even though it was not the most sterile of environments and
all looked chaotic there was a system in place. If one used one's brains it was quite a quick and efficient process.

The trouble was with the number of people not wanting to follow the process and then the chaos begins. I must commend the staff from the Colombo Municipal Council, The PHIs and the Ministry of Health for doing an excellent job. Since we were inoculated during the first week it was certainly not that difficult.

It seems that after that week there was mayhem with people clambering to get the jab. As expected, the key board warriors were at it again insulting the medical system, the Mayor and anyone else possible whilst others were bragging after getting the jab as if they had just received an Academy Award. I am sure our Government will organize it so that all who must get the jab will receive it eventually. We have managed to live without all of this for a year by being cautious. Of course, all this drama was in Colombo whereas the greater Colombo areas and the Gampaha District and many more had been handled in a very orderly manner as people are calmer in those areas. After the first jab people are acting way too confidently and cashing in on all the hotel offers. I do have to say I was away last weekend myself and noticed that the Hotel handled the social distancing as well as the food service very well. It was great to see the staff at the hotel with cheerful faces since a crowded hotel assured them of a decent service charge. Let us hope that this vaccination programme will be completed in a few months and that the virus reduces and life will start getting back to normal. There is hope.

Thank you again to all those who are responsible for organizing and jabbing the vaccine.