---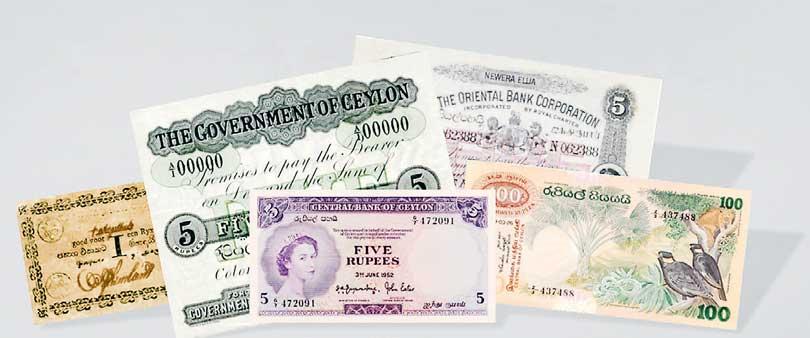 Will be held at the HNB Auditorium, 22nd Floor, HNB Towers, 479 T.B. Jayah Mawatha, Colombo 10 at 6.30p.m. on Thursday 27th June 2019
The 117th Session of the Monthly Lecture Series of the National Trust - Sri Lanka will be held at the HNB Auditorium, 22nd Floor, HNB Towers, 479 T.B. Jayah Mawatha, Colombo 10 at 6.30p.m. on Thursday 27th June 2019.

Since the Dutch first introduced Paper Money for Ceylon in 1785 to modern currency issued by the Central Bank of Sri Lanka, is a 235-year history of Banknotes which reflects changes in Economics, Politics and Technology. Early notes in Rix Dollars were redeemable in Copper. Private Banks such as The Chartered Mercantile Bank of India, London & China - Ceylon Branch, Oriental Bank Corporation issued banknotes from 1844, till they crashed in early 1880 due to the Coffee Blight. Boer Prisoner of War notes were issued around 1900.
The Government of Ceylon issued notes with signatures of the Commissioner of Currency from 1885 to 1949. The Central Bank issued notes under the signature of the Minister of Finance and its Governor from 1951 to present. They are just legal tender with no intrinsic value. The language on the notes changed from Dutch to English to Sinhala with varying amount of other languages. Only the denomination has always been given in three languages. Watermarks were introduced around the 1840s and are hardly documented. Ultraviolet printing was introduced in 1970 and their beauty remains unseen by the public who handle the Banknotes.

The lecture will be delivered by Dr. Kavan Ratnatunga. He has received a First Class BSc Honours Degree in Physics in 1976 from the University of Ceylon, Colombo. He has qualified as an astrophysicist, with a 1983 PhD from Australian National University, specialising in the automated statistical analysis of astronomical data and digital images.
He retired back to Lanka in 2005. His current interest includes increasing the information on Lanka on the Internet via his domain lakdiva.org Archaeology with a special interest in Numismatics.
The Central Bank issued notes under the signature of the Minister of Finance and its Governor from 1951
Further information can be obtained from the Trust Office at the Post Graduate Institute of Archaeology, 407, Bauddhaloka Mawatha, Colombo 7.