---

"The study of history is a window into the past that provides understanding of the present-day, and how individuals, nations, and the global community might develop in the future. Historical study instructs how societies came to be and examines cultural, political, social, and economic influences across time and space.
It also builds the personal understanding of how we as individuals are the sum of a vast range of past experience and actors ourselves in the process of historical change. In short, the study of the past helps lead to greater personal insight and comprehension of each person's place in the grand sweep of the human story," Paul B. Sturtevant wrote in Perspectives on History.
It is a pity then that many Sri Lankans have barely shown an interest in our island nation's rich history, something the team behind Patta History are setting out to change, one video at a time! The Daily Mirror Life caught up with the team behind Patta History to learn more about the amazing work they do in shining the spotlight on
our history.
Q

Who is behind Patta History? Is there a team or is this a one-man show?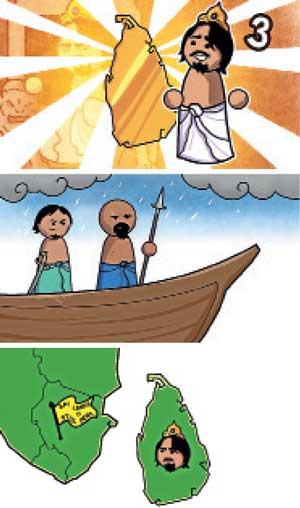 It's a team effort. The idea for Patta History was conceived by my wife Ruwani and myself, Geeshan who are Executive Producers. We were looking for the very best team to bring this vision to life and we met Duval Weerakoone, and his firm, The Nescius. Within a few weeks, he assembled a team of wonderful creatives and the work you see is the result of a chain of 12 talented people. Every single detail from the writing and music to the art is completely original and local.
The Patta History team comprises Duval Weerakoone - Director, Delano Perera - Narrator / Editor, Uvindu Sandakath - Lead Researcher & Assistant Screenwriter, Ashwitha De Mel - Production Designer & Storyboard Artist, Roshan De Selfa - Art Director & Lead Artist, Liswith Obinamuni - Unit Production Manager & First Assistant Director, Dhyresh Mendis - Brand Guru, Shamika Makalanda - Sound Designer, Sandaruwan Senewirathna - Editor and Kanishka Manoj - Assistant Illustrator.
Q

What made you decide to do this?
That's a great question. To be honest, we felt that we only knew isolated versions of our own history. Sri Lanka is complex, and we have difficult relationships with our identity and culture. We wanted to learn more about the forces that shaped us - what better way to do that than to learn about who we are and what got us here?
We looked around and realised that there's so much Western content being consumed and while there are some newly emerging Sri Lankan and South Asian media, there is not enough to call our own. We are focussed on telling stories told from the Asian perspective to a hungry audience, wanting to enrich their identity. We are also Children of the Internet -
we knew that the format we chose should be familiar to an audience who have grown up or are comfortable learning and engaging online.
Q

What is the process like for every animated video you do from start to finish?
It all starts with the stories we want to tell. What excites us? What makes for a gripping story? A story needs to meet a rigorous set of standards from a group of very picky people who are difficult to please! After this stage is completed, the story is picked up by our screenwriter and Lead Researcher.
Our Lead Researcher, Sandakath delves into his incredible library and brings out the pieces of the puzzle. Together with our Screenwriter (Ruwani), they develop a script. The script will be then skillfully brought into life by our talented and humorous Storyboard Artist, Ashwitha (Instagram: Paper on Ink), trying to answer two key criteria, does it communicate the script effectively and, in the role of production designer, will it match the workload of the illustrators.
Roshan De Selfa (Instagram: Line Demon) has created an artistic style that is a hallmark of Patta History, we are so proud of that - and the story will be then brought to vivid colour, and he is assisted by Kanishka, who is a talented illustrator.
The story is narrated by Delano, who takes our script and gives it wings. Our Sound Artist, Shamika has given us a sound identity, with the music and notes that he has provided. Then Sandaruwan, our Editor has the task of bringing all these together into what you see on the Patta History channel. Throughout we need to ensure we are checking for historical accuracy, so our Lead Researcher is frequently embedded in the production to make sure we are telling the best story we can, that is historically accurate. The entire process is overseen by our Unit Production Manager, Liswith - who is the glue that brings us all together and moves the puzzle pieces around to ensure our workflow is smooth and that we have everything we need to deliver.
Duval directs the entire process and he approves the final product - he inspires us, makes us work harder - and is relentless in his pursuit of quality.
Myself, Dhyresh (our Brand Guru), Duval and Liswith oversee the growth of the channel to ensure we are reaching our audience, engaging with them in a meaningful way, and ensuring that we have strong partnerships that can keep us going.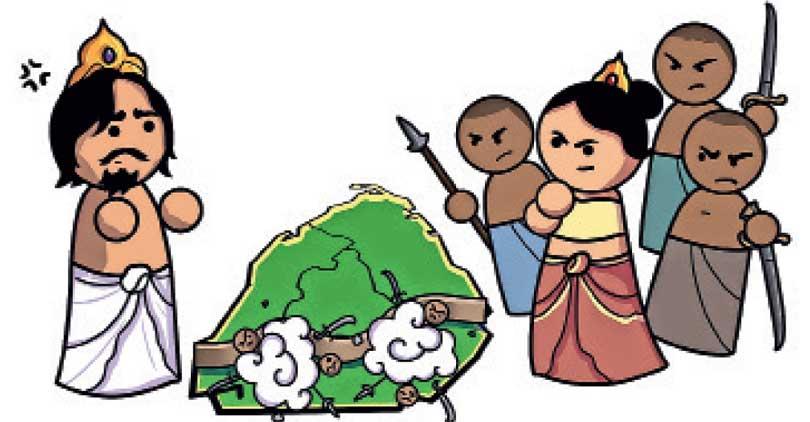 Q

Presenting our history accurately is a huge responsibility. How much research goes into it?
The research is laborious, messy and quite rewarding. It's a special and unique process that we have developed inhouse. We use a combination of existing historical literature as well as secondary resources. There are plenty of modern historians that have written avidly in various forms like journals and articles, and we use them if they are reliable. We like to find sources that are rare and unusual and are always looking for people to introduce us to rare books, artefacts or photographs. If the general public has any of these and wants to share them with us to enrich our storytelling, we would welcome it.
We are always striving to tell the story as it is, without any particular agenda - it's very challenging to tell a completely objective historical story because history is not always recorded fairly, but we try our very best.
Q

Do you have a target audience or are you catering to everyone?
We like to think that anyone who is even a little interested in our history or our identity will find Patta History rewarding to watch, but there are two groups who might find it particularly enjoyable:
The first group are those that are millennials and GenZ who are natives on YouTube, that don't have enough access to great content about Sri Lanka told in a familiar, fun and engaging way. The second is anyone with an interrupted connection to Sri Lanka, who wants and longs for a connection to home - these could be people who have lived or live overseas.
Q

Your videos are in English, how are you working to make it accessible to native Sinhalese and Tamil speakers?
We currently have English narration with Sinhala subtitles. We would love to be able to grow to the point where we can voice over and narrate the entire series in Sinhala and Tamil and we are certainly looking for more investment to get there.
Q

What's next for the team?
In the medium term we really want to grow our viewer base, for people to be excited and proud of Patta History as a source of discovering their identity and learning more about Sri Lanka. In the longer term, we would love to expand beyond YouTube into other media, to engage with broader audiences and even export Patta History to audiences that might find Sri Lanka history exciting. The concept of Patta History, as something to call our own is powerful - we would like to fully explore the potential that Patta has as a cultural brand.
You can check out their videos on https://www.youtube.com/c/PattaHistory/ . You can also support the team to continue the work they do by visiting their Patreon link: https://www.patreon.com/pattahistory