---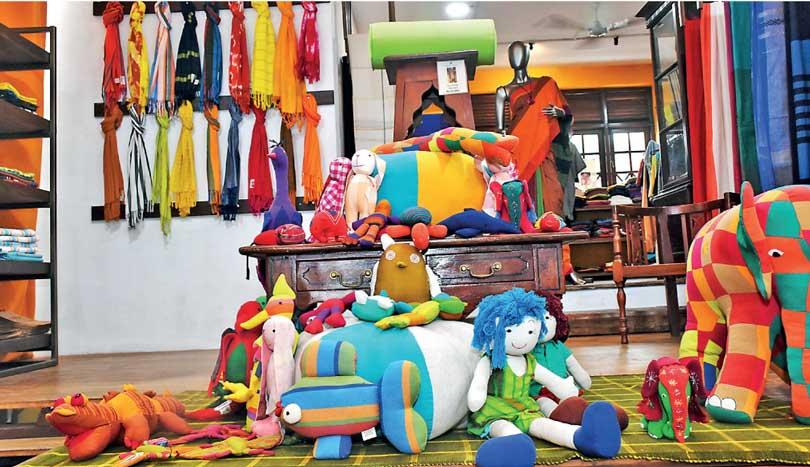 Hues of blues, greens and pinks welcome visitors at the Kandygs Thirasara Island showroom located at the heart of Thimbirigasyaya. As a long established brand that gave much depth and meaning to locally produced handloom textiles, the third generation of this family-owned brand is ready to turn a new chapter in its 49-year journey today.

Humble beginnings

The story of Kandygs Handlooms (Exports) Ltd., dates back to 1971 when its founders Sita and late Felix Yahampath were introduced to Bhagwandas Hirdramani, a textile giant at the time. "He requested my husband to run the garment factory and that he will provide the know-how," recalled Sita Yahampath in an interview with the Daily Mirror Life.

From being absolute beginners, the Yahampath couple then mastered the art of weaving, mostly through a self taught process and eventually had to find markets. "We sold to Gehantex and we realised that most of our products were selling," she continued. "We then thought we could sell them ourselves and started working on having our own shop." Grabbing every opportunity coming their way, they were determined to market their products. It was during this time that a family friend offered a space down Maya Avenue to put up their first outlet. "We immediately changed our address and it was quite an unexpected turn of events."

Thereafter, Kandygs opened their first showroom at Colpetty in 1980 when the second generation stepped in to take their passion forward.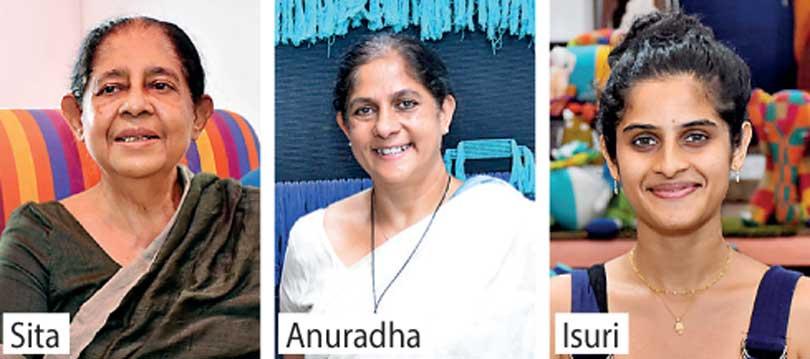 Placing SL on the world map

Inspired by the weaving background in her family, the young Anuradha excelled in weaving and other handwork in school. "Although I did my A/Ls in the science stream I wasn't quite keen in going to university because of the insurrection," she recalled. "But we paid a visit to Europe for a buyer and seller meet. There, we explored European designs and on our way back we stopped at the University of Leeds."

Little did Anuradha know that it would be a stepping stone in her long term career as a designer. Bringing back her knowledge and expertise she was keen to test the waters in exports and buyers were impressed with their colours and quality. The quality was exceptional that they hardly had any competitors. But challenges too were manifold. "We found difficulty in retailing locally with the open market economy. So we could only provide handloom products to a niche market which was much smaller because of the price. There were challenges in marketing our products overseas because other Asian countries with handloom products had subsidised their products in order to sustain in those markets. But countries such as India, Cambodia and Vietnam were helping their producers. Therefore we found it difficult to compete with other countries in the export market.

We had high overheads as well. But we still do export

to a niche market. The biggest challenge has been to keep up with quality and their design requirements,"
she explained.

Trailblazing a sustainable future

Taking every challenge as a lesson, the concept has gone from strength to strength as they have always been conscious about producing environmentally friendly products. This is why their outlet at Thimbirigasyaya is named 'Thirasara Island' which translates to 'A Sustainable Island'. The future looks bright with its third generation now taking the mantle to continue operations while keeping up with global trends. From today, customers will have the opportunity to view the products available in different showrooms at the click of a button. "We are launching www.kandygshandloom.com to make it easier for customers in the outskirts of Colombo and even overseas to view are products and buy them without any hassle," explained Isuri Nanayakkara, General Manager, Kandygs Handloom Exports Limited.

"During the curfew period we also introduced a Thirasara face mask which is easily washable and could be reused. Even our curtain fabrics and other products such as sarees are designed to provide comfort and last longer in keeping with our sustainability concept."

From home textiles, the concept has expanded to sarees, shawls, sarongs, bags, pencil cases, soft toys and even a baby collection using natural dyes. "The cost for the product will remain but delivery and packaging charges will be added but that would be far more cost effective than physically coming to the shop and purchasing products," she added. An interesting range of sarees made out of bamboo fibre is available at the Thirasara Island outlet. Since cotton cannot be grown locally, the team is ready to experiment producing materials with other environmentally friendly fibres.

The Kandygs management also plans to empower local weavers and introduce handloom villages around the island. Having identified skilled weavers in Kalmunai and several other areas the management aims to provide them with the know-how and technical support so that they could produce materials from home. "By empowering women in the Eastern Province for example we will be saving them from being exploited as domestic workers in other countries," opined Kaushalya Yahampath who is determined to introduce new breakthroughs within the handloom industry under the Kandygs brand. "We are also looking at introducing machines for local weavers where they can buy the yarn from anybody and become a weaver. If we could collaborate with others we could also look at the possibility of introducing other sustainable raw materials such as bamboo yarn, banana fibre, flex and jute," he said in conclusion.

Pics by Kushan Pathiraja
Isuri Nanayakkara
"We are launching www.kandygshandloom.com to make it easier for customers in the outskirts
of Colombo and even overseas to view our products and buy them
without any hassle"