---
'I will not hesitate to accept good roles with substance if offered'
"There is a myth that one cannot make it big on the silver screen if you are a tele drama actress. I was lucky in that sense."

It is almost seven years since popular actress Kanchana Mendis left Lankan shores, to settle down in London where she enjoys her roles as wife and mother with her husband Roshan and three children. But memories of Kanchana are still alive in the hearts of Sri Lankan filmgoers and small screen audiences. Kanchana is in the news again with another Sinhala movie – Wassane Sihinaya' (Dream of Love) – featuring her in the lead role, hitting screens on Thursday, March 25. This is Kanchana's first movie release in six years since 'Parapura'.
Speaking to Daily Mirror Life Impulse from London, Kanchana said she was thrilled about the movie release and hoped her fans would watch the movie produced and directed by Nihal Sanjaya.

"I recall how we enjoyed working on this movie with a popular cast especially working with a professional like Sanath Gunathilake and also Manjula Thilini who later became my friend after acting in this movie. We worked in harmony with no hassles. I am glad the film is now being released. It is a good time for my fans to refresh memories too," she said.

Kanchana made her acting debut as an adorable child artiste when she was just 12 years, in Dharmasena Pathiraja's 'Suba Anagathayak' tele drama. She made her film debut in 'Rajya Sevaya Pinisayi' clinching the best supporting actress award for her very first performance.

She last faced the camera in the 'Girikula' tele drama in which she played a powerful role and came close to winning the Sumathi and Raigam best actress awards for her outstanding portrayal. She was among the final three nominated in the best actress category at both award festivals that year.

Q: As an award-winning professional actress how difficult is it to stay away from cinema?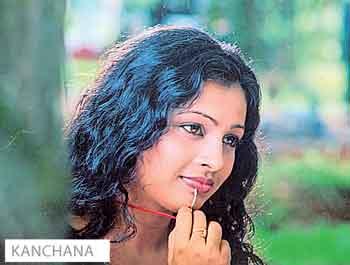 Indeed, it is tough. But I have not given up acting. Actually it's that I have given top priority to my family. However, If I am offered a good role with substance I will not hesitate to accept it, come down to Sri Lanka and do justice to that role.

I am very fortunate because despite starting with tele dramas, I got good film roles too. There is a common myth that one cannot make it big on the silver screen if you are a tele drama actress. I was lucky in that sense. I won the best actress and popular actress awards too. I got the opportunity to work with big directors like Ms. Sumitra Peries, Prof. Sunil Ariyaratne and others including two South Indian movies. So what more can I ask for?

Q: Do you think directors here have not made good use of your true potential?

Possibly yes because I left the industry when my career was at its peak and therefore I may have missed some roles of substance, like some of the memorable roles played by Swarna Mallawarachchi akka or Anoja Weerasinghe akka. But I have no regrets. Be it big or small, I dedicate myself to the fullest when I am given a character.

Q: If you were given a chance to go back in time to rectify or improve on one of your characters you played, what would that be?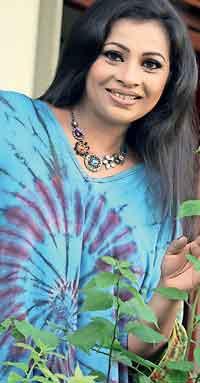 My climax dialogue delivery in 'Sakman Maluwa'. I think with my experience in life today, I would be able to deliver it better if done today. Unfortunately, there are no second takes after a film is released. Even the roles I played as a mother then, could be vastly improved if done today, with my experience as a mother of three.

Q: Coming back to the new movie release 'Wassane Sihinaya' and its producer/director Nihal Sanjaya?

My association with Nihal Sanjaya dates back to when I was a Year Ten student. I was just 14 then. I was working in a tele drama called 'Suralowa' and Nihal Sanjaya was its executive producer. He used to come and pick me after school and take me to the location in Kandy. I remember getting my biggest tele drama fee of Rs. 10,000 at that time for Suralowa. It was big money then. Nihal Sanjaya has always been a dignified person in this field and I hope this film will enjoy a successful run in theatres.

To all my loyal fans in Sri Lanka I must say that I cherish their love, affection and respect they have for me. Their feedback is very precious. I have more films and tele dramas awaiting release. But I must also mention that I do not have an FB account. All that's there on FB are fake ones.

By Ramesh Uvais