---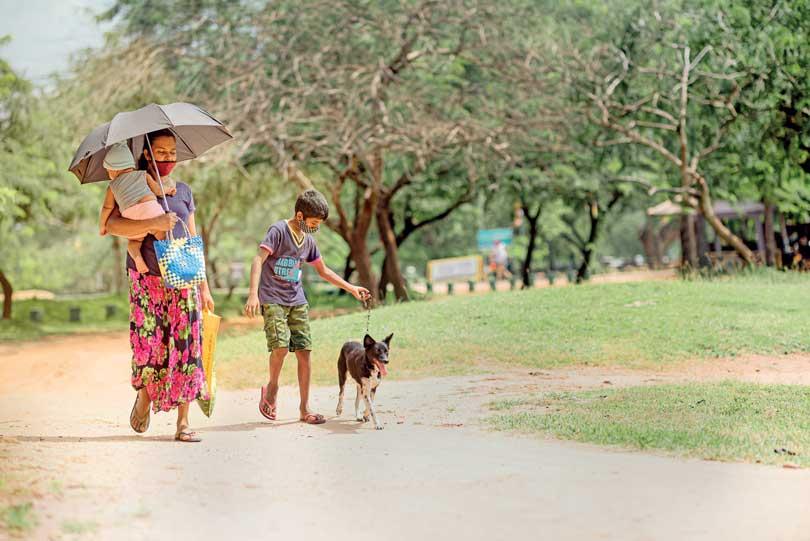 "These kinds of programmes are not one-off; you have to constantly go back to these areas and keep at it. If I go to one place and do a programme for around 100-200 cats and dogs, when I come back in 6 months, there are still new litters! It's a cycle that continues unless you keep doing the same programme with consistency."

If Tashiya Captain could pinpoint the exact time of her life at which she got into animal welfare, she'd say she was about 14 years of age; living in Colombo, feeding and sheltering the occasional stray dog or two she'd encounter at the bus stop. "Of course, at that time – we didn't really call it 'animal welfare' per se. I don't think I even understood it as a problem when I was young. I grew up having cats and dogs in my home and naturally, it was just the done thing those days." At age 16, she was introduced to Mallika Perera, founder of Sri Lanka's oldest animal welfare organisation – AWPA. Tashiya, having joined the AWPA committee, was the youngest member at that time and it was through her volunteering work at the organisation that she got her first inkling of the 'stray' problem that was rampant in Sri Lanka.
Over the next 40 years or so, Tashiya continued to be an ardent supporter of the cause; if she was not actively involved with animal welfare work, she was constantly advocating and funding the efforts of many of the animal welfare organisations in the country. Her own foundation, Justice for Animals, came into being only in 2019 when Tashiya began to run her own sterilisation and animal health camp programmes. In December 2019, Tashiya, together with her daughter Yannina, published their very own animal welfare calendar for the year 2020 in order to raise funds for animal welfare. When the government imposed an island wide lockdown, Tashiya, restricted from travelling back to her family in Australia and having raised a fairly large profit from the calendar and through donations, opted to take on a more active role and started her own spay-neuter programme with veterinary team Vets for Future. "I've always believed that sterilisation is the only way to control the stray population in Sri Lanka but when you are not so actively involved and only funding and helping out occasionally, you just don't realise how big of a problem it actually is – that there is a massive stray population in the country that are homeless and suffering."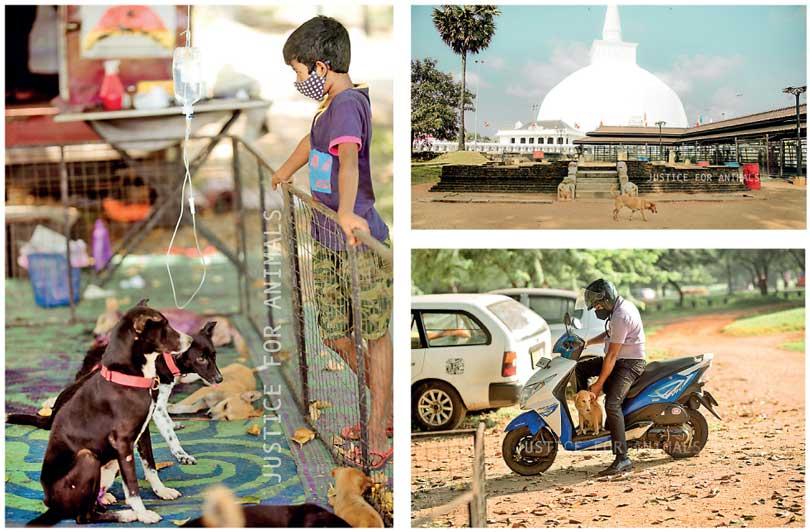 Sri Lanka currently has around 1.5 – 2 million homeless animals on the roads and the numbers, despite the efforts, continue to increase. While the government has an ongoing sterilisation programme to curb these statistics, it is further aided and supported by the actions of independent groups such as Justice for Animals who carry out and fund their own sterilisation programmes across the island. In 2020 alone, a total of over 50,000 dogs were reported as sterilised and vaccinated with the aid of government authorities and independent organisations.

Aiding this, Justice for Animals has carried out island wide spay-neuter programmes in Chilaw, Kalpitiya, Sabaragamuwa province, Ratnapura, Kalutara, Matugama, Puttalam, Middeniya, Gothatuwa, Angoda and Anuradhapura. By December 2020, the organisation has independently spay-neutered over 3,500 cats and dogs, some owned and some homeless, and has treated nearly 5,000 cats and dogs for other diseases and injuries. The trick to true effectiveness of these programmes, is 'consistency' shares Tashiya. "These kinds of programmes are not one-off; you have to constantly go back to these areas and keep at it. If I go to one place and do a programme for around 100-200 cats and dogs, when I come back in 6 months, there are still new litters! It's a cycle that continues unless you keep doing the same programme with consistency."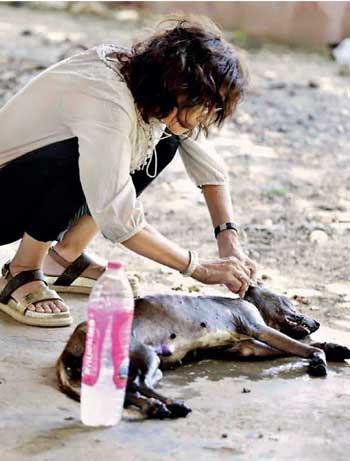 Justice for Animal's biggest programme is one that is currently being carried out at Anuradhapura. Anuradhapura has a stray population of an estimated 7,000 and is often a targeted city for many to abandon stray cats and dogs on the belief that they would be well cared for by the temples and do-gooders in the sacred city. Tashiya's organisation came to aid after an urgent call was given by the head monk of a temple in Anuradhapura during the early COVID lockdown period, who found it difficult to feed and care for the large number of homeless animals that have been left at the temple due to the lack of donations and religious offerings. Responding to the call, Justice for Animals along with the Vets for Future gave a proposal to the Anuradhapura Municipal Council which was accepted as a solution to a problem that the sacred city has been facing for many years. Together they carried out 2 comprehensive programmes in January and March with the help of the Municipal Council of the area to spay-neuter nearly 2000 homeless cats and dogs. The third programme is scheduled to take place in May 2021. The organisation, together with the Council and their veterinary team, has a vision to spay-neuter all stray animals in the Anuradhapura Municipal Council area by 2022.
"As much as this is an animal welfare programme, it is also a community programme. The programme meets the needs of many low-income communities who have no access to vets or the funds to access them. Less homeless cats and dogs also means that there would be less accidents, less maimed, dying, paralysed or sick animals on the road. We also support rabies eradication because all animals brought to the programme are given the rabies vaccinations."

Yet as a solely donation funded organisation, the work carried out by Justice for Animals is often at the mercy of animal lovers and kind donors. "I'm not shy to request funds and assistance when it comes to animals. On the face of it, sterilisation is relatively inexpensive because it doesn't exceed beyond Rs. 2000 per stray. But when you are doing it on 300-400 stray animals at once; the costs and bills add up! While we are so grateful for the donations we receive, it's not sufficient to meet our bills. We also do our own fund raising. I've done multiple pop-up's and held garage sales.

It's not big money but the kind of work we do; every rupee counts. Right now, we are hosting a raffle draw to raise money to continue our work
in Anuradhapura."

While spay-neutering is the main focus of Justice for Animals, the organisation is also involved in several rescue and emergency medical procedure works as well and Tashiya passionately advocates for the passing of the Animal Welfare Bill.

Sri Lanka, despite being famed for being a country of compassionate people, have heard one too many horror stories of animal abuse and witnessed many hit-and run-incidents to genuinely claim this title. From pets being starved and imprisoned in small cages and dogs and cats limping and dragging their legs on the street to even being shot or burned at the whims of annoyed neighbours – the strength and endurance of our animals are constantly put to the test. Further exacerbated with lax laws imposing little to no punishment; these animals continue to be the subject of cruel treatment on a daily basis. "I think to a large extent, people have got desensitised to these cruel acts and don't care as much. I don't think you have to love animals or be an animal person to see that there is a sick dog on the road that has met with an accident and needs help. As great as social media is, people think that their responsibility ends with tagging an animal welfare organisation and asking for a rescue. Too many times we've got calls to rescue this dog and that cat without a single follow up afterwards. I understand not a lot can donate their money, but they can donate their time and their effort."
In order for Justice for Animals to continue the great work that they do,
they will be hosting a Raffle Draw on the Sunday, the
9th of May 2021 at 4.30 at the
Aluth Pola (Body Bar – Colombo).
The Raffle Draw will include over 55 exciting prizes including hotel getaways, annual gym memberships, personal training,
spa and salon servces, brunches, dinners and wine and many more.
Tickets are priced at Rs. 400/- and are available for purchase at Body Bar and Salon KESS or through
contact on 077 738 9009. A small contribution can change the very life of homeless dog or cat for the better!
For more information on Justice for Animals and their work,
follow their Facebook page (@justiceforanimals.lk).