---
A good parent always shows LOVE. Children are difficult people. They can single-handedly have you go through a series of emotions, all because they won't do a simple task like eat their vegetables. However frustrating they are, always show them Love. Love heals, pacifies the raging tempers and soothes the troubled mind. Children grow and flourish knowing that they are unconditionally loved.
A good parent is PATIENT. Parenting days can be long and hard. The never ending housework coupled with unruly kids makes the day into an unexpected nightmare. Take a deep breath and muster up the courage to patiently tackle your children. Things will always be better tomorrow.
A good parent shows RESPECT. Since they are our children sometimes we forget that they are also individuals. We tend to show respect and care quicker to strangers rather than our own children. Be aware of how you treat your children, especially older ones, apologize when you are in the wrong.
A good parent is an INVOLVED parent. Sometimes with the help available we palm off some duties onto the hired help. But our children would love for us to sit with them during meals, talk to them as you drive them to a swimming lesson and generally be involved in their lives. As they are growing up even the smallest factors affect a child, from the friendships they hold to the teachers at school. Having a parent who is constantly there for them, gives a child the necessary confidence.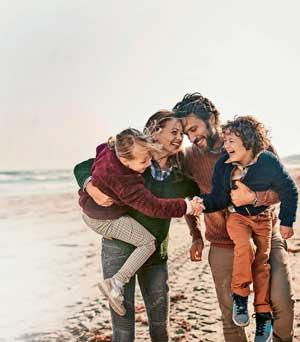 I have been writing this column for many a year and as my four children have grown over the years, so has my input into this space. Whilst ten years ago I spoke about babies and everything to do with babies now the column focuses more on teenagers and family dynamics. I live my family life through this column, my experiences are your experiences and I hope we can both gain knowledge from it. Despite the changes in topics, what has always stayed consistent is the constant need to be a better parent. To show up as the best version of yourself for your children. It is a testing role and one I have been melded and moulded to as my children have grown. One minute I think I've got the parenting "thing" down and the next I am more confused than I have ever been, the lockdown parenting has indeed been an eye opener!

With an uncertain future and confined in close quarters with my children, I have experienced new levels of despair, frustration and anger that I didn't think was possible. But it's not been all doom and gloom. Picnic lunches in the garden, carefree moments of arts and crafts sessions where all the cards have read 'I love you Mum' has had my heart bursting with pride, joy and love for these small individuals who I call my children.
To be a successful parent there isn't a list of rules that are followed by all. The type of parenting you adopt is unique to your family and sometimes from child to child.

In retrospect I ponder who is raising who here?..am I raising children or along with my children's help am I been raised as a Parent? I got married and the next normal step was children. I didn't have a grand plan on what kind of a parent I was going to be. The unexplainable love I felt for my newborn in that first moment as a parent was enough to see us through anything I believed. Thus with the 'Eagles' hit song 'Love will keep us alive' playing in my head I began the first day of the rest of my life as a mother! By day three, reality set in, sleep deprived, mind a blur from being a baby's 24/7 on call mummy robot I realized parenting wasn't all roses and rainbows. It wasn't a relationship one could walk away from but one you had to selflessly put 'all' into disregarding your own wants and needs. After the first baby years, you would think things would get easier, but as parents we get introduced to another set of problems, the tantrums and disobedient behaviour. But it doesn't stop there, we then have the tumultuous teens and finally adulthood where when we think it's just over we get introduced to grandkids.
To be a successful parent there isn't a list of rules that are followed by all. The type of parenting you adopt is unique to your family and sometimes from child to child. I definitely parent my older child different from my younger, just because they are so different in their personalities. But there are some universal guidelines that are essentially necessary in all good parenting and they are as follows:
---
I understand that there are many more obstacles coupled with joys to face, and I am ready. The list can go on as to what you need to know as a 'good' parent, but knowing that it is a learning process and you might make mistakes along the way in a much needed confidence boost. As I raise my children, they are raising me into the parent that I want to be, with hugs and kisses they in fact carry me on their shoulders on this long journey together as parent and child.
---
Mayuri Jayasinghe

Mayuri plays many roles in her life but her most important one is that of mother to her four children. In this weekly column she writes offering snippets of advice, ideas to enable every parent to have a positive parenting experience.
Want to see your Star baby in next week page then send your delightful STAR BABY pictures to parentinglifedailymirror@gmail.com.
If you would like to get intouch with me about the page, comment about articles or just voice your parenting concerns please email me or find me at "the Parenting Club", on Facebook and give me a like.