---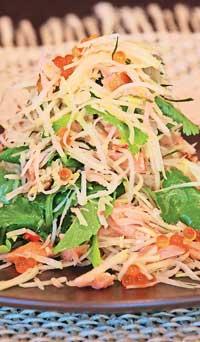 Ingredients for six as part of shared meal
Dressing
1 x large red chillie
2 x medium cloves garlic
3 x coriander roots
1 to 2 x limes
1 Tbsp light palm sugar
1 Tbsp fish sauce
Salad
1kg green mango or papaya
1 x large red chillie
4 x double kaffir lime leaves
1 x 15cm stalk of lemon grass
2 x medium shallots
1 ½ cups coriander leaves
1 ½ cups mint leaves
400gm hot smoked salmon or ocean trout
2Tbsp salmon caviar
Method
1
Prepare dressing components. De-seed chillie and cut into large chunks. Peel and slice garlic. Clean and remove small brown side roots from coriander root. Squeeze limes to yield 100ml. Shave palm sugar.
2
Place prepared ingredients with fish sauce in jug. Using stick blender, whiz to combine. Check for seasoning and adjust to taste for a sweet, salty
sour balance.
3
Prepare salad. Peel mango/papaya and run through mandolin to form julienne strips (or cut into 2mm thick slices then 2mm thin strips using a knife). Place in
large bowl.
slice thinly.
5
Shred kaffir lime leaves, discarding central vein.
part of lemongrass to yield about ¼ cup.
slice shallots.
8
Add all prepared components to bowl
and toss well.
9
Wash coriander and mint and dry well. Pick leaves from stalks and add
to salad.
10
Flake fish and gently toss with salad components
and dressing so as not to bruise leaves.
11
Serve at once piled on individual serving plates with salmon caviar scattered over the top.