---

Taj Samudra is bringing fine-dining to your home table! If you miss dining out at your favourite hotel restaurants, you can now sit back and enjoy restaurant quality cuisine at home.

Hospitality at Home by Taj Samudra offers the best of the Hotel's signature restaurants; Indian delights from Navratna, Sichuan cuisine from the Golden Dragon, fusion specialities from Ports of Call and freshly baked goods from their in-house bakery. While Taj is now welcoming guests for in-house dining in limited numbers, the novelty of feasting on gourmet dishes at the comfort and safety of home is an experience not to be missed!

For deliveries, Taj imposes a minimum order value of Rs. 4000 and offers free delivery for orders above Rs. 6000. While orders can be placed over phone or email, we'd recommend calling in as it's faster and easier to confirm the details. Food can be picked up from the hotel lobby or delivery is available within Colombo 1-13.

Craving for some rich Indian cuisine we decided to place our order from the kitchens of Navratna. Here's what we tried from the delivery options and our thoughts on the process;

Dahi Kebab

As an appetizer, the Dahi Kebab was the perfect choice as it had a soft melting interior texture combined together with a crisp outside. Made with curd, paneer and a host of spices, this North Indian dish is rich in both taste and texture and melts in your mouth in one bite. Despite not being hot-off-the-oil crunchy when we received it, the Dahi Kebab still retained a certain crisp consistency and was smooth and creamy on our tongues.
Mutton Biriyani

Offered with the option of vegetarian, chicken and prawn – we opted for their Mutton Biriyani. The aromas of the biriyani were quick to take over our space and we found ourselves digging in with an urgency. The Biriyani was generously layered with well-cooked mutton and saffron infused rice with a portion large enough to serve 2-3 people. The taste of the ghee and flavours of the spices and herbs were excellent and the slightly charred texture of the mutton gave an extra kick of spice to bring about a full-flavoured dish. The add-ons of raitha, mint chutney and lime pickle provided an additional taste that complemented the biriyani well, of which the lime pickle was our personal favourite with its very sour, acidic taste.

Mutton Rogan Josh

This dish was an impromptu choice that we absolutely fell head-over-heels for. The Mutton Rogan Josh is a Kashmiri style curry with diced pieces of mutton braised with a spicy gravy packed with aromats like cloves, fennel, cardamom and ingredients such as garlic and dry ginger. The curry is made using a slow cook technique that allows the mutton to become soft and tender while the gravy thickens into a deep red colour. The mutton itself melted in our mouths with a smoky and spicy taste and the thick curry was perfect to mop up with some buttered naan. This dish was absolutely mouth watering and so well cooked with rich flavours and textures and we insist you try it!
Placing our order, delivery and payment was hassle – free and fast, and the food retained its gourmet quality

Gulab Jamun

Wrapping up our heavily spiced meal with something sweet, the Gulab Jamun was an absolute hit and the perfect note to end our meal on. The Jamuns were lightly golden with a soft inside and was well soaked in the sugar syrup. What we enjoyed the most was that the dish was not so overbearingly, cavity inducingly sweet and has achieved just the right level of sweetness.

Overall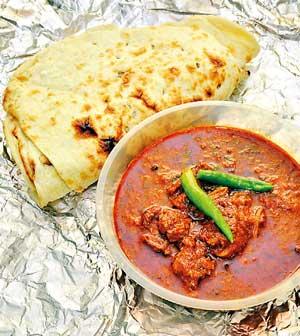 Fine-dining at home is slowly becoming the new normal and Taj Samudra ticked all the right boxes in making it possible. Placing our order, delivery and payment was hassle – free and fast, and the food retained its gourmet quality and was mouth-wateringly delicious and generously portioned.
Pix by Waruna
Wanniarachchi
Details
All Taj restaurants are now open for dine in. Delivery orders can be placed via 0112446622 or over email (rajive.rajapaksha@tajhotels.com). Delivery times include 8am- 12pm (lunch) and 3pm – 7pm (dinner). There is a minimum order value of Rs. 4000. Orders above Rs. 6000 will include free delivery. Delivery is available only within Colombo 1 – 13.