---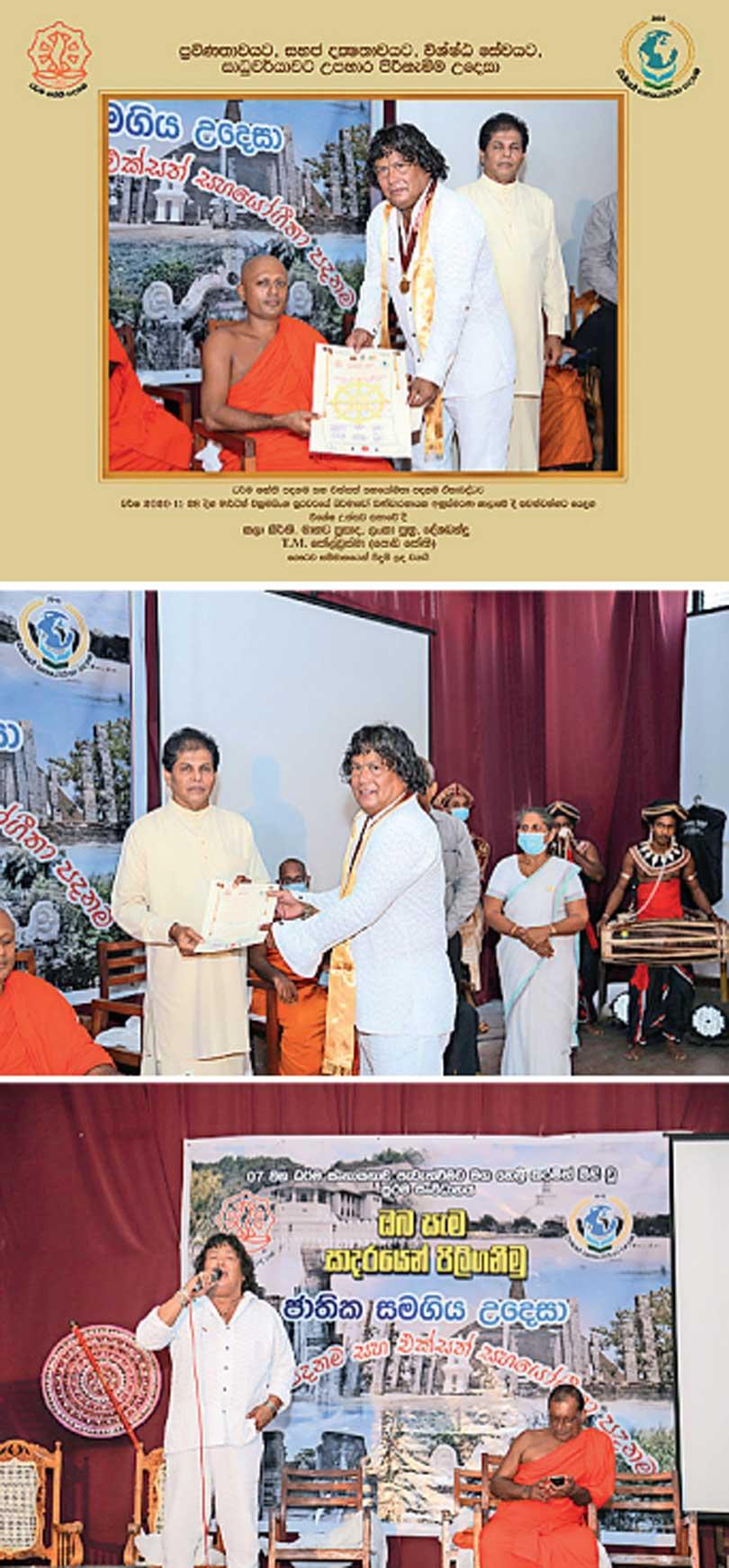 The National Foundation for Peace and Unity in Sri Lanka recently bestowed the honorary titles of Kalakeerthi, Lankaputhra and Deshabandu to well-known artiste T. M. Joldersma who is widely known as 'Podi Jothi' among music fans.

"These honorary titles were given to me in recognition of my 30-year service to the arts of this country, especially as a singer, for keeping up the good name of legendary singer H. R. Jothipala and also for my social service activities," he said.

"I associated with Jothi Ayya from the seventies and I was one of his greatest fans. After Jothi ayya released his cassette 'Koho Mal Waram' in the seventies, I was so thrilled and had a great liking to record a few songs. Jothi Ayya introduced me to some veterans in the field and I recorded an EP of four songs of popular Jothi numbers with words rewritten by Ajantha Ranasinghe. I was blessed to sing them with Angeline Gunathilaka."

"I was working in the Netherlands then. When I came down on vacation once, Jothi ayya told me that he wanted to do a film based on his life story. I agreed to finance part of the project and when I came during my next vacation, the original story and people involved in it had changed. It was renamed 'Sumithuro' directed by Roy de Silva. I invested in the movie together with some other co producers. It was released in 1983 but sadly it did not do well due to the riots. I did not get a red cent as returns for my investment and nor did Jothi Ayya. He passed away in 1987 and it was so unfortunate. In 1990 I came to Sri Lanka with some friends to start a venture but it did not work. I did my first cassette with Angeline Gunathilaka joining me in the duets in 1990 after some of my friends suggested. The feedback was encouraging. When I went to meet Mr. Prem Dissanayake to do the cassette cover he asked for my name and many around him said I had to go with a different name. So I was virtually christened Shehan Jeewantha for cassettes," he said.

"During my next vacation I did another cassette called 'Punchi Pem Kathandare' also with new words for Jothi Ayya's songs. The response was good and we decided to come back and settle down in Sri Lanka. Dammith Fonseka was instrumental in getting me my first film song for 'Punaruthpaththi'. I got two more films despite many hurdles. Then I did my third cassette 'Senehase Mal' and the fourth 'Re Manamali'. Then there came threats to my life from unidentified elements. Unable to face them I went back to the Netherlands with my family and never returned to the country for 15 years," he recalled.

"During one of my visits to Italy somewhere in 2006, I got the opportunity to sing at some events and parties of several Sri Lankan friends. There I met a guy called Palitha Mayadunne who insisted that I do a concert of Jothi Ayya's songs. In end 2006 I did a Jothi Rathriya show in Rome and since then I became known as Podi Jothi. I am in Sri Lanka now and I will continue to sing as long as I my voice permits," he said.