---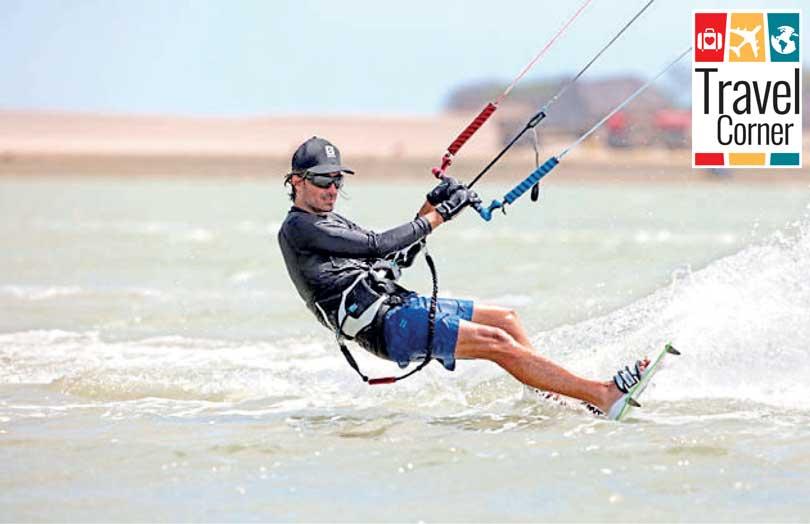 Kite-Surfing is the latest addition to Sri Lanka's popular water sports attractions in tourism destination areas. Kite-surfing or Kite-boarding is an extreme sport, where the kiter uses the wind power with a large power kite to be pulled on water. Kitesurfing is a surface water sport combining aspects of windsurfing, surfing, wakeboarding, snowboarding , paragliding, skateboarding and gymnastics into one extreme sport. A kitesurfer harnesses the power of the wind with a large controllable power kite to be propelled across the water and do wave riding on a kiteboard similar to a wakeboard or a small surfboard, with or without foot straps or bindings.

Kitesurfing is a style of kiteboarding specific to wave riding, which utilises standard surfboards or boards shaped specifically for the purpose. There are different styles of kiteboarding, including freestyle, freeride, downwinders, speed, course racing, wake style, jumping and kite surfing in the waves
For those who want to act like a dolphin dancing through the waves, Kalpitiya is the best location. With its constant strong winds, it is widely considered to have the best kitesurfing conditions in South Asia

Dolphins and kitesurfing are what bring people to the Kalpitiya peninsula. Schools of dolphins hundreds strong can often be seen jostling and playing in the offshore waters. Boat safaris offer close-up views of these aquatic mammals. Meanwhile, for those who want to act like a dolphin dancing through the waves, Kalpitiya, with its near constant strong winds, is widely considered to have the best kitesurfing conditions in South Asia.
After some concepts emerged in the late 1970s and early 1980s in France and Germany, some designs were successfully experimented, the sport received a wider audience in the late 1990s and became mainstream at the turn of the century. But the sports hit Lankan shores in early 2000. By the end of the decade, Kitesurfing has hit the skies in Kalpitiya with well organised tours and tour operators with the help of accommodation providers.
The best period for kitesurfing opens from May to October, bringing hundreds of enthusiastic people to Kalpitiya lagoon and mostly to Dutch bay lagoon. But the present pandemic situation barred all overseas and domestic guests from travelling to the destination.

Until recently, this was an intensely rural backwater that saw very few visitors. But it's not just thrill seekers and nature lovers who've discovered Kalpitiya. The government, looking to expand the island's tourist industry, is engaged in a project to turn the peninsula and its string of offshore islands into one of Sri Lanka's prime beach tourism destinations. Environmentalists are concerned about the impact these projects will have on the populations of dolphins, sperm whales and dugongs which use the waters around Dutch Bay.

It is an unrivalled marine sanctuary with a diversity of habitats ranging from bar reefs, flat coastal plains, saltpans, mangrove swamps, salt marshes and vast sand dune beaches.

The 14 islands of Battalangunduwa, Palliyawatta, Vellai I, Vellai II, Vellai III, Uchchamunai, Ippantivu, Periya Arichchalai, Sinna Arichchalai, Eramutivu, Sinna Eramutivu, Eramutivu West, Kakativu and Mutwal (Dutch Bay) together make up 1673 hectares of land which belongs to Kalpitiya.

The Kalpitiya peninsula is 48 km long and 6-8 km wide while it is studded with fine sandy beaches which make you yearn for a beach holiday. In addition to the Kalpitiya peninsula, the 14 islands around it are encompassed in the Kalpitiya tourist development project which was envisaged in year 2008.

Kalpitiya Dolphins

Kalpitiya affords the opportunity to view large pods of Dolphins, often numbers running to hundreds, is becoming a celebrated location in Sri Lanka for the lovers of Spinner Dolphins.

Kalpitiya Whales

Its presence of Sperm Whales and an occasional Blue Whale alone is a world class attraction of marine life. Whales are regularly seen around the Kalpitiya Peninsula.